For M.F. Husain, Shahnaz Husain was empress Noor Jahan
Madhusree Chatterjee
&nbsp | &nbsp New Delhi
04-July-2011
Vol 2&nbsp|&nbspIssue 26
Beauty expert Shahnaz Husain was Mughal empress Noor Jahan to celebrated artist and distant cousin Maqbool Fida Husain, who painted her like the Muslim queen 23 years ago.
"One of my most precious possessions is a portrait by M.F. Husain. I remember sitting for the portrait till late in the night at his home in London - till almost 3 a.m.," Shahnaz Husain recalled at the Dhoomimal Gallery, one of the oldest art houses in the capital, Saturday.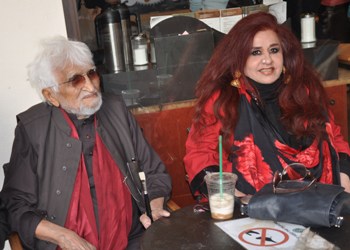 Leading beautician and stylist Shahnaz Husain with artist (and cousin) M.F. Husain in her home (Photos: IANS)
"He wanted to paint me after he spotted me in a red kaftan. I returned home with him. And then I forgot about it. I returned to India and six months later, Husain dropped in at my home with the painting. I was not at home. He left it with a note.
"The painting did not resemble me. I told him, 'Husain saab, mein to aisi nahin lagti (I don't look like this)'. He said this is my impression of you, I have made you a Mughal princess - Noor Jahan," recalled Shahnaz, clad in a glittering salwar kameez and bling jewellery.
Shahnaz, whose grandfather and M.F. Husain's grandfather were brothers, said she had tried to persuade the artist "till the end to return to India."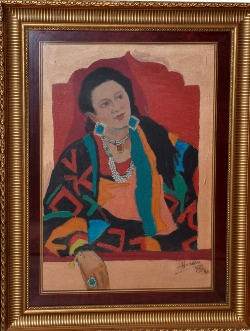 A portrait of Shahnaz Husain that M.F. Husain painted depicting her as empreror Noor Jahan
"I always felt that he made a mistake by accepting Qatari citizenship. I could never understand why he did it, or who advised him. He cut off his own roots," Shahnaz said.
Remembering her conversation with the artist, Shahnaz said a few days before his death, the artist had invited her for dinner.
"I invited him to dinner instead. He told me he had a bad cough, water had entered his lungs. In fact, I could hear him coughing as he talked. I promised to cook dinner and take it over to his home in London. He told me to come on June 9. But, he breathed his last the very day," Shahnaz said.

The Dhoomimal Gallery exhibited 10 lithographs of Husain's art works, including Shahnaz Husain's portrait, at a memorial service to celebrate the maverick artist's life and works organised by Safdar Hashmi Memorial Trust (SAHMAT).
The artist, one of the most loved face of Indian contemporary art, passed away in London June 9. - IANS


Trending Now: