Cycling girls hope to go a long way in Bihar's hinterland

Saadia Azim
&nbsp | &nbsp Patna
01-July-2011
Vol 2&nbsp|&nbspIssue 26
Nivedita, 15, wished her family owned a car, or any vehicle for that matter. But she knew her father, a private school bus driver, could never afford one. But today, young Nivedita - one of five children - is the proud owner of a bicycle presented to her by the Bihar government for having successfully passed her Class Nine examination.
These days she ferries her younger siblings to and from school even as she travels to her own school, Bankipore Balika Ucch Madyamik Vidyalaya, some three kilometres away from home, which is at LCT Ghat in Manpura, Danapur, near Patna.

Says Nivedita: "Not even in my wildest dreams had I ever thought I would own a bicycle. I spent an additional Rs 1,000 to get a Hero expert bicycle so that all my brothers and sisters can also use it."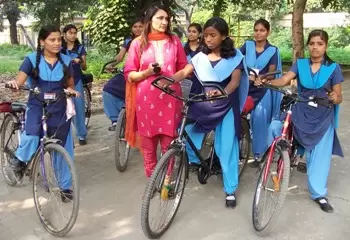 Ride to freedom: Girls of Bankipore Girl's High School with their principal, Bilkis Jahan (Photo: WFS)
Nivedita's mother, Manju, is very proud of her daughter. While her older children had to drop out of school due to financial reasons as well as social pressures - Nivedita's elder sister dropped out to get married at 17, even before she could finish her matriculation - Nivedita has changed this 'tradition'. Manju is also happy that her daughter is now independent. "It is her independence that has increased our self confidence," she says.

Nivedita's classmate Trisha, 14, is also quite a star in her locality of Rajapul near Manpura. A Class Ten student of Bankipore's High School for Girls, she too can be seen pedaling her way to school every morning.

Nivedita and Trisha are among the nine lakh girls who have received funds from the Mukhyamantri Balika Cycle Yojana (Chief Minister's Bicycle Scheme For Girls) to buy a bike. Today, Trisha has been able to achieve an almost 90 per cent attendance level and is seriously preparing for the Class Ten Board examinations. She too comes from a large family - she is the youngest of four sisters and two brothers - and her father, Vinod Rai, a government employee, is "proud of his daughter for she is independent now".

Widely described as Bihar Chief Minister (CM) Nitish Kumar's dream project, the scheme was launched in 2006 during his first tenure. According to Bilkis Jahan, principal of Bankipore's High School for Girls, "It is a revolution in itself. The confidence of the girls has risen sharply. There has been an entire personality transformation and their attendance has also increased remarkably."

As Kumar has himself observed, it was to address the disturbing dropout rate among girls in the higher classes - they either give up their education for marriage or because it is unsafe for them to travel long distances alone on public transport - that the project was conceived.

Surprisingly, parents who had shied away from letting their girls travel alone are now encouraging them to ride bicycles.

It is quite a sight every morning when girls, dressed smartly in their blue 'kurta' (tunic) and white 'dupatta' (long stole), ride off to school, especially in a state where the female literacy rate is almost half that of males and where more than 60 per cent of girls are married before they turn 18. - Women's Feature Service


Trending Now: