Taking a music to the masses from the sanctum sanctorum of temples

Mithun Madhusudan
&nbsp | &nbsp Bangalore
11-March-2011
Vol 2&nbsp|&nbspIssue 10
Right now there are a lot of concrete structures here. But I want the art to make this place come alive," says Hari Govindanan the founder of Kala Ashram in Angadippuram village in Palghat district of Kerala. Surrounding the ashram are small buildings, all dedicated to the teaching and performance of music. Far from the hustle and bustle of the town, this is an ideal place for art to flourish, which Hari Govindan has created in memory of his father.

Hari's life is one filled with music. From the age of five, he had followed his father, the late Njaralath Ramapoduval, as a helper. Ramapoduval was one of the foremost exponents of Sopana Sangeetham, a traditional temple music style of Kerala. A song is sung, with the percussion instrument Idakka accompanying it, when the doors of the sanctum sanctorum are closed between pujas.

"Sopana Sangeetham was sung only in the temple at specific times, until my father started performing it outside the temple to spread the art to the masses. He had a concept that nature itself is the Sreekovil (sanctum sanctorum), and god is omnipresent, so one can perform anywhere. Of course, he faced a lot of opposition from the temple authorities who did not want this to happen. But my father was not bothered. Without fighting with anyone he just went on performing for others," says Hari, who learnt Sopana Sangeetham while watching his father perform.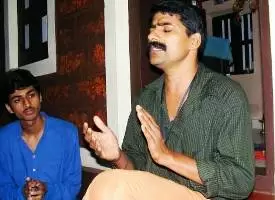 Lost in music: Hari Govindan says it's his dharma to promote the neglected art of Sopana Sangeetam
"Just like my father I also faced opposition when I started performing outside the temples, so I built my own temple," says Hari. Hari's effort has been to create a place where artists can come without any formalities and distinctions, and do what they do best, create music. In the ashram there is an Idakka Kalari, a classroom for students to learn the Idakka. There is another building, a temple, in which the only idol is, fittingly, an Idakka.

Kerala society is rich with art, but according to Hari there is discrimination between the creamy arts, which are Kathakali and Mohiniyattam, and the real Kerala music. "Kerala music is not Carnatic music. It is the totality of all the village music in Kerala, which is not getting the recognition it deserves. The creamy art forms get all the media attention and help, and the traditional vocal styles of Kerala are losing out. My effort is to get these artists the proper remuneration, so that they can continue to practice their art."

Hari left a job as an English teacher in a private school, to follow his art full time. "There are a lot of people to represent the teaching profession, but there are less than fifty Sopana Sangeetam artists in Kerala. As an artist myself, I consider it my Dharma to promote my art, and to help artists like me."

Mithun Madhusudan is a Grassroutes Fellow 2010. Grassroutes is a fellowship program that enables youth to travel across rural India, discover and work with change makers, do their bit to change the world and inspire more youth into social action. To apply for the 2011 edition of Grassroutes, go to http://bit.ly/gr11.


Trending Now: