Preserving the beauty of tradition is a way of life for the Razas

Mohd Faisal Fareed
&nbsp | &nbsp Lucknow
26-January-2011
Vol 2&nbsp|&nbspIssue 3
In a believe-it-or-not type of story, a 'heritage' house in Lucknow owned by a descendant of the erstwhile Nawabs, who once ruled the region, preserves an ambience that may have prevailed in many royal households centuries ago.

A visit to Syed Masoom Raza's family house, Saltanat Manzil, near City Station, located in a sprawling one acre campus, is like stepping into a time machine and getting transported to a bygone era.

This house boasts of a 55-feet tall clock tower, and a drawing room full of antiques such as a violin, radio, chandeliers, and sofa sets that are all more than 100 years old. Other antiques one could see include coins, pen nibs and even fire extinguishers. The walls are adorned with handwritten letters and awards that the family had received at different periods in the past.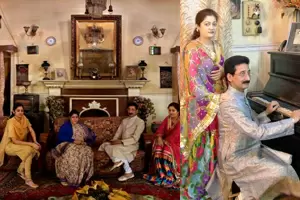 Royal grandeur: The Raza family members love to follow their customs though it could be cumbersome at times (right) Syed Masoom Raza with his wife Naseema
As you enter the house, Masoom Raza greets you with the customary adab and a domestic aide offers you a glass of water in a silver glass. Directions are issued for tea.

It is another matter that when one can get instant tea, it takes more than one hour to prepare tea in Raza's house with all the etiquettes.

"We have been living like this for ages. Our daily chores are also done in the same manner. It takes time but we feel inner satisfaction and pride that we are living the blue lineage," says Raza.

The stone plaques reflect that the house was opened by the then state governor C W Guwyne of British era. "We belong to the family of nawabs and are descendents of the Law Minister during the regime of the first king of Awadh," reveals Raza.

The female members of the family also take pride in following the customs, even though at times it proves cumbersome for them. "There is nothing like fast food in our house. The cooking takes several hours and our domestic aides take care of it. The food is laid on a common dining area which is itself a reflection of a variety of Awadhi cuisine," says Naseema, Raza's wife.

Their daughter Haya Fatima presently pursuing engineering too is at ease living in this style where everything moves at a lethargic pace. "We use modern gadgets, but even our computer table is an antique," she adds.

Trending Now: