An engineer's tryst with folk arts turns him a champion of artistes' cause

Rina Mukherji
&nbsp | &nbsp Kolkata
07-January-2011
Vol 2&nbsp|&nbspIssue 1
Stepping into Amitava Bhattacharya's office in a quiet south Kolkata suburb is a revelation. Folk artefacts, brochures of programmes on lost forms of music and dance greet you from all corners. For the engineer from Indian Institute of Technology (IIT), who had never set foot in a village till his working years – he was a software professional with Tata Consultancy Services for 10 years and had spent another two years in California – the metamorphosis into a champion of folk arts has been a personal journey of sorts.
"I had wanted to understand the mentality of theatre professionals. There is no money in it, and yet something keeps them going," he says. Before he embarked on the research, his only involvement in the art form had been confined to "campus theatre." While studying the dynamics of theatre in all its forms, he found that "theatre in the rural context was closely intertwined with folk music and dance."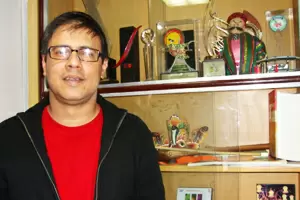 Art for Livelihood: Amitava Bhattacharya believes that folk forms can sustain only if the artistes can earn their livelihood from it
"Whenever we think of the rural poor, we tend to club them as farmers or labour. But there is a large chunk of people who are neither. They are at the bottom of the pyramid, but it is they who are the repositories of traditional art. I decided to work with them." Meanwhile, Bhattacharya had started thinking in terms of using culture as a developmental tool.
He realized that when the authorities talked of development, the lowest strata of rural society did not take any interest in it, since there was no motivation. Lack of a participatory approach had failed to make development sustainable enough to percolate down to the lowest rung. The problem, he concluded, was the lack of communication in a language that people understood. That is when he decided to make a move to reach the unreached by adopting theatre as a medium.
In 2000, along with 14 like-minded friends, he set up banglanaatak.com, a venture intended to use cultural forms to communicate to the masses. Over the years banglanaatak.com has created awareness on issues like maternal health, child marriage, HIV/AIDS, sex tourism, human trafficking and polio immunization, besides a plethora of government schemes for the poor and downtrodden in various parts of the country.
Working in tandem with the Ministry of Health, UNICEF and a host of other national and international organizations, banglanatak.com is into communicating to rural people in 24 States of India. The plays are enacted by local groups, using various folk forms. "We only provide them the script," says Bhattacharya, who after years of association with the folk arts groups realised how impoverished the artistes were.
"It was important that they should earn a livelihood from their art. Or else, these folk forms can easily die out," he observes. This had Bhattacharya and his team embark on an "Art for Livelihood" project, (funded by the European Union). Thanks to Bhattacharya, these folk singers and dancers are regular performers in urban centres, and their incomes have risen from Rs 400 a month to upwards of Rs 1500 a month.
A few even manage to make Rs 18000 a month. This has seen Bhattacharya and his organization conducting festivals showcasing the Sufi, fakiri and Baul folk forms in the last few years, and introducing urban audiences in Kolkata, Delhi and other urban centres to the rich repertoire of near-forgotten music and dance forms.

Trending Now: