A restorer's labour of love helps one learn of a historic past

Pamela D Mello
&nbsp | &nbsp Panaji
26-November-2010
Vol 1&nbsp|&nbspIssue 13
Victor Hugo Gomes, an artist and restorer launched an ethnographic museum in 2009 and called it Goa Chitra. Far from the madding crowd, secluded in a coastal village, Gomes had been tinkering away for years, putting together an astounding collection, that when it went on display took many by surprise.

Considering it's a labour of love, a museum that has been conceptualised and realised by a single individual, with no institutional support -- the effort is awe inspiring, Goa Chitra represents the culture of ancient Goa. The artifacts on display reflect the life, religion, homes, trades and practices of this small west coast region, that remained even until the mid 1980s frozen in time --- when much of its population engaged in primary activities of agriculture, horticulture, fishing, and ferrous ore mining.

Its creator seems to have had an innate love for all things antiquated and began a private collection that steadily grew during the period in his professional life when he had restored several old Indo-Portuguese houses. "People seemed to have no use for these old seemingly useless household items, so I began collecting them. Then I went in search of more, trawling old attics and storehouses of anyone who would let me," says Gomes, who had curated the Museum of Christian Art in Goa in its initial phases.

"Over the years I have been collecting old implements and tools, initially as a passion but over the last few years with the sudden awareness that a heritage was being lost without documentation," says the 45-year-old. The result is a collection that grew from 200 to 4000 pieces.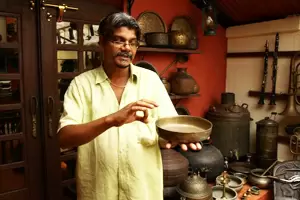 A visit to Goa Chitra sheds light on the exciting old lifestyle of Goans when agriculture, horticulture, fishing, and ferrous ore mining was primary occupation of the people
Central to Goa Chitra's display is a 16 ft high wooden oil grinder or ghanno, that also figures as the museum's logo. Palm oil extractors of this kind fell into misuse with mechanisation, and the museum piece was restored from its broken parts.

A walk through the small display rooms of the museum in Benaulim, 50 km from capital Panaji, would be a nostalgic trip back in time for many. Implements associated with the multi-use indigenous palm tree take pride of place. Tools of toddy tappers, those of coconut pluckers, the vessels and implements used to make derivatives like jaggery, vinegar, palm feni and rope, aside from making an interesting display, also lend a sense of the elaborate rituals and economic importance these once held in the region's plantation and agrarian economy.
The museum's researched information contextualises the display for the viewer, enriching the experience. Collections of masonry tools, carpentry equipment, and items that were once used by village barbers, cobblers, herders, weavers, smiths and potters give browsers a sense of the professions that had been central to the erstwhile self-sustaining village life.

The museum has its sights set on exhibiting much more from the cultural cornucopia. Plans for a second phase visualises putting antique jewellery, costumes, medical equipment, crockery and cutlery, photographs , manuscripts and other art and artifacts on display.
Completely self financed by its creator, Goa Chitra is housed in the middle of a 12,000 sq m organic farm owned by Gomes' family. The building itself, in keeping with its celebration of a "waste-free" culture --- is a new construction built using architectural castaways from 300 traditional houses --- giving it a curious amalgamated look. Wood doors, windows, pillars, rafters and other material have been consciously resurrected in the museum.

Goa Chitra believes in reviving age old traditions through the museum and its outreach programmes.

Trending Now: