He has done too many things in too short a time

Shikha Shah
&nbsp | &nbsp Mumbai
29-October-2010
Vol 1&nbsp|&nbspIssue 9
Neelesh Misra captured popular imagination with his lyrics for hit songs like Anjana Anjani Ki Kahani (Anjaana Anjaani) and I am In Love (Once Upon a Time in Mumbai). But not many know that the 37-year-old has accomplished enough before getting the break in Bollywood. And not many are aware that music has been a passion for him right from childhood.

Neelesh and his 18-minute younger twin brother, Shailesh, used to save their pocket money to record their own voices and enjoy listening to the tapes. The young Misras then created music using saucers and plates.

But today, Neelesh leads a band 'Nine', which is cutting an album, though Shailesh has become a quality engineering manager at Adobe Systems. The band, however, is only a recent addition to his already decorated hat. As a journalist, he has covered war, tsunami, earthquake, floods, Maoists and Bollywood.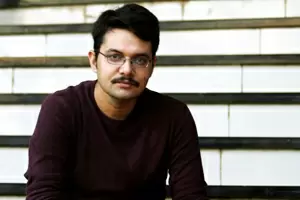 Neelesh's next ambition in life is to start a rural call centre and a village newspaper
But he never wanted to become a journalist. "I always thought that journalists were magnified stenographers until I got an opportunity to work with a Hindi newspaper 'Swatantra Bharat'," he says. Anyway, he worked with Associated Press, one of the largest news agencies in the world, for more than eight years and then went on to become the Deputy Executive Editor of the Hindustan Times newspaper. But he gave up that job recently as penning lyrics for Bollywood was his first love.

Earlier, besides winning the Ramnath Goenka Award For Excellence In Journalism and the K.C. Kulish Memorial Award, he also wrote three books: "173 Hours in captivity: The Hijacking of IC-814", "End of the Line: The Story of The Killing of the Royals in Nepal", and a novel "Once Upon a Timezone". He recently released his book "The Absent State: Insurgency as an excuse for misgovernance," co-authored with Rahul Pandita.

During his college days in Nainital, he wrote down the lines "Khwabo Ki Zameen Hai, Yaadon Ka Aasman, Mein Hoon, Udaas Shaam Hai, Aur Hai Dhua Dhua…." out of the blue one day and sent the ghazal to Jagjit Singhji. Of course there was no response from the musician. "Later, I happened to meet Mahesh Bhatt in Mumbai and he absolutely loved the song. My very first ghazal thus helped me kick-start a career in Bollywood," he says.

Lately, he has treaded into non-film music with the formation of the first writer-led band 'Nine' which made its debut during the Kalaghoda festival in February. "The surprising bit was that the very next day we got a call from the leading music label Saregama saying they wanted to sign an album with us," says Misra smilingly. The songs in the album, 'Nine Lost Memories', which is expected to be out by year end, capture the aspirations of small towns, dreams of the metropolis, the changing face of the new India and the values of the old, he says.

Besides these things, Neelesh loves theatre. He has written and directed plays as well as acted in them. 'Khayal Gatha – The story of a thought' and 'Chhayanat – Dance of Shadow' are the popular ones. Now he plans to set up a rural call centre and a professionally managed rural newspaper in the village where he grew up - Kunaura, 160 km from Lucknow.

For those who turn to him for advice he says: Identify your strengths and skills and then develop them. Every individual has some potential that has not been utilised.


Trending Now: