This summer, children will have a feast of good films

Rina Mukherji
&nbsp | &nbsp Kolkata
22-October-2010
Vol 1&nbsp|&nbspIssue 8
Coming April, children will be able to feast on good quality films made exclusively for them by a slew of youth. They will be screened at a film festival, organized by the Children's Film Society, and Filmi Chashma, the organization that is encouraging the youth to work on the film projects. "Since children will be on vacation in April, we felt it to be the most suitable time for a children's film festival," says Subha Das Mollick, the person who launched Filmi Chashma.

With a view to persuading film-makers, especially students of the film media to make quality films for children, a series of workshops were held nationwide with the help of mass media institutes such as the Consortium for Educational Communication in Delhi, the Flame Institute in Pune, the L V Prasad Film and Television Academy in Chennai and Chitrabani in Kolkata.

The workshops were meant to elicit ideas that would culminate in films. And it did happen that way. In Kolkata, nearly half of the 35 participants have already started working seriously on short films for children on a wide range of themes from biodiversity to caring for the elderly.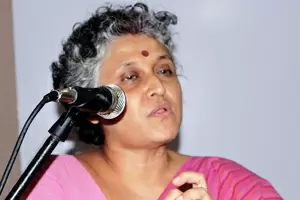 Subha Das Mollick succeeded in motivating youth to make films for children
It all happened because of Das Mollick, who, way back in 1988 while teaching Physics at St Xavier's College in Mumbai, first thought about understanding how films could be used for educational purposes. Since her college ran a course in film production at the Xavier Institute of Communications (XIC) within its premises, she decided to train herself there. The course let her make inroads into educational film-making by writing scripts for science-based educational programmes such as 'Turning Point'.

However, since she was into fulltime teaching, it was not possible to do much. It was more than a decade later, when she moved to Kolkata in 1995, that she set about exploring the possibilities in films and television. By then, she had stopped teaching Physics and joined the newly-opened department of mass communications at St Xavier's College, Kolkata. Though she was making educational films on a regular basis then, it was only when she quit teaching in 2004 she could give full play to her aspirations in the realm of educational media.

Alternative methods of imparting education interested her and Das Mollick became a part of Shikshamitra, a venture that had been started to teach children from underprivileged and slum backgrounds. With the help of Shikshamitra and the Birla Industrial and Technological Museum, she collaborated with the Comet Media Foundation to put up a children's science fair in Kolkata in 2006 to help children learn a wide range of subjects in an entertaining manner. One of the methods was films.

After finding the interest of children in films, Dos Mollick held a separate children's film festival. The films dealt with friendship in conflict zones, nature, environment, and peace, and were from several countries. Facilitators introduced every film, and led an interactive discussion with children after every screening. The discussions brought into focus the lack of access to quality entertainment for children. And that prompted her to launch Filmi Chashma.

Trending Now: