A messiah of peace and communal harmony

Abhishek Pandey
&nbsp | &nbsp Kanpur
08-October-2010
Vol 1&nbsp|&nbspIssue 6
In the state of Uttar Pradesh, about 220 km from Ayodhya - where a controversy is raging over a religious site - there is a mosque standing tall in a Hindu locality. Apart from the fact that it bears testimony to communal harmony, it has a significance that is little known outside: It was built by a devout Hindu, Ram Singh Thakur, on his own land near Mall Road in Kanpur.

Even now, at the age of 91, Ram Singh Thakur wakes up early in the morning for cleaning the mosque for the namajees (Muslim devotees) to offer prayers. His family members including his daughter-in-law and son, who are devout Hindus, help him out in the task without any grudge. His daughter Shakuntala Singh says his father is very popular in the local Muslim community for his devotion for Islam and many people consider him as a messiah of peace.

Thakur, who embarked on the project with the help of few local residents, says that he built the mosque as he was inspired by the dedication of his guru, Abdul Kareem Shah, a Muslim saint who had contributed his entire life for social causes. "Earlier, the mosque was a temporary structure made of bamboo and after four years I mobilised adequate money for constructing the proper mosque for Muslim devotees," Thakur says.

After Baba Kareem Shah died in 1977, Thakur placed the Majaar of his guru inside the mosque and now it is mosque-cum-dargah, which is visited by both Hindus and Muslims, seeking divine blessing.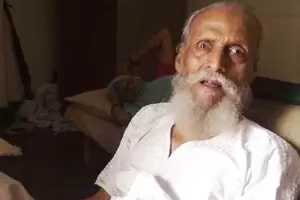 At 91, Ram Singh Thakur wakes up early morning every day and cleans the mosque for Muslim devotees to offer prayers

Though Kanpur has witnessed over a dozen communal riots in past five decades, none of those incidents had disturbed the peace and communal harmony in the locality where the mosque is situated. Both Hindu and Muslim residents are firm in their resolve not to let outsiders disturb the harmony of the area.
Thakur and his family members say that representatives of both the communities would guard the entrances of the locality round the clock to prevent the entry of outsiders. "I don't want to name any religious organisation but some fundamentalists have brain washed the younger generation in the name of Ram and Allah," says Thakur.

His daughter, Shakuntala says that Thakur recites Shrimad Bhagwat Geeta and the Quran with same religiosity and devotion, as he believes God is one. "All my siblings are married into Hindu families and we all follow the Hindu customs and rituals but we have the same devotion for Islam and other religions. The credit for this goes to our father and his teachings," Shakuntala says.

Even, Prime Minister, Manmohan Singh, has recognized Thakur's efforts for communal harmony and has sent him an appreciation letter.

After the Allahabad High court verdict on the Ayodhya dispute, the district administration deployed a few constables at the mosque. "We don't need any force for maintaining peace here. I am only worried about other places," says Thakur.

Trending Now: