'We use masala that we ourselves make and you can eat more here'
M S Mathivanan
&nbsp | &nbsp Dindigul
27-October-2018
Vol 9&nbsp|&nbspIssue 44
Tamil Nadu's Dindigul town is famous for Biryani and some of the hotels here such as Thalappakatti, Venu, Ponram, Bangaru, and Thulasi are well-known for their biryani. Thalappakatti Biryani, which started in Dindigul, has now opened branches in foreign countries as well. But Sri Kamatchi Tiffin Centre is giving a new identity to Dindigul with its non-Biryani menu.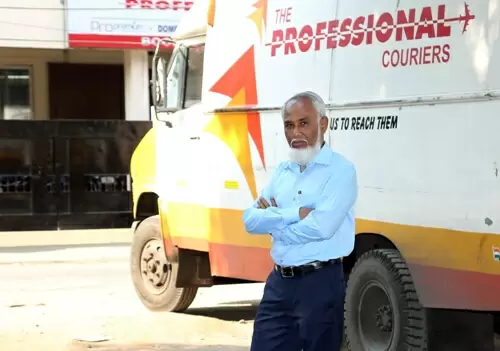 Sri Kamatchi Tiffin Centre serves delicious vegetarian and non-vegetarian food at nominal prices in Dindigul
(
Photo: Senthil Kumaran – for representational purpose
)

When we stepped inside the small eatery, I could see women and children waiting for the food to be served at their table. They had ordered idli, chappathi, oothappam and adai (a local dish).
I too decided to start with idly. A couple of minutes later, idly arrived on a banana leaf. As I was thinking of asking for gravy, they brought bowlsful of 'naattu kozhi kuzhambu' (country chicken curry) and 'eeral kuzhambu' (liver curry).
I tried the curry with the idly and it tasted delicious. Next, they served mutton kuzhambu in a bowl, but the gravy was unusually white in colour and appeared like 'paayasam' (a sweet dessert). When I asked the owner Balu about it, he said they always prepared their own masala and it gave the curry the unique colour.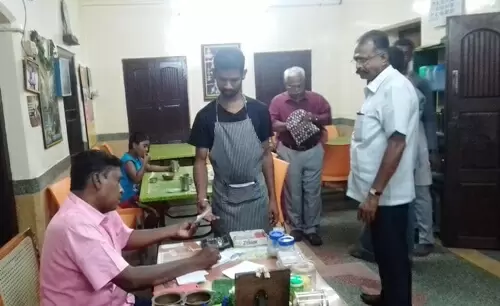 Only wood pressed oil is used at the hotel

"We use only wood pressed oil," says Balu. "You would normally feel your stomach is full after eating a certain quantity of non-vegetarian food. That's because of the spices that are used in preparing the dishes. But we use masala that we ourselves make and you can eat more here."
Across the table, a customer had just finished mutton chops and he was now ordering oothappam and thakazhi (tomato) kuzhambu. Clearly, the customers here loved both the vegetarian and non-vegetarian items at the hotel.
"We opened the hotel with the idea of serving quality vegetarian and non-vegetarian food during the 1990s," says Balu. "We serve only tiffin items in our hotel and we are open only in the morning and evening hours."
In the morning, the hotel serves mutton chops, and chicken kozhambu to go with the tiffin for non-vegetarians and pulikuzhambu (a local vegetable curry) for vegetarians. The evening menu too has mutton, chicken and a few egg dishes, besides some vegetarian items.
The prices are usually on the higher side in the biryani hotels in Dindigul. But the prices are very nominal at Kamatchi tiffin centre, which adds to your satisfaction.
After finishing six idlies and an omelet, I ordered an oothappam and an extra omelet. I had the most satisfying experience, and relished the best of both vegetarian and non-vegetarian food at Kamatchi tiffin centre.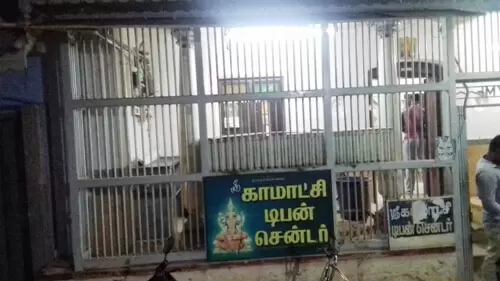 Front view of Kamatchi tiffin Centre

Trending Now: