How a Mobile App is Helping Cotton Farmers Tackle Weather, Water and Pests
Nitin Jugran Bahuguna
&nbsp | &nbsp Aurangabad
05-October-2018
Vol 9&nbsp|&nbspIssue 41
Forty-year-old cotton farmer Nivrutti Ghule feels more in control of his crops today. If he has to leave his village on urgent work, he doesn't have his earlier misgivings on whether the plants will be tended to properly in his absence. Now with a simple click of his android phone, he can feed in the time and duration he wants the cotton saplings to be watered, automatically activating his water pump.

The "Cotton Doctor" app, an Android and web-based Decision Support System (DSS), has been introduced by World Wide Fund for Nature-India (WWF-India) in collaboration with Swedish multinational IKEA and is enabling cotton farmers in Maharashtra's Jalna district to derive the maximum benefits and returns from cotton cultivation. The app alerts farmers about weather vulnerabilities and assists them in making informed and effective decisions on cotton growing.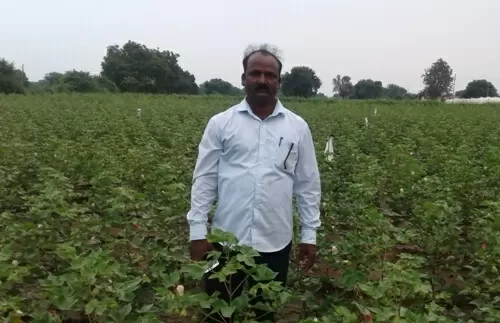 Nivrutti Ghule, a cotton farmer, is able to manage a whole lot of activities at his farm through the 'Cotton Doctor' app introduced by World Wide Fund for Nature-India (WWF-India) in collaboration with Swedish multinational IKEA (Photos: IANS/ Nitin Jugran Bahuguna)

Ghule, who hails from Wakhari village, some 25 km from Jalna, explains that a sim card has been fixed in an Automatic Irrigation Switch (AIS) attached to his motor pump. With the Cotton Doctor app uploaded on his phone, he can activate the pump from anywhere.

"I also get an SMS that the command has been successfully carried out," he said, adding: "Apart from this, I receive regular SMS alerts with weather updates and how to monitor soil nutrient throughout the growing stages of the cotton crop."

The infestation of pink bollworm, a common pest that attacks cotton plants, devastated cotton production in the state last year.

"Cotton farmers lost between 60 to 90 per cent of their total produce last year," claimed Ghule. "But with this app, we are informed when pink bollworm is likely to attack our plants and at what temperature the infestation can occur. The SMS alerts I receive recommend appropriate medicines/sprays I should apply to eliminate the pest."

Advisories relating to adverse weather conditions have been especially helpful to the farmers. "Earlier, I would delay cotton picking, but with alerts that rains are coming, we pick the cotton on time and store it safely indoors. I also used too much water earlier which destroyed the crops, but with the information provided by this app, I have cut down tremendously on water wastage, besides unnecessary manpower."

Ghule's wife Shashikala, 38, enthusiastically seconds her husband.

"The biggest plus factor of this app is that we use water only when it is necessary. We have saved between 52 to 70 per cent of water by following the Automatic Soil Moisture (ASM) alerts," she added.

Sumit Roy, Associate Director of WWF-India's Sustainable Agriculture Programme (SAP), which is implementing the project, said AIS is a smart switching device consisting of a micro-controller and soil and water moisture sensors. It has a pumping motor that can be turned on and off for the detection of moisture content in soil on earth. The ASM sensors have been installed in seven villages including on Ghule's farm.

"This precise system has huge potential to save excess water," Roy stressed.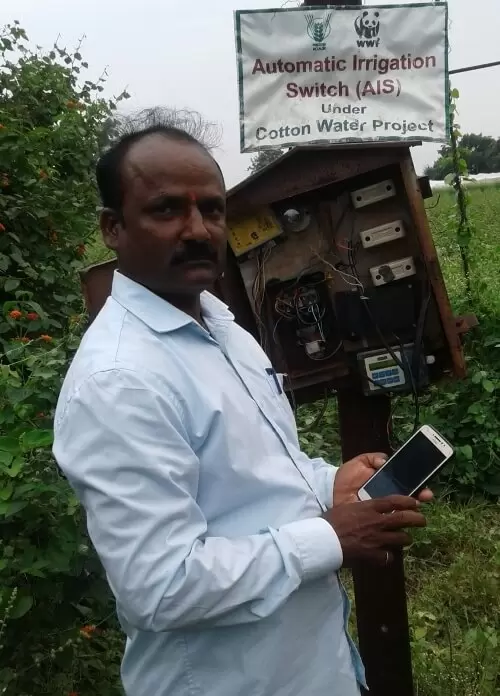 Ghule in front of the Automatic Irrigation Switch (AIS) installed at his farm

At the start of the project, 6,000 cotton fields were geo-tagged to start the weather-based advisories. Geo-tagging is the process of adding geographical information to various media in the form of metadata. The data usually consists of coordinates like latitude and longitude and can include altitude, distance and place names.

Ramesh Wajge, 23, also of Wakhari village, narrated how he started receiving advisories on his phone from July this year after the geo-tagging was conducted on two acres of his land devoted to cotton cultivation.
"I am getting so much information on soil moisture conditions and better management practices which will enable me to make more informed choices while cultivating cotton," he said.

With his android phone, Wajge can also paste and upload pictures and videos of his plants with queries on instructions or advice regarding the growth of his saplings or information on effective manure and pesticides.

After collecting basic data on the farmers' lands, crop variety and sowing date, this information is sent to a Weather Risk Management Services (WRMS) company and captured on satellite and subsequently relayed in the app's dashboard.

Farmers can access the dashboard for information relating to mandis and crop, farm and water management.

"So far, we have registered 4,864 farmers on the dashboard," Mukesh Tripathi, WWF's Coordinator in Jalna district, said.

The dashboard is being managed by Krishi Vigyan Kendra (KVK), a renowned Indian NGO and WWF's partner in the project. Though off to a promising start, the long-term success of the Cotton Doctor app will depend on how the cotton community own, operate, manage and maintain this system. If farmers like Ghule continue to set the example, better days are surely ahead for this cotton community.

"I give my one hundred per cent to all new technological advances in the hope that it will help me increase my cotton yields," Ghule stated firmly. - IANS

Trending Now: