Government Schools Rock in Delhi; On a Par with Private Schools, say Parents
Nivedita Singh
&nbsp | &nbsp New Delhi
08-September-2018
Vol 9&nbsp|&nbspIssue 37
When Roshan Lal, a 40-year-old rickshawpuller, got his son Rakesh admitted to a government school in Delhi, all he wanted for him was to get a decent education. Since he could not afford to pay for a private school, all that was on his mind was that "government school mein kuch toh seekh hi lega" (at least, he would learn something there).

But, today, Roshan is a happy man because his son, now in Class VI, is doing well in school and is even able to teach him a thing or two. He feels elated that many of his son's teachers are even being trained abroad.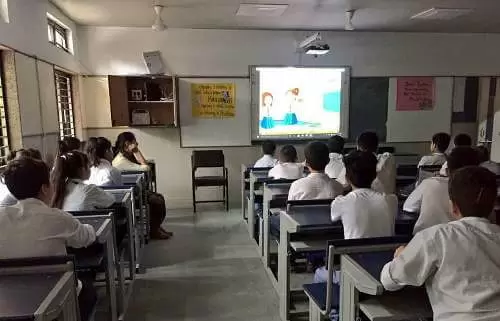 The Delhi government has improved the infrastructure in government schools and made them on a par with private schools

Teachers and principals from over 1,000 Delhi government schools have so far been sent for training to Singapore and Finland, countries that are renowned for their pioneering teaching methods.

Many feel it has improved teaching methods as well as the quality of education imparted at government schools, hitherto infamous for their poor and archaic standards of teaching and rote learning methods, and that such training at different platforms enhances teachers' pedagogic skills and keeps them abreast with the contemporary knowledge in their domain areas.

"I got to know from my son that his teachers are going abroad for training. I am happy with the idea as it will help in improving the quality of education he is getting currently," said Roshan.

"While poor people like us cannot afford private schools, it is good to know that even government schools are now competing with private ones and our children are learning from good teachers. Even private school teachers don't go abroad for training," he said.

Many Delhi government schools, with fresh coats of colourful paint on their walls, now not only have comparable infrastructure to private schools, but their course curricula are also transforming. They now also have a "Happiness Curriculum" designed by a team of 40 Delhi government school teachers and educators over a period of six months.

As part of this curriculum, students between Nursery and Class VIII now have a 45-minute "happiness period" which includes meditation, storytelling, question-and-answer sessions, value education and mental exercises.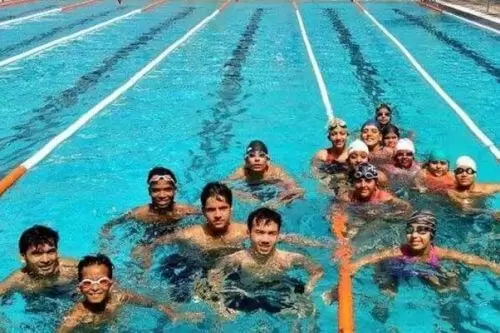 A swimming pool inside one of the government schools

Raju Yadav, a small shop-owner in Laxmi Nagar, feels excited with the focus on teachers' training.

"My wife and I are not educated. It is also difficult for me to afford tuition classes. My daughter, Swati, is studying in a government school in Class II. The teachers getting training is a good thing. The more the teacher will know, the better they will teach, and the better our kids will learn," he said.

The Aam Aadmi Party (Common Man's Party, AAP), which came to power in Delhi in 2015, made the improvement of the education system one of its priority areas by investing in infrastructure -- including classrooms and other facilities like playgrounds and swimming pools -- while also upgrading teachers' skills.

Delhi's Education Minister Manish Sisodia has repeatedly stressed on the need to improve education system and, during his first budget speech, when he doubled the government's expenditure on education, had said "the money spent on education and health is not an expense, but an investment into the well-being of coming generations".

According to Sisodia, the goal of making government schools better than private schools does not end with improving infrastructure and recruitment of teachers.

"Since the core of the educational improvement process lies in building capacity of teachers, the government would train teachers and principals at the best universities in the world like Harvard, Cambridge and Oxford," he had said.

The first to receive international training was a group of 200 teachers who the government called "mentor teachers". The aim was to leverage their creative expertise to enhance the pedagogic and academic capacities of over 45,000 Delhi government school teachers.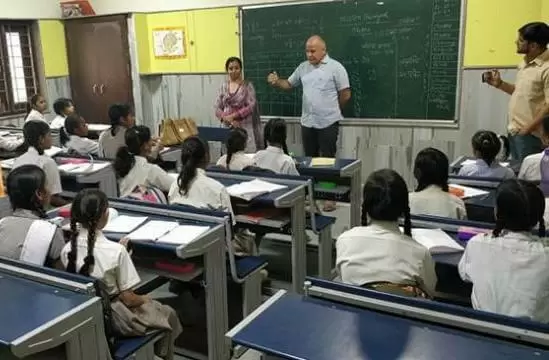 Deputy Chief Minister Manish Sisodia, who also holds the education portfolio addressing students in a government school

Each mentor teacher received training in Mumbai, Bengaluru, Jaipur, Ahmedabad and Singapore. They were then assigned to teachers at five to six schools. These 200 mentors have trained thousands of teachers over the last two years.

Manu Gulati, who went to Singapore for training in August last year and is now a mentor teacher, said after the training, she feels motivated and encouraged to perform better.

"The general feeling is that by investing in their training, the government is showing its trust in the teachers," said Gulati, who started her teaching career in 2011.

"In terms of calibre, teaching aptitude, content knowledge and pedagogy skills, government school teachers are no less than those at private schools," she proudly proclaimed.

Among the few ground-breaking improvements, she said, was the feedback from the students. She said a teacher's job is not just limited to providing knowledge and skills to students, but also to provide them emotional and psychological support, something the training helped teachers with.

Medha Parashar, another mentor teacher who went to a number of training sessions, said: "The teacher is no more the centre of teaching, but the students are. Teaching is not mechanical now, it is interactive."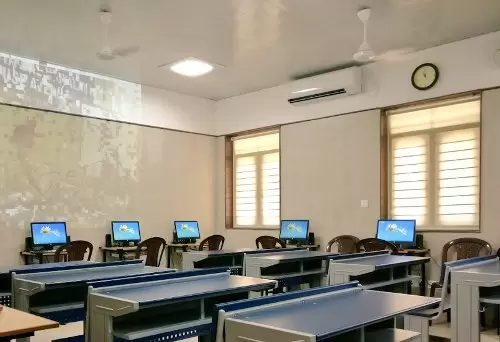 The schools are equipped with computers and good furniture

"Through various trainings, we learned about 45 methods of teaching in a class, and can use any of these," Parashar, who has been a teacher for the past 27 years, said.

The training, Gulati said, gives a new vision and purpose to the teachers. The benefit of training teachers had, in turn, positively impacted hundreds of thousands of students of not-so-well-off families in the capital who had earlier been deprived of quality education.

However, Parashar said, it will take some time for changes to be clearly visible. "We are dealing with living beings. No change will happen overnight as small children are involved. Change will happen with time," she said. – IANS
Wish to share your story?
Trending Now: