The 'Crazy' Sculptor of Purulia Transforms a Hill into a Piece of Art and Tourists Love it
Gurvinder Singh
&nbsp | &nbsp Purulia (West Bengal)
20-April-2018
Vol 9&nbsp|&nbspIssue 17
For Chitta Dey, hills are not lifeless geographical phenomena, but living creatures that inspire him to create art.
For the past three decades, the veteran artist has been sculpting images of birds on Ayodhya Hills in Purulia district of West Bengal, giving it the name Pakhi Pahar (meaning bird hill in Bengali) and transforming it into one giant bas relief.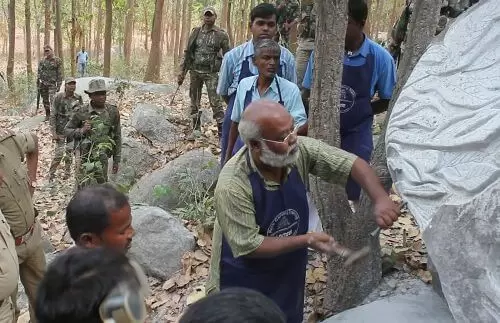 Chitta Dey is sculpting a part of Ayodhya Hills in Purulia district, West Bengal, with images of birds and the place is now drawing tourists from distant places (Photos: Special Arrangement)

The hills that now have birds and animals etched into them, have become a hotspot for tourists who visit from across Bengal and the neighbouring States every year, only to be left speechless by the single-minded dedication and passion of a man who is often called pagla, or crazy, with fondness.
"Since childhood, I had a proclivity towards drawing and art. I used to draw on whatever I could lay my hands on, paper, cardboard, anything," remembers Chitta. "Neighbours would ask me to decorate Puja pandals and friends would request me to complete their drawing projects!"
An alumnus of the prestigious Government Art College in Kolkata, Chitta had just Rs 12 in his pocket when he started on his project to chisel a hill. Now, he is on the threshold of receiving Rs 3 crore as grant from the State Government to expand his project.
His effort looks more commendable when you realise that his 'craziness' has not only given employment to the local youth but has also brought tourists to a place that was once under the Maoist belt.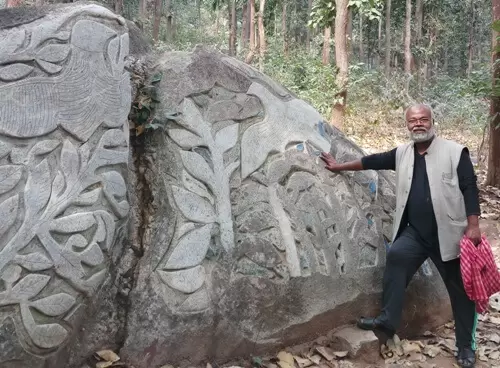 A rock carving done by Chitta and his team at Ayodhya Hills

Born on 2 October, 1957, in Kolkata, Chitta is the youngest of six siblings. His father (late) Kali Krishna Dey was a manager in a Colliery depot in the city while his mother (late) Prabhavati Devi was a housewife.
He completed his schooling from Surendranath Collegiate School in 1974. "Ours was a lower middle class family. It was very difficult for my father to meet daily expenses and feed the family of eight," says Chitta. "It was difficult for my dad to even afford new clothes for us during Durga Puja."
He smiles at these memories, as we meet at the Matha forest range in Purulia, 300 km from Kolkata, surrounded by the boulders and hills carved by his team.
His siblings got angry when he told them he wanted to be an artist, as they expected him to look for a stable profession. "They told me to leave if I wanted to pursue my passion as they thought art would never bring in money," shares Chitta. "My father had passed away in 1974, deepening the financial crisis."
However, he managed to clinch a job with a theatre group as soon as he got out of school. "I used to make the prototype of the sets, as I was a good artist. They gave me Rs 100-Rs 150 per month but the payment was irregular," says Chitta. "I also used to make New Year greeting cards and sell them to my friends. Life was pretty tough those days – the money earned was spent in buying paint, brush and other items I used for painting."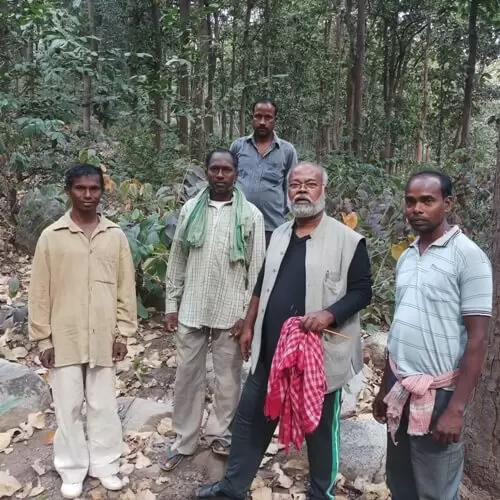 Chitta with some of the local youth, who assist him in the carving work

In 1979, he took admission to the Government Art College in Kolkata to do a five-year diploma course in painting. The admission fee of Rs 96 was paid out of his meagre earnings.
"There was a monthly fee of Rs 4, initially, and Rs 6 later, which I managed by doing the theatre job. For some time I didn't tell my family about the admission as they would have thrown me out of the house," reveals Chitta. "It was during this course that I learnt about sculpting."
Often, he would walk the 5 km from home to college as he didn't have enough money even for public transport.
After completing his course in 1984, he continued to design sets, expanding his work to television, and continued to pursue his painting. It was in March 1990 that he came up with the idea of in situ (in place) rock carving.
"The income from paintings was not regular but I used whatever I had to travel across the State, looking for a suitable place for sculpting. I used to travel in general coaches as I had no money for reserving tickets.
"After searching for more than three years, I finally chose a hill in the Ayodhya Hills range in Bagmundi of Purulia district, which I thought would be perfect for rock carving," shares Chitta.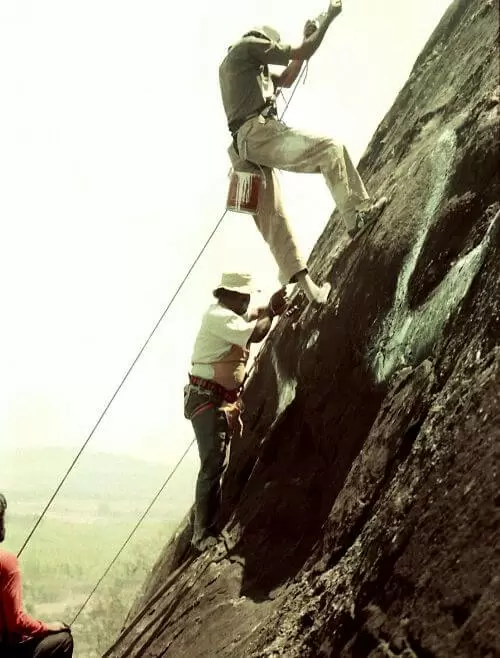 Perilous work: In his younger days, Chitta carving on a rocky slope with safety ropes tied to his body

He was mocked when he went to the government seeking permission for carving the hill. "The government officials made fun of me. It was quite humiliating but I was determined to achieve my dream. The permission eventually came in 1995 after several rounds of various government departments," says Chitta.
For the next four years, from 1995-1999, he trained around 32 local youth in rock carving. "I decided to employ the local youngsters. Initially, they were reluctant and laughed at my idea but slowly they agreed to work," says Chitta.
"It took time as even I had to learn the nitty-gritty of in situ sculpting. The money for training was funded by my friends and well-wishers."
The first drawing was completed in 1999 but they could start carving only in 2008 when the Central Government finally granted him the fund of Rs 1 crore for the project. In the meantime, he continued to paint and live on the sales of his paintings.
He received the grant through the Flight to Harmony Foundation, a trust that he had formed in 1994 to begin his work, and they finally got going.
"We started the first sculpture on a 600 ft x 800 ft portion of the hill. We spent money in scaffolding, drawings and building other infrastructure," explains Chitta, who pays the youngsters a stipend of Rs 250 per day.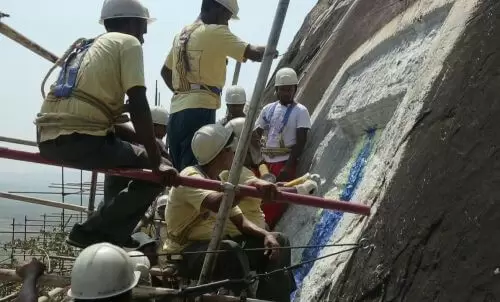 Chitta sculpting a rock seated on a scaffolding

In 2010, however, another roadblock popped up. The work virtually came to a halt for the next five years due to the presence of Naxalites in the area.
"The work finally resumed in 2015 and has been continuing since then," says Chitta with visible relief. "I have now applied for a grant of Rs 3 crore from the State Government. I am hoping that the amount will be released soon so that I can continue with my work."
He has not only sculpted the hill but also the boulders, with images of rare birds and animals that are slowly becoming extinct, such as the pangolin.
In 2015, he opened an arts centre, named Aina, near the Pakhi Pahar with an investment of around Rs 15 lakh to train local youngsters in art.
Apart from the rock sculptures, he also works with prisoners across Bengal and neighbouring States, teaching them painting. He has trained over 200 prisoners since 2007.
His message to the young generation: Pursue your dreams with passion and dedication, and remember life is all about struggles.
As they say, faith can move mountains.
Wish to share your story?
Trending Now: