How celebrity kids pay the price for their parents' success
Radhika Bhirani
&nbsp | &nbsp New Delhi
06-July-2017
Vol 8&nbsp|&nbspIssue 22
In a video gone viral, she looks helpless and uncomfortable as she tries to hide her face and turns around to escape shutterbugs who go clickety-click while she waits for the doors of an elevator to open at a theatre's basement.

That's Suhana Khan, Indian superstar Shah Rukh Khan's 17-year-old daughter, experiencing the unwelcome attention of being a celebrity kid.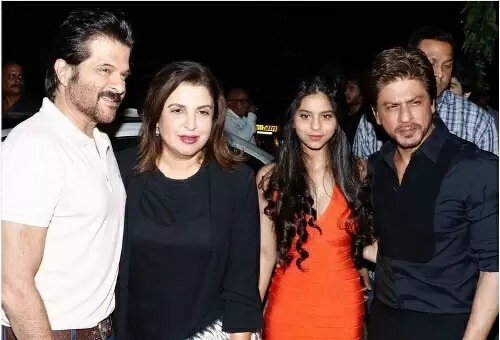 The video of Shah Rukh Khan's daughter, Suhana (2nd from right), seen with her father, Anil Kapoor and Farah Khan, caught among a bevy of shutterbugs went viral recently (Photos: IANS)

The growing paparazzi culture in India's film industry is not sparing even the celebrities' children from the prying eyes of the cameramen, who are always chasing "the first" and "exclusive" pictures to get more hits and eyeballs on the flourishing digital media.

It's often dismissed as "the media's job", but actors and celebrities have come out clear about where one needs to draw the line.

"They are not movie stars. They just happen to be a movie star's children... Don't assume they will be able to handle the media like I do... They get awkward," Shah Rukh said in a tete-a-tete with journalists on Eid last month.

Just last year, Shah Rukh was left irate over "cheap" headlines after photographs of Suhana in a bikini were splashed all over.

"Your website is not going to run on my daughter's bikini body," he had said in an interview.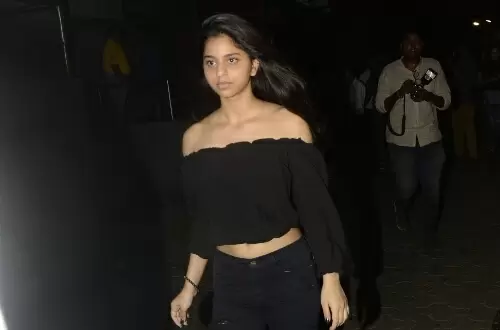 Photographers trailing Suhana

As a concerned parent, Shweta Bachchan Nanda -- daughter of Indian megastar Amitabh Bachchan -- had last year reacted strongly about the intrusion of privacy in the life of her daughter Navya Naveli, whose personal photographs with friends keep getting circulated on social media.

"She is not a public figure. Yes, she is related to some very famous people, but that is something completely out of her control," Shweta had written in her column.

Shweta also pointed out how Navya Naveli's "strong sense of self" helps her remain unaffected even when people "judge her, deride her, call her unattractive or scrawny".

"But you can well imagine what it would do to the self-esteem of a young, impressionable girl, who hasn't asked to be thrust into the spotlight in this way," added the mother of two, who feels "helpless" while being "unable to plug the flow of this filth that is distributed in the name of information and journalism -- all in the pursuit of hits and likes".

How celebrity children handle this attention -- which is bound to come their way -- has a lot to do with their parenting, says well-known psychiatrist Samir Parikh.

"It all comes down to how the parents are able to give them a normal upbringing. Social media is in nobody's control, but you can teach your child to ignore things and not to take things to heart.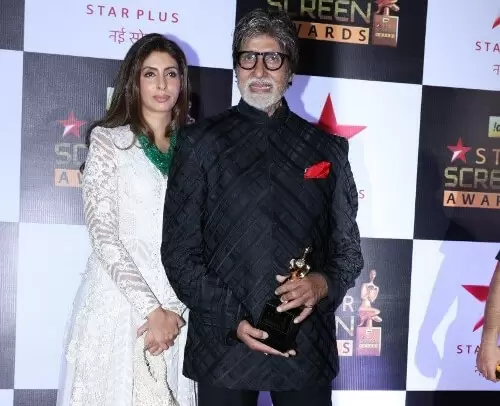 Shweta Bachchan Nanda had expressed her concern about her daughter Navya Naveli's personal photographs being circulated on social media

"Children can be impressionable by their own parents setting the example of how to handle the pressure of public life," explained Parikh, Director, Mental Health and Behavioral Sciences, at Fortis Healthcare.

Writer-entrepreneur-film producer-former actress Twinkle Khanna has son Aarav and daughter Nitara with Bollywood star Akshay Kumar. Being the daughter of "India's first superstar" Rajesh Khanna and evergreen screen icon Dimple Kapadia herself, she has lived the life her children are now living -- albeit with lesser attention.

She realises it's a different age.

"Their life is different, they are on Instagram, Snapchat and have a whole different version of reality than we did. I think they are a lot more comfortable and easy with that sort of a life than we ever were. I think they can handle it... Every generation has handled their challenges well, and so will they," Twinkle said at a conclave here earlier this year.

But for some celebrities, what's irksome is the rat race to get their children's photographs right from their birth. Whether it was Shahid Kapoor's daughter Misha or Kareena Kapoor Khan's son Taimur -- there was a rush for their first photographs.

According to Public Relations specialist Archana Sadanand, who has worked closely with the film industry, "paparazzi has become highly intrusive in the celebrities' lives as well as their kids'".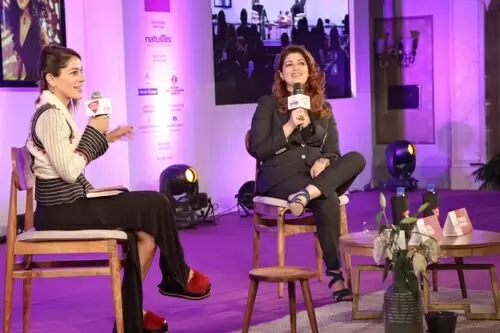 Twinkle Khanna (right) thinks her children can handle the pressures of being celebrity kids

"Ideally, the media themselves should take out a mandate and not click infants as harsh lights, clambering for the best picture, can hurt them... (But) I guess the celebs have come to terms with the paparazzi culture and have slowly got their kids also accustomed to the same.

"Once the child grows up, he/she starts understanding the media and the fact that their parents are celebrities and it's a part of the day-to-day lives."

Aaradhya Bachchan, 5, is a clear example -- she smiled and posed like a pro while travelling with her mother Aishwarya Rai Bachchan to Cannes -- much to the actress and former beauty queen's surprise.

All part of growing up in the limelight, perhaps! - IANS
Wish to share your story?
Trending Now: