"It's upto Kohli to get the best out of Dhoni and take his advice whenever it's required"
Tridib Baparnash
&nbsp | &nbsp Mumbai
20-May-2017
Vol 8&nbsp|&nbspIssue 21
India's first World Cup-winning skipper Kapil Dev said it all depends on current captain Virat Kohli to use and utilise his predecessor Mahendra Singh Dhoni's sharp cricketing acumen when the 28-year-old leads India for the first time in a global event -- the ICC Champions Trophy -- starting June 1 in England.

Earlier this year, Kohli took over as the full-time skipper after Dhoni had surprisingly announced he was stepping down ahead of the three-match One-day International (ODI) series against England.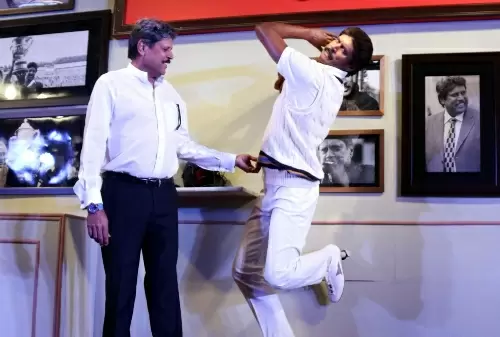 Kapil Dev, seen in the above photo unveiling his wax figure at Madame Tussauds in New Delhi earlier this month, hailed Dhoni as an all-rounder who was good at both batting and wicket-keeping (Photos: IANS)

Despite India winning the series 2-1 in January, Kohli did not have any more matches to prove his leadership credentials in the 50-over format as the team was engaged in a four-match gruelling Test rubber against Australia before the Indian Premier League (IPL) set in.

As India head to England to defend their Champions Trophy crown with Kohli at the helm, Kapil feels it is up to the Delhi batsman to get the best out of Dhoni, who led the men-in-blue to the title four years ago in the same country.

"It all depends on Kohli on how he wants to use his former captain's experience. I don't think Dhoni will be the one who will keep on jumping and keep on advising Kohli. It's upto Kohli to get the best out of Dhoni and take his advice whenever it's required," Kapil said in an interaction arranged by event broadcasters Star Sports and digital platform Hotstar here.

Hailing Dhoni as an all-rounder in the true sense, Kapil who led underdogs India to an unforgettable World Cup triumph in 1983, said it is not only the bowling or batting skills that makes a cricketer an all-round option for a team.

"Don't forget Dhoni, he is a true all-rounder. All-round abilities are not only about batting and bowling, it's also about wicketkeeping and batting.

"He is the most important player at that key position of No.5 or 6, wherever the captain wants him to bat," said Kapil on the Ranchi stumper.

The former captain also heaped praises on the all-rounder duo of Ravichandran Ashwin and Ravindra Jadeja, rating them better than most of yesteryear cricketers.

"It's very difficult to compare somebody. Ashwin, Jadeja have done a far better job than any of us during our time. We have to believe in their abilities, after all they have proved and done so well in all forms," he said.

India will start their Champions Trophy campaign with the much-awaited group clash against arch-rivals Pakistan on June 4 at Edgbaston in Birmingham.

Though India have had the upper hand in World Cups (20 and 50 overs), having beaten Pakistan every time in the 11 matches they have met, the Champions Trophy has been a different story.

Pakistan lead India 2-1 in head-to-head in the 50-over showpiece event with the first two games going in their favour.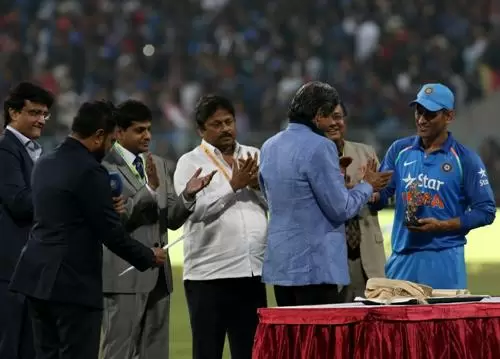 Kapil Dev felicitating Dhoni in Kolkata in January this year after the latter relinquished the ODI and T-20 captaincy

The first time the two teams met in the Champions Trophy was in 2004 when India lost by three wickets in the group phase, in a match that was also played at Edgbaston. Five years down the line, Pakistan again catapulted to victory by defeating India by 54 runs at SuperSport Park in Centurion.

However, the Dhoni-led side came out on top the last time around when India beat their arch rivals by eight wickets at Edgbaston in what was a rain-curtailed game.

Ask Kapil if the head-to-head record against Pakistan will have any effect on the upcoming clash, the 58-year-old said: "Don't think there will be any such pressure on India. If I am batting against Pakistan it doesn't matter what is our track record."

"I will play the ball to its merit. These are good things for the media to talk but when a player goes in, they don't think like that. They just want to play and win it on that day," he added.

With the conditions in England favouring the pacers, Kapil said the bowlers must focus on moving the ball rather than attempting too much variety during their campaign.

"The bowlers just need to stick to their line and length, which is the most important thing while bowling in English conditions. In England, you don't need to try too much variety (but) just focus on moving the ball. It doesn't matter how good the batsman is, if you can move the ball you are always going to dominate," he said.

"In England, it is all about swinging the ball unlike our subcontinent conditions, where a perfect length ball can be easily dealt by the batsmen. But there in England if you have the ability to move the ball, it gets very difficult for the batsmen.

"I don't know how the pitches are going to behave and the weather is during that period, that's something we need to find out on the match day," he added. - IANS

Trending Now: