Food startup in Chennai introduces branded water bottles with free refills
10-April-2017
Vol 8&nbsp|&nbspIssue 15
For 35-year-old Santosh Muruganantham, Founder and CEO of Kolapasi, a chain of takeaway outlets in Chennai, satiating the hunger of his customers is not the sole intention of his business; he believes in growing a socially responsible orgaisation.
The food-chain has provided jobs for transgenders and offers purified drinking water for free to its customers.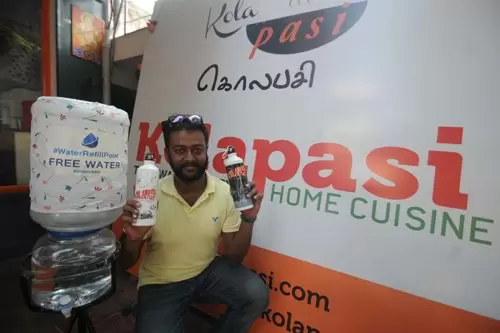 Santosh Muruganantham, the founder of Kolapasi, with their branded Kolapasi Water Bottles (Photos: H K Rajashekar)

Santosh has introduced funky aluminum Kolapasi Water Bottles that are priced at Rs 299 each at his outlets. Customers can buy the water-bottle and get refills at any of their outlets located in Adyar, Ashok Pillar, Mogappair, Karapakkam, Choolaimedu and Annanagar.
"When we were young, we used to play outdoors and whenever we needed water to drink, we tapped the doors of houses nearby asking for water.
"Neighbours happily gave us water to drink. Kolapasi water bottles are also based on the same concept. We feel water is not a commodity to be marketed and made profit out of. Water is a basic necessity and we believe in giving it for free," says Santosh, who also adds that they don't sell mineral water bottles in their outlets.
"We don't believe in stacking up our shelves with mineral water bottles or coke cans. Instead, we sell our own store-made juice cans. Anyone can walk into our stores with the Kolapasi water bottle and fill up the purified water."
The Kolapasi Water Bottles are also shipped abroad at Rs 499 per piece.

Kolapasi, which started with one outlet four years ago, has six outlets today across Chennai and a seventh outlet will soon be inaugurated in a span of two weeks at an IT Park in Taramani.
An engineering graduate from Chennai, Santosh completed his MS (Masters in Bioinformatics) from Georgia Institute of Technology, Atlanta and returned to India in 2010 after working there a few years in a software industry.
In 2011, Santosh started an import and export business and in 2013 he started Kolapasi.
Kolapasi, a private limited company that was launched with an investment of Rs 30 lakh, has seen good growth year on year. The company, which has four directors and seven shareholders, employs around 30 people.
On their policy of hiring transgenders, Santosh says, "Most organisations want to be recognised as organisations with corporate social responsibility. But we want to be a socially responsible organisation.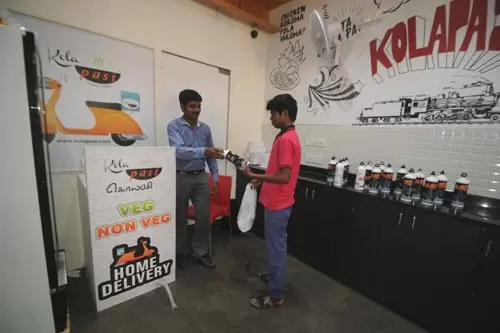 Customers can bring their water bottles and get free refills at any of the company's outlets in Chennai

"Providing jobs to transgenders is one among such responsibilities, as most transgenders either beg on streets or become sex workers.
"Even though they try for jobs, they get teased and are treated badly in most places. We have tied up with an NGO called 'Born to Win', to help us connect with more transgenders," says Santosh.
So, what is the meaning of Kolapasi? "Kolapasi in Tamil means 'extremely hungry'. People get easily connected to such an emotion (more than a word) and remembering the name of the restaurant when they are hungry would not be so difficult," signs-off Santosh.
Wish to share your story?
Trending Now: