Where art is used as a medium for fun, de-stressing and exploring creativity
Saket Suman
&nbsp | &nbsp New Delhi
30-March-2017
Vol 8&nbsp|&nbspIssue 13
A magnificently elegant interior dotted with all things artistic -- surreal paintings, graffiti and moving quotations etched on its walls -- houses, to the wonder of many, young and enthusiastic children happily learning tidbits of art. And from whom? No, not amateur teachers but top professional artists.

Enter the recently opened, "The Art Hub" in the Greater Kailash area of south Delhi. It is an ocean of bliss and charm amidst our mundane day-to-day lives, signifying every aspect of art in its totality.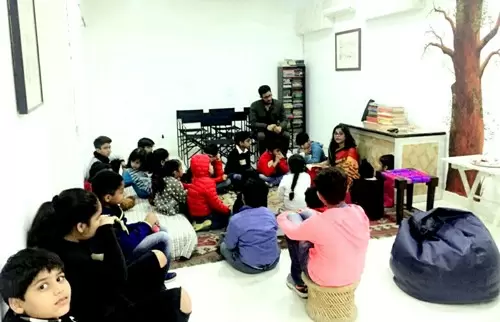 The studio offers programmes for people belonging to all age groups and backgrounds (Photos: IANS)

But what exactly is it? Just another art school, or a cafe with an artistic interior?

One would fall short of expressions if asked to sum up the entire studio, spread across a staggering 5,000 sq.ft of covered as well as open spaces and a view of temples and old monuments.
The Art Hub is not an average art school, but a place where art comes alive before your eyes. It is also a place where art is used as a medium to relax, unwind, learn and explore.

"Have you heard of art therapy," its founder Bhavna Minocha, herself an artist as well as curator, asks me as we unwind on a luxurious sofa in one of the rooms of the studio. All around me are careful installations, paintings, graffiti and quotations tailormade to suit the ambience of the place.

There are some bookmarks drawn by kids from an earlier session in the day lying on the table, beautiful sketch works done on old pages of novels hanging beside me, and right in front are two huge windows that open up the creative world of young children before your eyes. On flat tables, kids of varying ages are engaged in learning the craft in a playful mood with the best minds in the industry. A rare sight to behold!

"Have you heard of art therapy?" Minocha repeats. "What's that?" I ask as I try to recollect myself. The ambience -- just so relaxed with out-of-this-world calmness -- casts sort of a spell on you.

"One can overcome all the tensions and tiredness of the day through art therapy. You need to engage in happy art works in a playful environment and create something beautiful. The very essence of creating something by yourself is enriching," Minocha said.

Be it a young kid or an old granny, an art enthusiast or a corporate professional, there's a tailor-made programme for each one of them.

It's a place where you can hone your artistic skills with the help of an expert team of instructors qualified from India's top art colleges, followed by a session by a famous and renowned artist, sharing their experience and advice with the students.

It offers customised art workshops in a creative environment that supports the artistic journey of each student. One can even enhance the creativity process through a study of the physical realities of painting, drawing, sketching, sculpting or photography.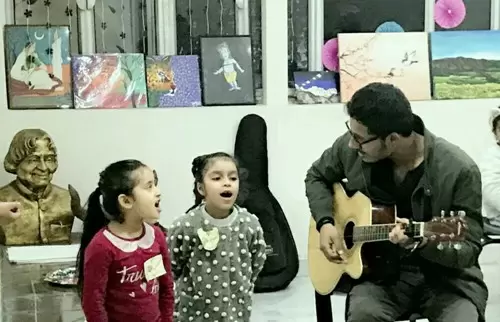 The studio hosts book-reading sessions using art as a medium to inspire kids to read. (Above: Children taking part in a live music session at the studio)

The upbeat art studio is also a place for an art novice who wants to use art as a medium for fun, de-stressing and exploring the creative aspect.

More than anything else, it is a place where you can be your true self, feel inspired and express yourself in your creativity guided by the experts who specialise in drawing out the artist from within you.

The studio hosts a range of sessions and programmes, from arty parties for fun lovers to art therapies for unwinding, book-reading sessions using art as a medium to inspire kids to read, to organising art-oriented team-building workshops for corporates.

"Our mission is for you to relax, be your true self, feel inspired and express yourself in your creativity. Our expert team of instructors is qualified from India's top art colleges," added Minocha.

Looking at breaking the monotony of your life? Head to The Art Hub and allow the other side of you to take the centrestage. - IANS
Wish to share your story?
Trending Now: