'Internet, Wi-Fi and state-of-the-art facilities to revive public libraries in India'
Saket Suman
&nbsp | &nbsp New Delhi
14-February-2017
Vol 8&nbsp|&nbspIssue 7
Images of ill-maintained public libraries -- laden with dust and poor-infrastructure, barely prompting a second visit -- is undergoing a complete makeover thanks to the government's ambitious National Mission on Libraries.
More significantly, state-of-the-art facilities combining the latest internet technologies are being plugged in to attract the younger generation.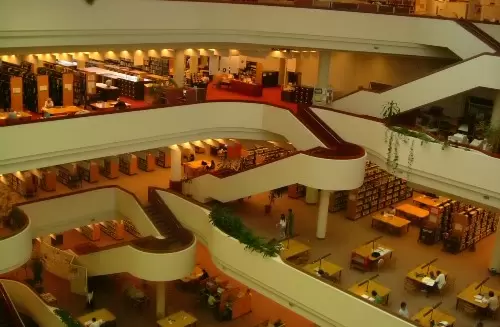 Internet, Wi-Fi and state-of-the-art facilities will play a crucial role in reviving the public libraries in India and attracting the youth. Above Photo is of Toronto Reference Library and is for representational purpose only (Photo: Freeimages.com/ Ted C)
"Some may think that the purpose of a library is to only preserve books, but the world is moving ahead with technology. The younger generation feels that the libraries are full of only books and thus don't interest them. So, we have to make our libraries such that they are in sync with the aspirations of the younger generation," said Deepika Pokharana, Director, National Mission on Libraries under the Ministry of Culture, in an interview.
"They have to be made to come and visit again and again. Internet, Wi-Fi and state-of-the-art facilities are crucial for the revival of public libraries in India," she added.
The National Mission on Libraries was set up in the wake of the National Knowledge Commission recommending sustained attention for development of libraries and the information science sector.
"Everything has to change with the changing times and the society. Nothing can progress in complete isolation. It will become obsolete if it fails to change with the changing times -- and fast-changing times, I must say," Pokhrana explained.
Even in far-off rural areas where there are no libraries, the project is creating internet and Wi-Fi facilities in common centres. "This will allow us to share our digital books and catalogues with these centres and enable common people to have an access to a virtual library," she said.
It is a known fact that mobile phone penetration is increasing rapidly in rural India. Thus, under the National Mission on Libraries, attempts are being made to provide knowledge related to agriculture, animal husbandry, traditional medicine and other similar subjects in an audio-visual format.
"We have to bring such revolutionary ideas to connect people to libraries. If an audio-visual corner is provided in all public libraries, even the uneducated can go and learn about the areas that concern them directly. This will make them interested in libraries," she said.
The most significant feature of the mission is to create the National Virtual Library of India, which will serve to facilitate a comprehensive database on digital resources on information about India and on information generated in India, in an open access environment.
"This library will not have the collection of books and catalogues alone, but it will also be a repository of every type of cultural heritage available in India, tangible or intangible.
"This portal will have open access and even people can add their indigenous knowledge from various sectors. We are trying to club all the knowledge in one place. The national virtual library will be a unique feature," Pokharana added.
However, the condition of most public libraries in India is barely suitable. Pokharana said that public libraries have played an important role in the lives of those from rural background.
"But I agree that public libraries have been neglected in the past few decades. Even the state governments did not look after them properly. Little attention was paid and most of them have not been as good as they should have been, but the revival is on," contended Pokharana.
Under the mission, the process is on to develop six libraries under the Ministry of Culture, 35 State-Central Libraries and 35 District Libraries with particular emphasis on economically backward districts, as model libraries.
In addition, 629 district libraries across all states would be provided network connectivity. - IANS
Wish to share your story?
Trending Now: