Delhi captured through the eyes of slum children
03-September-2016
Vol 7&nbsp|&nbspIssue 36
Slum children of Delhi are showcasing some of the critical urban challenges they face in their everyday lives, through an exhibition of pictures they have clicked. The exhibition titled, 'My City Through My Eyes', organised by "Habitat Photosphere" and "Save The Children", is on at Mandi House Metro Station till September 30.
Launched along with Save the Children's new global campaign "Every Last Child", the exhibition captures the city as seen by its most vulnerable children from the slums of Jahangirpuri, Sriniwaspuri and Madanpur Khadar (North and South East Delhi).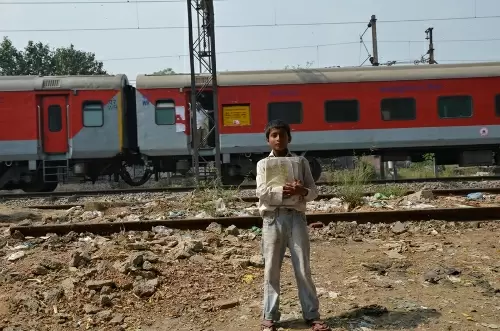 Photograph titled Delhi The City of Dreams, taken by child photographers from Sriniwapuri, South Delhi (Photo: IANS)

The exhibition showcases problems like lack of clean drinking water, risks emerging from industrial waste for resettlement colonies, status of education and health and lack of safe play spaces for children.
"The key theme of the "Photosphere" festival is sustainable development and this exhibition ties in beautifully with it," said the artistic director and curator of Habitat Photosphere, Alka Pande.
"This exhibition highlights that the environmental hazard affects everyone, however the most vulnerable are those children and families who are living on the streets and unauthorized slums," she added.
"Behind The Smoke", clicked by a child photographer from Sriniwaspuri slum, is a photo of the smoke that surrounds the area.
A photograph titled, "Dangerous Colours" shows a worker of a small parchun (departmental store), resting after a laborious day of painting the shop in Jahangirpuri in North Delhi. According to the census 2011, there are 55.5 million marginal workers in India. Most of them work in unsafe and hazardous conditions.
"One of the key pillars on which Save the Children's theory of change rests upon is being the voice of the children and ensuring that the voice of every last child is heard," said the Senior Manager of Save the Children, Avinash Singh.
"Forums such as this exhibition not only serve this purpose but also highlight the creative ability of portraying reality as seen from the eyes of the children," he added.
A photograph titled, "Delhi The City of Dreams", portrays a boy standing in front of a moving train, representing the fact that the city continues to attract migration. This often acts as a barrier for continuous education for many children from migrant families. This is a photograph taken by a child photographer from Sriniwapuri.
"Salaam Dilli!" is a photograph of a child in front of a pile of garbage in Sriniwaspuri slum to highlight the need for a better waste disposal system.
These child photographers are a part of Save the Children's state level Children's alliance in Delhi. This alliance has been trained on child rights, life skills and media communication skills so as to aptly raise their voice against child rights violation in their surroundings.
Save the Children is a child rights organization that works to improve the lives of children by addressing their education, health, protection and their needs in humanitarian emergencies to achieve immediate and lasting change. - IANS

Trending Now: