Designer Yana Ngoba Chakpu on a mission to promote northeast weavers
Natalia Ningthoujam
&nbsp | &nbsp New Delhi
06-August-2016
Vol 7&nbsp|&nbspIssue 32
Designer Yana Ngoba Chakpu, who hails from Arunachal Pradesh, is set to host the second edition of the North East India Fashion Week (NEIFW) in her home state. She hopes that the show encourages more weavers of the region to continue creating products using handlooms, which she believes are gradually being replaced by power looms.
NEIFW, which gives weavers and designers from the northeast region a platform to showcase their creations, will be held in Itanagar between August 19 and 21.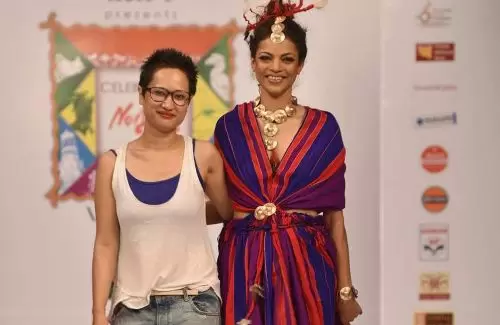 Designer Yana Ngoba Chakpu (left) with a model (Photo: IANS)

Chakpu, also the Chief Operating Officer of NEIFW, said during her recent visit to the capital to promote the gala: "I am one of the northeast designers who works with weavers from all the northeastern states. There are only few active weavers.

"So to encourage them and work with them, we met weavers of Meghalaya, Mizoram and other northeast states. For this edition, there are about 25 designers and weavers who are participating."
"Going to each and every village myself is difficult. We have appointed chief operating officers in every state so that they can talk to the weavers and motivate them and stop them from leaving weaving. It is only during festivals that people buy their work. Otherwise they have to do different jobs," she added.
The designer, who now resides in Guwahati -- considered the doorway to the northeast by many -- believes that weavers can be self-employed.
"We are trying to tell weavers that they can open their own institute. They don't need big buildings for that. A simple hut is also fine. During vacations, students can come and learn weaving. To make a motif, it takes a day or two. It is getting hard to get those kinds of motifs now as people are using machines. Loin loom and other northeast handlooms have taken a backseat as power looms are coming up," she said.
Citing differences between the two, she said: "A product of power loom doesn't last for long though it looks beautiful. Loin loom, on the other hand, is made of bamboo sticks. It is stronger. The longevity is much more than the ones produced by power looms. Northeast has so many tribes and all of them have their own traditional wear and motifs."
Chakpu also plans to set up a NEIFW Collection boutique in London in September.
"After doing London Fashion Week last year, the demand for handloom went up. I thought that instead of selling just my products, I should join hands with other designers. So, every designer who gets registered with NEIFW will get a chance to keep their products in the boutique," she said.
How can fashion from the northeast be popularised?
"By doing fashion shows. How much can one do through personal networking? So, every year we should hold press conferences so that media can focus on us. But first, we need to make the weavers aware of such events. Then only we can go to cities outside northeast. We are planning to host the third edition in January," she said. - IANS

Trending Now: