A place in Kolkata to eat in peace and serenity
Debdoot Das
&nbsp | &nbsp Kolkata
01-August-2016
Vol 7&nbsp|&nbspIssue 31
Dig into a sumptuous plate of stir fried duck with pak choy (Chinese cabbage) in Oyster sauce or a delicious preparation of pork with tofu soaked in rice wine and top it off with fried ice-cream in the plush Buddha Bites that has just spread its wings at the very heart of Behala Chowrasta in southwestern Kolkata.
A stone's throw from the famous Lal Bari -- the palatial red hued residence of former Indian cricket captain Sourav Ganguly -- the 80-cover restaurant also has a private dining area for those wishing some exclusivity.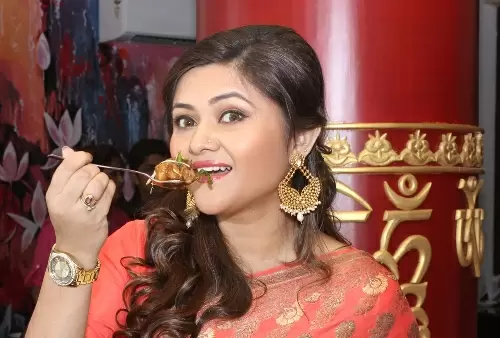 Actress Koneenica Banerjee at the launch of Buddha Bites, Behala (Photo: IANS)

Overlooking the bustling Chowrasta More, the eatery's interiors have an overdose of the Buddha with paintings and wall art all over. There are also murals which have been hand painted. The ceiling is rather quirky and the colour scheme is mostly red and golden.
"Why not Behala Chowrasta," pat came the reply from co-owner Saoli Mazumdar when asked why she had chosen the location.
"Firstly we are very customer-centric, we have been getting feedback that we need something here. Behala is really upcoming and people come to dine from the fringes (of the city). If I give something to this segment of people, it will be a win-win for both of us. They don't have to travel much and it's good for me business-wise," said Mazumder.
Questioned about the restaurant's nomenclature, Mazumder explained: "The Buddha denotes peace, serenity and harmony. In this world, amidst your busy schedule when you sit to have lunch or dinner, you don't even stop looking at your phone."
"You are constantly busy. But we want you to have a peaceful, serene meal, when you are at Buddha Bites. And the name sounds catchy. Bites just got added to Buddha."
Buddha Bites, however, does not claim to serve authentic Chinese food. Its menu has been modified to suit the palates of the local customers.
"It's as per the tastes of our customers. Chinese-Chinese is (in) Terreti Bazar (a Chinese settlement in northcentral Kolkata). We have modified the taste a bit but kept it as Chinese as possible," Mazumder remarked.
So what goes into the making of a delicious platter of pork with tofu soaked in rice wine?

"You have to roast the pork, fry the tofu separately and toss them together with ginger, garlic, chilli, rice wine and chicken stalk with salt according to taste. Add spring onions and cook it for two minutes. The dish is ready, served hot," Corporate Chef Michael Ho said.
"Prawn with tofu and chicken mofa-tofu are some of the special dishes here. There's also the whole steamed fish as well as the steamed chicken. Three to four people can share it," he added.
And, of course, there's the stir fried duck, the crunchy cabbage providing the just right accompaniment to the tangy and chewy meat.
"For dessert, I would suggest the date-fried wontons," Ho said.
A fulfilling dinner for two cost would around Rs 1,100.
Buddha Bites is located at 5, Diamond Harbour Road, Behala, Kolkata - 700008.
(Debdoot Das' visit was at the invitation of Buddha Bites.) - IANS

Trending Now: