Through SHGs, women overcame nature's fury by making use of their traditional skills
04-July-2016
Vol 7&nbsp|&nbspIssue 27
The year was 1999. When the super cyclone hit coastal Odisha, bringing mind-numbing death and destruction in its wake, the women of the worst-affected Ersama and Balikuda blocks in Jagatsinghpur district decided to get back on their feet by doing what they knew best – weaving beautiful artefacts from 'kaincha', the local wild grass.
Menaka Barik, 53, lost nearly everything in the cyclone but, today, she is proud that she has managed to rebuild her life courtesy her excellent crafting skills as well as the Self Help Group (SHG) federation she is a part of.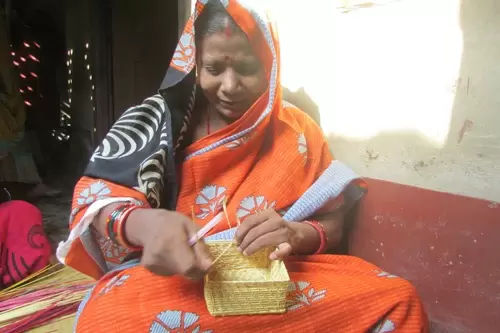 Women of the cyclone-affected Ersama and Balikuda blocks in Odisha's Jagatsinghpur district decided to get back on their feet by doing what they knew best – weaving beautiful artefacts from the local wild grass. (Photo: Rakhi Ghosh\WFS)

A tidy monthly income of around Rs 2,500 over the last few years has enabled her to get many things done. "I have been weaving handicraft items made from 'kaincha' for the last 15 years and with the money I have earned over time I been able to educate my children, open an account in the local post office and buy gold ornaments for my daughters. This work is tough but it gives me immense satisfaction and respect within the family," she says.
At 22, Banabasini may be half Menaka's age but the two share this sense of accomplishment. It's been six years since the youngster has been making wonderful items from the golden grass and making some much-needed additional income for her family.
"It's traditional for women here to make household things from 'kaincha'. But after the 1999 cyclone we learnt to transform this 'hobby' into an income-generating activity," she says.
The women and girls of Jagatsinghpur's Thailo village are well-known in the region for their amazing handicrafts. "Kaincha' grows in plenty in the periphery of our village and it's strong enough to hold things. Earlier, we used to only make things for domestic use from it.
"The skill has been passed on for generations from mothers to daughters and daughters-in-law. In fact, at the time of marriage, the bride of this village takes saris and sweets for her in-laws in handmade 'kaincha' trays. When after the cyclone we were faced with crippling penury it was this skill that came to our rescue," reveals Nirupama Parida, 60.
It was in the year 2000 that 22 women from Thailo first got together to form an SHG with the support of Unnayan, a Bhubaneswar-based development organisation that works to empower marginalised communities with employable skills.
It brought in designers and entrepreneurship experts to train the women in ways to convert their talent into a profitable venture. By 2001, there were 14 groups doing this work and they formed Janani, a federation that works with Unnayan to protect the interest of its members and provide a platform for marketing the products.
Although the process of making the handicraft products is strenuous, the women are thrilled to get an opportunity to gain financial independence. The SHG members go out in groups and often have to wade through neck-deep water to reach areas where this grass flourishes.
Once back, the collected stalks are carefully splintered into two pliable strips and left to dry out under the sun. In a single trip the women manage to get anywhere between five to 15 kilos of grass. Once the federation, which is currently being run from a small rented room in the village, gives them an order, they get to down to making the products.
The women work from home and spend every free hour fashioning beautiful objects with their expert, nimble fingers. It's the unmarried ones who mange to spend more time at it and hence make more money. For instance, while it takes just six to seven hours for the single girls to make, say, a bindi box, their married counterparts can take up to three days for the same work.
Nonetheless, Janani's linkages with Unnayan have opened many doors for them all. The likes of Tulasi Sahu, Sarojini Das, Alka Bala and hundreds of others have received training under the Baba Saheb Ambedkar Hastashilp Vikas Yojana by the Office of the Development Commissioner-Handicrafts, the nodal government agency for the benefit and promotion of the artisan community.
Moreover, they have gotten the golden opportunity to travel for state handicraft exhibitions in various cities. "We have seen that people in the metros are always keen to buy our handicrafts and are taken aback when they come to know that they have been made out of grass. It's great to be able to interact with buyers," remarks Sarojini.
According to Reeta Parida, Secretary Janani that has 500 members spread over nine villages in Balikuda block, "The golden grass handicraft has not just empowered our women it has made them famous, too. These days nearly every home has at least one artisan linked to our network.
"From stationary items like files, trays, pencil cases, book stands and notebook covers to interior decoration and other stuff like lamp shades, window screens, dining table accessories, boxes, bags, hand fans and baskets, our women can make anything out of the sturdy grass. These have become immensely popular across different cities in India and even abroad."
Agrees Rashmi Mohanty, Chief Functionary of Unnayan, which has been regularly promoting and marketing the products since 2007, "This handicraft is well-received even by foreign buyers especially in countries like Japan. The demand is only growing but then so are the challenges, one that is really beyond the control of the women."
Be it Tulasi, who learnt the craft after finishing her matriculation three years back and then managed to buy a sewing machine that helps her to earn more today, or Sarala Swain, a domestic violence survivor who "forgets her pain when I am weaving", or even Alka Bala, who has become a local celebrity after being feted with the Kamla Devi Award for Excellence in Golden Grass Craft, this work has given them respectability and a reason to hope for a better tomorrow.
Yet, they are afraid that this, too, like many other things would eventually fizzle away. "Climate change is a reality and we need to find ways to deal with it so that these women do not end up losing their livelihood.
"Steps must be taken to ensure that at least there isn't indiscriminate construction happening in rural areas, which encroaches on the natural habitat of this grass, or that we get funds to build a proper facility to store grass for the months it is not available in abundance in the wild. These women have already hit rock bottom once, we can't let them go through it one more time," concludes Rashmi. - Women's Feature Service
Wish to share your story?
Trending Now: