"For me, discipline and hard work are top priorities. I am also passionate about learning"
04-July-2016
Vol 7&nbsp|&nbspIssue 27
He has not only earned the tag of being a swashbuckling batsman of the Indian cricket team but also that of a youth icon. Star player Virat Kohli says being a role model for others is a huge responsibility as it can "affect a lot of people".

Living under the constant public gaze is not always a smooth ride, and Kohli has often been caught on the wrong-foot -- be it his angry rants or heated conversations on the field.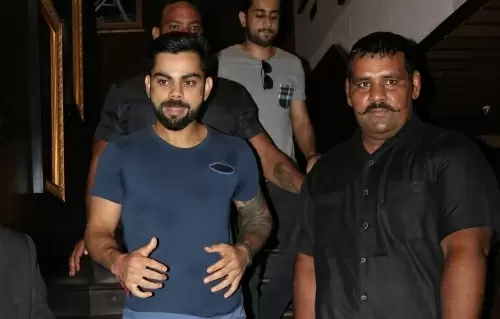 Kohli has been connecting personally with his fans via his fan club Fanbox. About 35 select fans got a chance to meet him last month in Gurgaon (Photo: IANS)

The cricketer, who is rumoured to be in an on-and-off relationship with actress Anushka Sharma, says he "wishes to learn from his mistakes".

"Being a role model for the young people is no doubt a great feeling. When people come up and say that they look up to you and they draw inspiration from you, it means a lot personally. But it also carries a huge responsibility as everything I do and say affects a lot of people," Kohli, who has been connecting personally with his fans via his fan club Fanbox, said in an e-mail interview.

He says he often wants to talk to people about what has worked in building his success story.

"For me, discipline and hard work are top priorities. I am also passionate about learning, which means that I look at my past performance and wish to learn from my mistakes. These are some of the things that I hope get picked up by my fans," Kohli added.

Kohli has made a place for himself outside the cricket field as well. The 27-year-old made his fashion debut with a menswear clothing line called Wrogn and he also has his charity foundation to help underprivileged children.

The Delhi-based sportsperson was first noticed when he captained India to the ICC Under-19 World Cup title in 2008. There has been no looking back since then.

Kohli has clinched many awards like ICC ODI Player of the Year in 2012 and BCCI International Cricketer Of The Year for the 2011-12 and 2014-15 seasons. He also received the coveted Arjuna Award in 2013.

Internationally, in 2014, a British magazine SportsPro named Kohli as the world's second most marketable athlete.

Kohli asserts that there is no shortcut to success.

"There is no substitute for working hard towards what you want to achieve - whether it is about success in your job or about winning a game or a tournament," he said.

There was a time when social media was full of messages terming Anushka as a big distraction in Kohli's life. He has lashed out Twitterati for trolling her.

All said and done, the cricketer says "fans make you what you are".

"They motivate me to do my best every time I am out on the field. I love connecting with my fans through social media but there is no substitute for a personal face-to-face meeting," he said.

Kohli also launched an exclusive fan club in partnership with PrivyPlex in April. It helps him connect with his fans on a more personal level. Over 35 select fans got a chance to meet him last month in Gurgaon through the fan club, and more fans met him in Noida just last week.

"The whole point of Fanbox is for me to connect with my fans on a more personal level. It's all about being there in the real life; so people can see and hear you right in front of them." - IANS
Wish to share your story?
Trending Now: