Focusing on women to carry on with farming even if the men have gone in search of greener pastures
Imran Khan
&nbsp | &nbsp New Delhi
25-June-2016
Vol 7&nbsp|&nbspIssue 26
Men are migrating to cities, leaving behind women in villages. That's impacting agriculture as women find it difficult to use heavy equipment used for farming. But that is going to change as the government plans to develop women-friendly equipment to sustain agriculture.

"Large numbers of men are migrating in search of jobs. This is due to severe drought and other natural disasters caused by the climate change. These men are leaving behind women who cannot cultivate the land as most of the equipment used for farming are heavy and meant for men," said R.B. Sinha, Joint Secretary to Union Ministry of Agriculture and Farmers Welfare.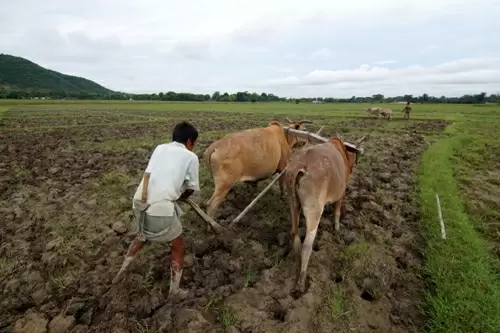 A farmer tills his paddy field at Bamuni village in Nagaon, Assam (Photo: IANS)

The capacity of women has to be enhanced to sustain agriculture in the country in view of demographic and socio-economic changes in rural areas due to climate change, Sinha said.

"With men migrating, the government has to equip women in rural areas with friendly technologies to sustain agriculture," he said here during the Knowledge Forum on Climate Resilient Development in Himalyan and Downstream Regions.

The event was organised jointly by the Ministry of Agriculture and Farmers Welfare, Kathmandu-based International Centre for Integrated Mountain Development (ICIMOD) and Delhi-based IEG.

"Mechanisation development division of the agriculture ministry and Indian Council of Agriculture Research (ICAR) are working together to innovate women-friendly agriculture equipment," Sinha said.

"Work has started to innovate women-friendly equipment and techniques to help small and marginal farmers, mostly women," he added.

Sinha said the government will provide subsidies on the women-friendly agriculture equipment to encourage its use.

Changes in temperature and precipitation, increased frequency of extreme events such as drought and floods, as well as the accelerated melting of the Himalayan glaciers have raised concerns about the future of agriculture and food production, and its ability to keep up with the growing demands.

Experts have repeatedly said that men are migrating from the rural areas due to climate change.

According to ICIMOD, majority of people in the Himalayan region live in rural areas and depend on agriculture for their livelihood. Climate change, population growth, rural-urban migration and other socio-economic changes have impacted agriculture.

Keeping that in mind, the government has now stepped in to ensure that even if men migrate, women in the rural areas take up agriculture. The focus is on these women whose hard work will drive this sector in the future. It's a step to secure our food plate.

(Imran Khan attended the Knowledge Forum at the invitation of International Centre for Integrated Mountain Development) - IANS
Wish to share your story?
Trending Now: