"I also helped my husband set up his own business by collecting information from the Internet"
Somrita Ghosh
&nbsp | &nbsp Dholpur (Rajasthan)
18-June-2016
Vol 7&nbsp|&nbspIssue 25
Twenty-five-year-old Kamlesh Kumari, a resident of Sirmathura village in Dholpur district of Rajasthan, is deeply engrossed with a tab, searching for child healthcare tips while her four-month-old daughter sleeps on her lap.

Educated till Class 8, Kamlesh craves for knowledge. With mobile phone internet in the village, she has now found a new ray of hope for gaining that knowledge. A confident Kamlesh not just surfs the internet but also teaches other women in the village how to leverage the web.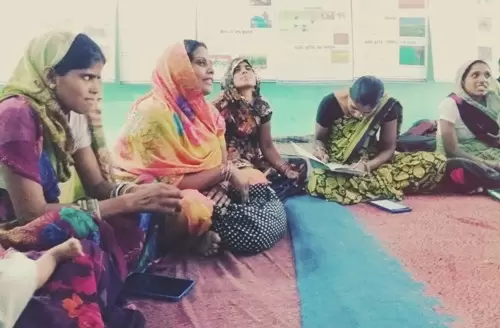 Village women attending weekly meetings of Internet Saathi (Photo: IANS)

Google India's digital educative initiative, Internet Saathi, under Helping Women Get Online campaign has been transforming lives of many women like Kamlesh in the villages of Dholpur. The internet, which seemed a distant dream to village women, is now just a touch away.

"The usage of the internet among women in India is lower than most countries in the world. Only one-third of India's online users are women. This gender disparity of internet user base was the big concern that we wanted to address," said Sapna Chadha, marketing head of Google India.

"We launched an initiative called Helping Women Get Online that was aimed at encouraging women to use the Internet in their daily life," said Chadha.

While the Internet users are growing at 56 percent, the growth rate of women Internet users is only 27 percent in rural India. Through Internet Saathi, Google aims to bridge the gender divide in technology which currently puts women in rural India at further risk of getting marginalised in society.

Internet Saathi, which was started in 2015, has now reached around 4,000 villages with 1,900 trained 'saathis'. Google is adding up to 500 additional 'saathis' per week. More than 100,000 women have been trained so far. Under this initiative, Google conducts various outreach and educational programmes.

Not just Kamlesh, the initiative has brought changes in the lives of many other women, like Gayatri Devi who has been a 'saathi' since November 2015.

"I never had the opportunity to read a newspaper at home. With the Internet, I can now access news of the whole world. I also helped my husband set up his own business by collecting information from the Internet. My attempt is to educate women so that they can earn their livelihood," said Gayatri.

The programme includes an awareness module, coupled with hands-on training modules aimed at teaching women how to use the Internet, including through mobile devices. Since the launch of this initiative, Google has directly trained over 1.5 million women on the basics of the internet.

Internet Saathi sends women out on bicycles, armed with a smartphone and a tablet, to let women in villages experience the net.

"We're already seeing this change come about through the Internet Saathi programme. The internet saathis have become change agents in each village -- they take a lot of pride in helping other women to learn the Internet. Their social status has improved drastically and they are well respected even by the men of their families and the village heads," Chadha said.

Mother of two children, 28-year-old Aarti Jagon has been an Internet Saathi since November 2015. She is now an expert in the Internet and has taught around 450 women of the village how to use it.

"From healthcare and hygiene to cooking and design, I have learned a lot from the Internet and I am now teaching other women. I am grateful to the initiative for making me self-dependent," beamed Aarti, adding that she now earns Rs 2,000 per month for her contribution towards the initiative.

One of the key reasons for low adoption of Internet among women in rural India was low awareness. Moreover, there were hurdles like affordability, social norms and low literacy rates.

"Their inhibition to use a computer was very high but the smartphones' friendly appeal and ease of use have made it easier for them to try it. In order to drive broader access and continuity in usage after the training, Internet-enabled devices like tablets and smartphones are also placed within the school premises, community centres, self-help group meeting venues, agriculture centres, PHCs and the like for optimum exposure and learning among the community," Chadha explained.

In the last 10 months, Google India has been active in villages across five states in India, namely, Andhra Pradesh, Gujarat, Jharkhand, Madhya Pradesh and Rajasthan, and is expanding the programme to four new states -- Assam, Tripura, Uttar Pradesh and West Bengal.

"We provide the devices and the training material to the 'saathis' and train them. The final roll out of the programme which comprises members of self- help groups and women's federations is overseen and facilitated by Tata Trusts through its field partners on ground," said Chadha.

With local women trainers, the Internet Saathi has been successful as it ensures continuity in the process of learning and imparting hands-on training to women and children in villages, making it a highly scalable and sustainable programme.

(Somrita Ghosh was on a visit to Dholpur on an invitation from Google India.) - IANS
Wish to share your story?
Trending Now: