'So, it wasn't easy, sitting in the sun, in the dust, I worked that hard'
30-May-2016
Vol 7&nbsp|&nbspIssue 22
Singer Sonu Nigam, whose recent six-minute video "The Roadside Ustaad" has gone viral, says that he sang almost 25 songs, for about an hour each, at various locations in Mumbai for it.

In the video, Sonu, dressed as an old man and in shoddy clothes, sings with a harmonium, on the streets of Mumbai.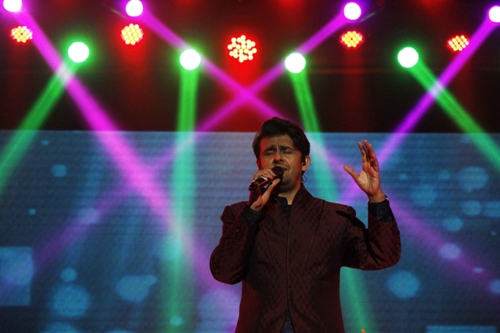 Sonu sang not less than 25 songs sitting on the roadside in different locations in Mumbai disguised as a homeless man (File Photo: IANS)

About people's reactions, Sonu said in a media interaction: "They didn't recognize my voice. They liked my voice, that was the good part that I could actually, out of nowhere, attract them through my voice.
"I was dreading the fact that these people shouldn't recognize me; that would be an embarrassment for me. There was no one around me, no bodyguards, no team, no managers.

"What you guys saw, was a very short clip. At every spot, I sang for one hour each. One hour behind Chandan (theatre in Mumbai), then one hour in front of Chandan, one hour at Four Bungalows (area in Mumbai). So, it wasn't easy, sitting in the sun, in the dust, and I sang a varied range of songs; you just heard two. I might have sung at least 25 songs. I worked that hard, that's why so many people joined in."

The video has gone viral on social media, collecting 3.3 million views already on Youtube in less than a week's time. Along with sending a message across of finding happiness with the present, the video is also a marketing feature for Sonu's upcoming single, 'Crazy Dil', which will be launched on Tuesday.

"We had no idea that people would like it so much and make it so huge. From where all I've received calls, they gave me good vibrations, they told me that they were crying, they couldn't believe that I did this," Sonu said.

About what people can learn from the video, he said: "What learning can we give others; we, ourselves, learned a lot. For me, it was my own learning. It's the same me, it's the same voice, the only difference is of the clothes, where I'm singing, and how I'm looking. A man sitting alone and without inviting anyone, we wanted to know how would that experience be."

Sonu recently rendered "Dard" from the Aishwarya Rai-starrer "Sarbjit". - IANS

Trending Now: