Helping artisans realise their manufacturing potential to the full and make a profit
Anuradha Shukla
&nbsp | &nbsp Mumbai
16-May-2016
Vol 7&nbsp|&nbspIssue 20
His eyes are firmly glued to the leather wallet in his hands, to which he is adding fine, artistic details. The one-room workshop where Venkatesh Rao, a young artisan, creates exquisite leather goods is pretty extraordinary especially considering it is situated in the labyrinthine lanes of Dharavi, one of the largest slums in Asia, situated in the heart of Mumbai.
While Rao is hard at work making the wallet, on the other side of the room his wife is busy clicking photographs of the purses and wallets he has already made using her mobile phone. These pictures will soon be uploaded on dharavimarket.com, an e-commerce portal that sells products handcrafted by some enterprising residents of Dharavi.
Megha Gupta, a journalist-turned-urban planner, has set up an e-commerce portal that sells products handcrafted by some enterprising residents of Dharavi (Photos: WFS)

"My family is in the leather business. From the last nine years I have been making slippers on order for several retail outlets across Mumbai. My brother, who is still living in the village, makes footwear for a living, too. However, I am happy that my products are available not just in the country but across the globe as well," says Rao, his voice ringing with great pride.
Like Rao, there are thousands of artisans and small businesses in the teeming urban slum, who are now being able to retail their products in over 100 countries through this website, the brainchild of Megha Gupta, 29, a journalist-turned-urban planner, who set it up as a social project.
After she completed her journalism degree in 2006 she began working for a local daily, covering infrastructure issues in the city. That's when she first came into contact with Dharavi.
"Although most people think of it as a congested shanty, to me, Dharavi has always been a place that is full of life and creativity. There are so many business clusters here like pottery, leather goods, garments, food items, and so on. It is home to a wonderful mix of artisans who came to the city from different parts of the country in search of a lucrative livelihood," she shares.
Spread across 557 acres, with a population of about 10 lakh, Dharavi is a hub of economic activity – there are around 15,000 small manufacturing units operating here with an estimated turnover of $1.5 billion. Most of the workshops are confined to one-room tenement or sometimes even just a corner of a small home.
Sensing a rising interest in the area from the perspective of urban planning Gupta decided to give up reporting and study Town and Regional Planning from the University of Sheffield in the UK. Once back, she worked with a leading urban planning and research firm for four years where one of the projects she undertook was to study the transportation issues in Dharavi. As her engagement increased she also set up dharavimarket.com with an aim of showcasing the craftsmanship of slum dwellers and providing them easy access to the local and global markets.
"The craftsmen are very talented and their products are of very high quality. All they really need is proper branding, marketing and a chance to reach a larger consumer base. Some of their products were even exported offshore but a major chunk of the profit went to the middlemen. I wanted to do something for them," says Gupta.
With limited funds and resources at her disposal, creating such a platform was not easy but after much brainstorming she decided to take their talent online.
"Technology can be a great leveller. Even when people are not computer savvy, they can use their mobile phones to send product pictures, interact on WhatsApp. When I discussed the idea with the artisans it instantly clicked with them," she elaborates. Dharavimarket.com was created with an investment of Rs 5 lakh drawn from her personal savings while she still was working full-time as an urban planner.
Once it went online in August 2014, within a few weeks the portal started getting exciting orders and even an offer for funding. The virtual market, which started with 10 members, has grown exponentially in less than two years – there are around 300 workshops that are currently registered. "I had not expected such a good response. Orders started pouring in and some other e-commerce businesses also came on board. Once the funds poured in I hired my own team," she elaborates.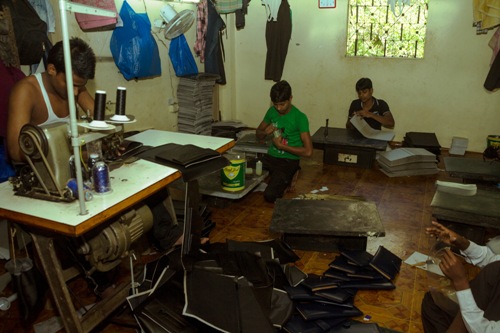 Dharavi is a manufacturing hub of leather goods, pottery, shoes, jewellery and various accessories. Artisans make exquisite products from their one-room tenements

At present, dharavimarket.com serves as a market for leather goods manufacturers, potters, shoe makers, jewellers and various accessory makers. There are also those who retail raw products. The artisans upload their product pictures through a mobile-based application, which has been provided to them by Gupta and her team of 10, apart from a dozen volunteers. The site earns a percentage on every item sold.
Currently, the team is aggressively working towards spreading their business network. To that end, they have recently created a label, Dhama, under which products designed and made by the Dharavi craftsmen will be retailed.
While most of the products are being sold through the official site, they have also tied up with other online retailers such as Snapdeal, Flipkart and Amazon to expand the reach. "The USP of dharavimarket.com is the availably of quality products at affordable prices. We have a strict parameter for quality control. We are focusing on corporate orders as well as request for customised stuff," adds Gupta.
Today, dharavimarket.com has become much more than a profit-making enterprise; it has contributed to building a unique identity for Dharavi artisans, one that goes beyond their image as an impoverished, struggling community, and enabled their families to live better.
"My business has increased manifold and I have a new respectability and status. I am no longer a nameless, faceless craftsperson. My customers know me and recognise my workmanship," says Rao, whose is completely focused on making sure that his three children get a good education. The online portal has opened up a whole new world for him and he is slowly trying to diversify into other crafts such as pottery.
That's exactly the kind of empowerment that Gupta had in mind when she decided to go ahead with dharavimarket.com. "My purpose isn't only to bring them into the mainstream and make the world take notice of them; I want to help them change their outlook towards life.
"I want to change some preconceived notions about life in slums; slum dwellers are not criminals or beggars, they too have robust enterprising skills and intimate community life. In the long run we would like to use this platform to voice slum dwellers' right to life, adequate housing and livelihood as it is under constant threat due to sophisticated redevelopment policies," she says.
To improve community living and the daily hygiene, some social initiatives have been initiated by Gupta and her team. For instance, they have started a special cleanliness drive where Dharavi residents are distributed toor daal (lentils) as prize for keeping their lane clean.
However, the challenges are multiple and much more needs to be done. "One of the biggest problems with town planners is that they see Dharavi as a slum; they do not see it as a manufacturing hub. So much of the redevelopment plans for Dharavi remain restricted to just providing dwelling units. For residents, besides being home, it's also their workplace. This reality needs to acknowledged," she asserts.
For now, residents like Rao are glad that they finally have an opportunity to "craft" their life in the way they want to – and dream of a better future for their children. - Women's Feature Service

Trending Now: