"Do not assume that the ones you are seeing on screen are the most talented"
02-May-2016
Vol 7&nbsp|&nbspIssue 18
Born in New Delhi with no connection to glitz and glamour, "Raanjhanaa" fame actress Swara Bhaskar, who holds a masters degree in sociology from Jawaharlal Nehru University, says for outsiders, Bollywood is a big risk.

The 28-year-old made her debut in filmdom in 2010 with "Madholal Keep Walking". Known for playing supporting yet strong roles in films like "Tanu Weds Manu" and "Tanu Weds Manu Returns", she is currently being lauded for her role as Chanda in the film "Nil Battey Sannatta". She made many emotional with her act as a domestic help who works hard to ensure that her daughter receives good education.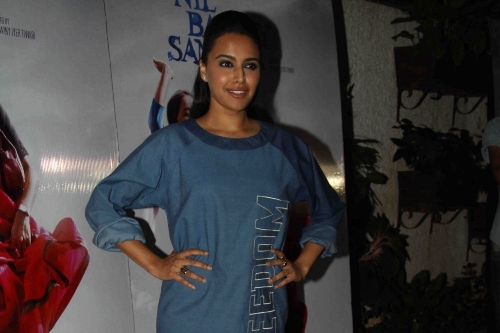 The audience connects with her de-glam roles, but Swara says it was never a conscious choice to portray such characters on screen (Photo: IANS)

Asked if it's difficult to enter Bollywood for people who aren't connected to the industry, Swara said in an interview: "I don't want to comment on how difficult it is in comparison to star children. I don't know that world...The thing with an outsider is when you come to Bollywood, it's a huge gamble."

The "Machhli Jal Ki Rani Hai" star shared that "it is hard. Really hard because it's such a big gamble..."

"You are potentially just gambling away the best years of your life on a crazy desire that you don't know if it will be fulfilled or not. There are thousands of people who come to Mumbai with the same dream."

She added that she should feel "so blessed because I have what I have".

"There would be more people who are more talented than me. Do not assume that the ones you are seeing on screen are the most talented. They might not be."

Did she have her share of struggles in the industry?

"Of course, I struggled. I struggled to find work, to find good work... I struggled to find my worth and what I deserve. But I think I was a lot luckier than most people!" said Swara, who worked with superstar Salman Khan in the blockbuster "Prem Ratan Dhan Payo".

The audience connects with her de-glam roles, but the "Listen... Amaya" actress says it was never a conscious choice to portray such characters on screen.

"I think it was not a conscious choice to be de-glam or realistic roles. I have picked the best choices I had and I think it turned out to be a good mix," she said.

"I am an outsider to this industry. There was nobody to launch me. I had to find my own work and go on the audition route...So I took what I got."

She feels lucky in terms of her choice of roles.

"They were all very well written parts. Even though they were supporting or small roles, people did not forget the characters. I have also done an equal number of lead parts but for smaller films," she said. - IANS

Trending Now: