"We want to create a change in the collective consciousness"
Ankit Sinha
&nbsp | &nbsp New Delhi
11-April-2016
Vol 7&nbsp|&nbspIssue 15
On the fateful day of March 17, Martin John Chalissery, frontman of popular music and theatre ensemble Oorali, was arrested and assaulted by the police in Thrissur, Kerala, for allegedly being a drug peddler. His crime? He looked "different" and "suspicious" due to his long hair, a reason, he says, was enough for the police to brand him a criminal.

Despite this incident, the group is unfazed and wants to "change the collective consciousness of stereotyping people based on their caste, colour and looks".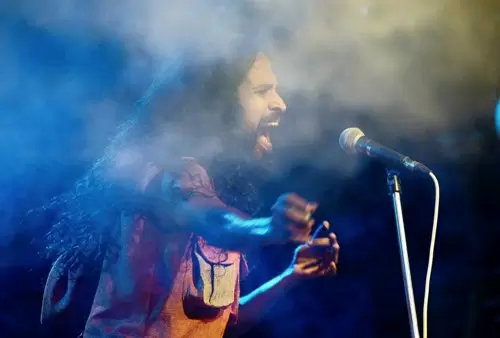 Chalissery was taken to the police station and beaten up allegedly for his looks (Photo: IANS)

"There is an artiste and a fascist inside everyone. If you develop your artiste a little bit, the strength of the fascist will automatically go down. That is what we have experienced. We want to create a change, even if it is a small one, in the collective consciousness," said Chalissery.

On that evening, Chalissery, a musician and a theatre artist, was on his way to meet a close friend and mentor near The School of Drama and Fine Arts in Thrissur, of which he is an alumnus.

On his way, he met another friend on a bike who offered to give him a lift. But he wasn't wearing a helmet, and on the way to the destination, there was a police check post, which prompted him to turn his bike.

However, Chalissery decided to step down the bike and walk the rest of the distance, having no idea that he would be apprehended by the police, who are not very comfortable with the "look and feel of the students" of the School of Drama and Fine Arts.

"On the way (to the drama school), there was a police check with three-four policemen. There has been an allegation about drug trafficking. It is a general thing. They are always hanging around the art school. They are not very comfortable with the look and the feel of the students," said Chalissery.

In a flash, the police frisked him, checked his pockets and put him into a police vehicle before taking him to the Laloor junction, where he was publicly exhibited, as if they were displaying a "gangster," says Chalissery's bandmate Saji Kadampattil.

"All this while Martin kept on explaining, but they pulled him in the jeep and took him to the next junction around and did a public display and asked everyone who this is. They had no right to do that. It was as if they were displaying a gangster," says Kadampattil.

Chalissery alleges that the policemen displayed him in public to "scare them, and (kept) telling them that there is a big drug deal happening and we are catching someone".

Later, Kadampattil alleges, the officers took Chalissery to the police station and took away his mobile phones and beat him up ruthlessly without having any evidence.

"They took his phone, didn't allow him to make calls. We are also working on a government project called 'Subodham' run by the excise department. There was a meeting with them in Ernakulum. But the moment he mentioned the government project, they got infuriated... They slapped him, twisted his arm, pushed him and punched him all over the back," Kadampattil said, adding that Chalissery was later let off due to a lot of phone calls from "the commissioner and other offices".

The Thrissur police charged Chalissery with creating a public nuisance, says Kadampattil.

However, they allege that it wasn't the first time that they had an incident with the police for their "looks". But it was certainly the first time when a member of the group was wrongfully taken to the station and beaten up for that.

"We have encountered police many a times because of our looks. They say that we have long hair. In films, the drug dealers and goons have long hair, so they think we are the same," said Kadampattil, while Chalissery said he still didn't understand why the police took such a step.

"Actually, I didn't understand. We have no criminal background, we have nothing to do with the police. We do a lot of performances for 4,000-5,000 people," he said.

K.G. Simon, Thrissur district police commissioner, and K.Karthick, Thrissur district (rural) deputy commissioner of police, said that there has been no complaint received against the policemen in this case.

But Chalissery said that the group is "gathering evidence" against the policemen and will soon press charges.

"We are going to set through complaints to superior officers and also to the human rights and police complaint authority," Kadampattil said, while adding that Oorali held a peaceful protest the next day in front of the police station in Thrissur, which prompted a senior officer to apologise to the group.

But any action against those responsible for launching the assault on Chalissery is awaited. - IANS

Trending Now: