Community radio stations in rural India are empowering women in many ways
Ankush Vats
&nbsp | &nbsp New Delhi
04-April-2016
Vol 7&nbsp|&nbspIssue 14
As India strives to achieve greater gender equality, in a remote village in Odisha a community radio is striving to bring about positive change - breaking an ages-old taboo that women should not work in betel vine fields.

Pradeepta Kumar Dutta, a local activist started his lone battle last year against the belief that women should not work in betel vine fields due to menstruation. He launched his community radio station 'Radio Kisaan', which helped bring about welcome changes.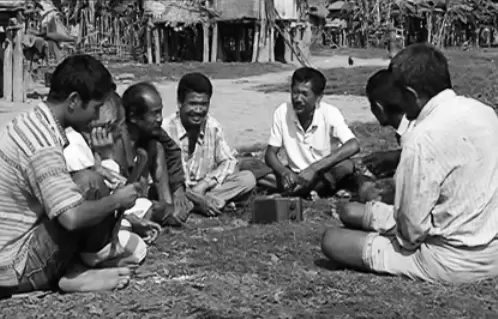 Pradeepta Kumar Dutta has won several awards for using community radio as a tool to bring about social change (Image for representational purpose only)

"Women in most parts of Odisha are not allowed to enter betel vine fields owing to centuries-old belief that menstruating women will damage the crop. Hence, the entry of all women is banned in the fields," said Dutta.
He has won several awards for successfully using community radio as a tool to bring about social change, including two awards at the recently-concluded sixth National Community Radio Sammelann held in New Delhi.

His radio programme - 'Eei Ama Adhikar' (This Is My Right) took on the taboo.

"Through the programme we tried to raise awareness about participation of women so that they can earn their own livelihood and not be dependent on male members of the family," Dutta said.

Radio Kisaan, active in the Balipatna Block of Khurda district in Odisha, was started five years ago.

Betel vine is cultivated in the coastal region of Odisha on a very large scale and a farmer engaged in the production of betel vine can easily earn around Rs.15,000 to Rs.20,000 per month.

"Initially, I faced resistance from locals as if I was committing a sin. But it was a century-old belief, and I knew it was not going to be easy. Therefore, I engaged agricultural scientists who explained that the betel crop is not damaged by menstruating women, but is damaged by infertile or poor soil. They clarified that menstruation has no role to play in spoiling the betel farms. I am happy that a social change has started to come in and women are coming out to work in betel vine fields," said Dutta.

Radio Kisaan was primarily launched to inform farmers about the various government schemes in agriculture which could not reach them due to lack of communication channels.

"I believe women are equally capable of participating in the economic development of the country. 'Eei Ama Adhikar' was a step in the same direction. If small problems like these are tackled, then I believe the country as a whole can progress," Dutta said, adding that he would make programmes on health-related issues soon.

Dutta is not the only one driving change through information.

Jeetender, who runs Radio Kisan Vani from Sironj in Madhya Pradesh, has attempted to end male dominance in the rural heartland through community radio.

"Women were already empowered, they just needed to be made aware of it. Like in the case of dairy farming, where from milking the cow to giving the milk to the dairy agent, the women do everything. But when it comes to payment, the money is transferred in their husbands' accounts," said Jeetender.

He launched an intensified campaign through his channel against this practice and encouraged women to get themselves registered at the cooperatives so that they can directly get the money in their bank accounts.

"When we conducted a survey, we found that 60 percent of the women didn't even know the rates of milk. This was shocking since they were doing all the work. After our campaign, women started registering themselves at the cooperatives and money started coming to them directly. This was a positive change for us," Jeetender added.

Community radio is more common in rural areas as compared to cities where the market is already flooded with FM channels. Community radio channels in cities are not very commonly heard of.

However, one such channel, Salaam Namaste, operating out of Noida adjoining Delhi, is fighting against child labour, with its show 'Chak de Chhotu'.

"The show is about victims of child labour who have lost their identity and are called 'chhotu'. We invite these kids to our shows, ask them to generate content by writing skits," said Barsha Chabaria, station head at Radio Salaam Namaste.

Apart from 'Chak de chhotu', the channel also runs the programme 'Salaam Shakti', in which they invite homegrown women entrepreneurs to the show and discuss about their business ideas.

Chabaria said the show had helped change the lives of many women.

Community radio has a very niche audience and is mostly not run for profit. It covers an area of 12-15 kilometres. Currently, there are 191 community radio stations in the country.

The government has also identified the positive contribution of community radios as one of the important tools of communication, especially in rural areas. Union Minister of Information and Broadcasting Arun Jaitley also advocated the cause of community radio during his speech at the sammelan last month.

The government has given permission for 439 community radio stations in the country, of which 191 are already operational. A Community Radio Facilitation Centre has also been opened at Shastri Bhawan in New Delhi to streamline the process of approval of community radios. - IANS
Wish to share your story?
Trending Now: