'To me, fashion is art. When you experience it, all five senses should be elated'
Nivedita
&nbsp | &nbsp New Delhi
29-March-2016
Vol 7&nbsp|&nbspIssue 13
His ensembles draw on history, fantasy and folklore and desired by discerning fashion aficionados around the globe. Ace designer Rohit Bal, who has completed 25 years in the industry, says the biggest shift over the years is in how the "fun" has gone out of the fashion world, which is now "ruthless and competitive".

"Everything has changed. I've seen it all happen and start. It's like being a witness to the Big Bang. The explosion of stars into the universe (that) we call fashion. Now we are a full-fledged industry, almost ruthless and competitive. The fun has gone," said Bal in an interview.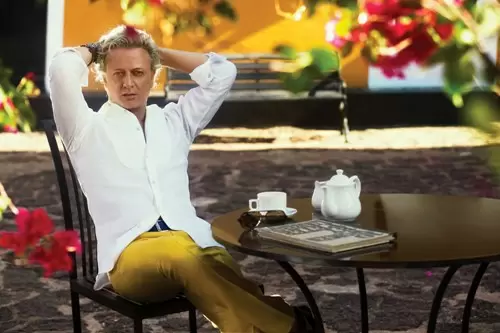 Ace designer Rohit Bal has showcased his creations at major fashion capitals and is associated with international brands like Christian Louboutin, and Conran Store (Photo: IANS)

"Very few of us (are) left who do fashion because we love it. There is a big difference between being a fashion designer and someone who makes clothes just to sell them," added the talent, who was among those who sowed the seeds of the Indian fashion industry, which is thriving nowadays.

The industry has grown by leaps and bounds, but Bal misses the "friendship and warmth that was there once".

"I see more and more people running large scale factories rather than fashion houses. I miss the patronised feeling of fashion. I miss the love, calm and fun," stressed the alumnus of the prestigious St. Stephens College of Delhi University.

Often seen at most fashion events and parties, Bal now wishes he could have a quieter life and is working towards it.

"Well, after reaching where I am, I really wish for a quiet life where no one will judge me for who I am and what I do. It is difficult to always be in the spotlight, but I have learnt to deal with it.

"I only go out when I am absolutely needed and where I really want to go. No more social obligations," said the designer, who is the finale designer at the forthcoming edition of Lakme Fashion Week in Mumbai.

Bal worked in his family's export business before launching his label in 1990. His distinct sense of style and eye for detail helped him stand out from the beginning. And he uninhibitedly credits his success to his originality.

"For designers who do bridal couture, India still remains the most important market. There was no industry when I started. I am lucky that my designs have been appreciated and patronised since the beginning. I am lucky to have laid my own path and not follow one. I am lucky to have done it my way," he said, adding that the key to remain "relevant" after all these years is to be true to your art.

"As life is becoming more complicated, designing clothes have become simpler. To me, fashion is art. When you experience it, all five senses should be elated. That is why I pay very close attention to every detail... To every music, choreography, ambience and set designing detail.

"If you want to remain relevant it is very important to stay true to who you are. Just be you. Don't try to be somebody else; they already exist," said Bal, who repeatedly draws inspiration from the rich culture of India.

In his journey, Bal has not just showcased his creations at major fashion capitals, but even associated with international brands like Christian Louboutin, Conran Store, cosmetic giant Lancome, Zippo lighters, Reid & Taylor, Outlander. He even runs his own restaurant named Veda.

With patrons of his work spread across the world, he maintains that India is his "primary market".

"India has such a vast reservoir of heritage and craftsmanship that is yet to be explored and we have so many occasions one can cater to. For me, India was the primary market and always will be."

Designing for Bollywood celebrities like Amitabh Bachchan, Priyanka Chopra, Sonam Kapoor, Katrina Kaif, Ranbir Kapoor and more has been a part and parcel of his silver jubilee journey, but styling for Hindi films is something Bal has stayed away from.

He feels he doesn't have the "patience for it". Nevertheless, he says he will do costumes for a project that he directs and produces. - IANS
Wish to share your story?
Trending Now: