'Only in this area has the water level actually increased by one-and-a-half metre'
Sameena Dalwai
&nbsp | &nbsp Satara
21-March-2016
Vol 7&nbsp|&nbspIssue 12
Manndes is famous for its dramatic landscapes, the arid land, sheep chewing on Babhli trees. The area surrounding the Mann river in Satara, Sangli and Solapur districts of Maharashtra is a rain shadow region, getting at best sporadic rainfall during an entire monsoon season.
Every summer, there usually is an exodus of humans and cattle towards other regions. Yet, this year Mhaswad and its surrounding villages are riding on a wave of hope.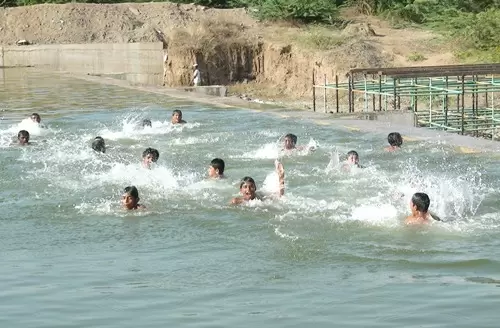 Mhaswad and its surrounding villages are riding on a wave of hope, as the Manndeshi Foundation, a homegrown non-profit, has finished building nine small dams that are all filled with water. (Photos: Sameena Dalwai\WFS)

Manndeshi Foundation, the homegrown non government organisation, has built nine small dams here and they are all filled with water today!
Manndeshi started its journey 20 years back with the Manndeshi Mahila Bank that offers micro-credit and wealth creation opportunities to poor rural women.
This initiative, in fact, put Mhaswad on the world map when its Founder President, Chetna Gala Sinha, was invited to meet US president Barrack Obama in November 2010.
As activists of activist-turned-political leader Jayaprakash Narayan's SangharshVahini, which led struggles against bonded labour in the 1970s in Bihar, as well as of the Shetkari Saghatana that organised farmers in Maharashtra, Sinha and her spouse, Vijay, have shared a long journey of activism and social enterprise.
When asked about how they stumbled upon the idea of building dams, Sinha says, "It all began with the cattle camp. We had had absolutely no rain since 2012 and the livestock had started dying.
"Amidst the overall despair, a cattle camp was set up on a five-acre stretch on the outskirts of Mhaswad. It ran for one-and-half years and sheltered 14,000 animals.
"Along with their livestock, 4,000 families lived there in open shacks in the scorching sun and freezing draught. I felt, we depend on farmers to give us food.
"But in turn we make them stand in queues for water and fodder? What will happen to this country that turns the 'annadata' (food producer) into a helpless beggar? We have to bring water and self-sufficiency back to this area."
So, does that mean the Manndeshi Mahila Bank has jumped on board environment bandwagon now? Rekha Kulkarni, the CEO, says, "We simply follow what our women tell us; their demands, their solutions."
The Mahila Bank opened in 1997 to operate small savings accounts for poor women as no existing financial institution was willing to. Small savings, small pensions but big impact became its motto.
Then, during the 2012 drought, Kerabai, an old account holder approached the bank to mortgage her gold to get a loan that she needed for buying fodder. However, she also remarked, "You might give me loan to buy fodder but can I buy water?" That's when the cattle camp took root.
A baby boy was born in the camp on August 18, 2012. The same day rainfall came. The boy was named Meghraj. The farmers said, "The luck of this boy! He brought us rain. But what shall we offer him? A life with no water and no animals to grow up with? It's our duty to ensure he has access to water, animals, community life."
But the question was how to bring water? The 'modern' way is to source water from reservoirs in the surrounding regions through canal irrigation. A model on which the government of Maharashtra spent a colossal budget but built canals only on paper.
However, the older farmers conferred that this is a dependency model. 'We have lived here for generations and surely had our own water. We must find our perennial streams and rejuvenate them,' they decided.
In the beginning, as teams went looking for hidden water sources the first to be found was the one adjacent to the camp. It was rejuvenated and became the Pulkoti dam covering 20 hectare area, storing 50.29 TMC (thousand million cubic feet) of water and filling 10 surrounding wells to the brim.
Vijay Sinha, an elected representative on the Mhaswad City Council, elaborates, "At the time, percolation tanks that had been built during 1972 to 1986 were all filled with mud. We dug out 17 such tanks and used the mud in the farms. When rainfall came, these tanks filled up with water."
So far, the Maharashtra government's 'chain dam scheme' has had mixed results. Bad planning and rampant corruption adversely affect the sanctioned projects; estimates are usually made without checking the location and periphery to be covered.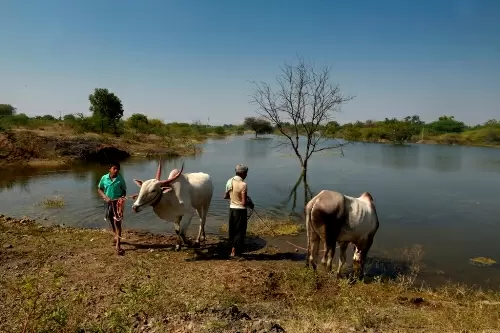 With the water from the small dams local farmers are able to produce two crops in a year and do not have to migrate in search of work any longer

Then the cement is poured over the mud inside the water so the water leaks though the structure leaving little water in the dam. Consequently, after just a month of consumption, the water runs out.
However, Sinha proudly states, "Our water can be used well into the summer months. Pulkoti, Bangar, Wadi villages have grown onions, which need a lot of water, that sold for over Rs 2 crore in September 2015. Three years back, the same fields had been dry."
MLA Gore adds, "As such, water levels in the whole state are going down. It is a very dangerous situation. Only in this area has the water level actually increased by one-and-a-half metre. Here a small structure of Rs 10 lakh can fill water in a 600 metres space. Additionally, the wells gather water, too."
Standing in front of the check-dam in her village, Pulkoti, Manda Samant, a farmer, reminisces on the years of drought, "From January we did not have water. Tankers had to be called for even drinking water. People migrated for survival, taking their children, animals, everything.
"Children could attend school only for six months. But now see this dam. It is full after just one rainfall of one-and-a-half hours. With this water, farmers can take two crops. Labourers find work and can stay here through the year and children can go to school."
In the morning, women washing clothes at Pulkuti dam is a common sight these days. Chatting and laughing they say, "Earlier, we used to walk for two kilometres with our load. Nowadays, it's only a few minutes' walk. We are able to sleep a bit more, spend more time with our children."
During the warm afternoons children love jumping into the cool waters. Evening time the cattle comes to drink water. All residents of Manndesh have claimed their share of this water and improved their quality of life in big and small ways.
At least in Mhaswad the power of the small things - from small savings to small dams - is recognised and organised. Recently, as Chetna Gala Sinha strolled through the weekly market, an old farmer came up to her, placed his hands on her head in blessing and said, "My child, you have sent the drought packing!" - Women's Feature Service
Wish to share your story?
Trending Now: