Khadi should reach beyond 'bhandars' and fashion shows, says Shailini Sheth Amin
Nivedita
&nbsp | &nbsp New Delhi
14-March-2016
Vol 7&nbsp|&nbspIssue 11
Khadi, the 'Made in India' fabric, has generated interest in the West, but there are problems that the sector needs to address if it is to widen its appeal, says the head honcho of Moral Fibre Fabrics, which has supplied khadi to Hollywood.
"With encouragement to the khadi movement by Prime Minister Narendra Modi, khadi is generating a lot of interest. This is the time to go deeper and evaluate the sector and its impact from all angles," Shailini Sheth Amin, the creative mind behind the Ahmedabad-based company, said in an email interview.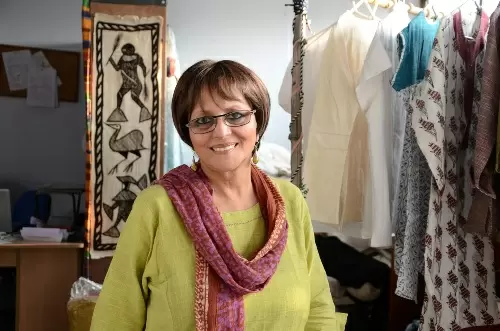 Shailini Sheth Amin's Moral Fibre Fabrics is a web-based social enterprise set up in 2008, which works locally with a few khadi cooperatives around Ahmedabad (Photo: IANS)

"Right now we have some focus on this most valued but dying legacy of khadi," he said.
Noting that today's youth will not wear khadi for its symbolism or under any emotional pressure, Amin said the fabric needs to be seen as "much more than 'heritage' and a 'fashion statement'. It should reach beyond 'bhandars' and fashion shows".
Moral Fibre Fabrics is a web-based social enterprise set up in 2008, and works locally with a few khadi cooperatives around Ahmedabad, creating work opportunities in production, processing, dyeing, printing and tailoring.
With the business-to-business wholesale marketplace model, the brand has an international buyer base in Britain, the US, Australia and some European countries.
The company's fabric has also been used in Hollywood films like "Pan", and it regularly supplies Oscar-winning costume designer Jacqueline Durran, who has designed costumes for movies like "Pride and Prejudice", "Atonement" and "Anna Karenina".
When Amin set up her brand, her aim was to reinvent khadi as a socially and environmentally sustainable fabric while maintaining high quality standards. But the journey has not been easy.
"I could see that there was a need to upgrade and reinvent khadi as the most environmentally-sustainable fabric and expand its varied uses. I realised that the lack of marketing orientation and technological obsolescence are the major obstacles for khadi to play a larger role in the Indian textile arena," she said.
"When I started, almost no one believed in what we did. In fact, most of the people I came across in the field... themselves did not believe in the hand-crafted fabric. No one was interested in taking it forward.
"Khadi fabric was considered to be badly made, badly sold and cheap-looking. This fabric had, and still has, big identity issues and it was considered an attire of corrupt politicians," said Amin.
Of late, several fashion designers have been doing their bit to popularise the fabric -- famously used by Mahatma Gandhi as a symbol of protest against the British Raj -- in creative ways.
When she started out, Amin found that her brand had more international than domestic buyers -- some 85 percent of sales came from abroad.
The milestone moment for the brand, she said, came when they supplied fabric to Hollywood projects.
"Our fabrics were seen by a sourcing agent for a film in a London shop and she got in touch with us. She was very pleased when she heard about the social and environmental sustainability credentials of these fabrics."
Amin feels proud that the "rustic fabric made by spinners and weavers from small villages in Gujarat is now recognised the world over". - IANS
Wish to share your story?
Trending Now: