Novelist from Nagaland took to writing to escape 'the hostile atmosphere'
07-March-2016
Vol 7&nbsp|&nbspIssue 10
Stories and storytelling have been the constants in Easterine Kire's life. This award-winning poet, novelist and children's book writer from Nagaland, who, incidentally, is the first Naga novelist to write in English, grew up on a staple of folktales related by her grandparents and it is these early storytelling sessions that inspired her to write some of her own.
Like most of her contemporaries Kire spent her adolescent years living in the shadow of violence with the Naga movement at its peak in those days. As gun battles, midnight ambushes and mindless aggression became part of everyday life she took to writing to escape the hostile atmosphere.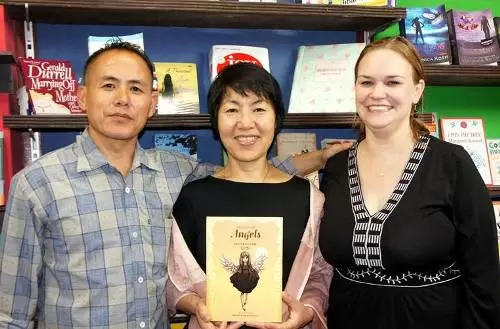 Stories and storytelling have been the constants in award-winning Naga writer Easterine Kire's (centre) life. (Photo: WFS)

From the time she published her first book in 1982, a collection of poems called Kelhoukevira, today, Kire has written around 25 books on a variety of subjects, from historical accounts to contemporary politics and women's issues.
Of course, the underlying tone of her works is always optimistic and hopeful because even though significant changes have been taking place within the Naga society for generations now, according to her, it's only by focusing on the positives that "we can move forward".
"I have always liked to read and write since my school days. I even won prizes for creative writing in school and college and that only motivated me to continue to nurture my passion.
"Although I grew up on Naga folk stories I went on to read the works of different authors. Stories by Moris Farhi, Ben Okri and Hugh MacLellan are among my favourites and I absolutely love the poems of Swedish novelist and poet Karin Boye," says the woman whose novel, 'When the River Sleeps', won The Hindu Prize, 2015, recently.
A Ph.D in Literature, Kire worked at Nagaland's Directorate of Information and Publicity and then went on to teach first at Kohima College and later at the North Eastern Hill University.
While her first published work was a poetry compendium her maiden English novel was 'A Naga Village Remembered', a historical narrative woven around the factual story of the Battle of Khonoma, the last clash between the Naga people and the British colonisers in 1879.
The novel narrates the story of a small village's resistance against the invading British Army. "Like many of my writings this one is also rooted in the history of the Nagas. The story presents the cultural, social and political picture of the Angami villages of that time.
"In spite of early contact with the British, this village is conscious of preserving its heritage, especially the Morungs and monoliths. And except for the tin roofs and few brick houses, Khonoma is an idealistic and typical Naga hamlet," shares Kire, whose writings have been translated into German, Croatian, Uzbek, Norwegian and Nepali. In fact, she has translated a number of poems and stories from English to Nagamese.
There is a clear positive and progressive thought that emerges from all her works. She explains, "Each story of mine is different; so each message is different, too. However, I always try to give my readers something positive to hold on to.
"I particularly like to write stories for children and the response I have received from the local kids is encouraging. I write from my heart; whatever is in my heart at that moment is reflected on paper."
Naturally, the issues, concerns and lived realities of women, too, are subjects close to Kire's heart. In 2007, she wrote 'A Terrible Matriarchy', a tale set 50 years in history and reflecting the ideal, value systems and attitudes of those times.
Dielieno, an angami girl, is the central character and the plot traces her life from when she is five years old to when she turns 23. However, it's not just about one character's trajectory but closely looks at three generations of Naga women – Dielieno's grandmother and mother figure prominently.
Kire elaborates, "The story is set in a time of rapid social change, the Nagaland of 1960s in particular and the region of north east in general. The three women's lives intertwine intimately and contrarily, defining them as individuals and portraying their generational differences."
To Kire, 'A Terrible Matriarchy' clearly expresses "a purposeful desire to change the way things have been for women even as it talks about the changes that have taken place through the generational shifts".
She says, "Naga women today are far better off than their counterparts 50 years ago. But more and better changes are still to come. Being a woman writer, whose publisher, editor and agents over the years have been all women, has put me in a unique position to project the realities of my sex freely and fairly."
As she likes to dwell on the positives in her writings, Kire happily observes that in societies in the Northeast and Nagaland specifically, women have had the opportunity to take on a progressive, prominent role.
Even as the traditional Naga society follows a patriarchal system "historically women have always been respected," she states, adding, "Today there are educated and successful women in every field. Indeed, literary pursuits have become a popular vocation among women as well.
"Female writers are being recognised within the state and even outside as they write about situations that most regular readers are facing day-in-and-day-out. Their writings are easily identifiable and make for interesting reading so now more than ever people are eager to pick up books on the Nagas. The North East has some fine women writers and I enjoy their work, whether it is poetry or prose. They write with delicacy and their work will go very far in the future."
For the present, Kire is enjoying the attention that is coming her way thanks to the prize-winning 'When the River Sleeps'. The story of a lone hunter looking for a faraway river to get his hands on a stone that will give him untold powers has found many new readers, especially among the non Nagas.
"This book is the exploration of the Naga spiritual universe, a very personal journey. It's all about my roots, identity and the belief system I have grown up with and I am glad that it has resonated with a larger audience," she concludes. - Women's Feature Service
Wish to share your story?
Trending Now: