"I got my husband to leave the house and today I live in peace"
Mehru Jaffer
&nbsp | &nbsp Lucknow
29-February-2016
Vol 7&nbsp|&nbspIssue 9
For many years, words like freedom, peace, love, choice meant nothing to Pushpa Nagpal, 36. Her existence, in fact, was marred with fear, violence, back-breaking work and humiliation.
As a domestic worker she spent her entire day sweeping and swabbing other people's homes for a meagre living, which, too, was taken away by her husband to pay for his incessant drinking. There seemed to be no way for her to break free from the vicious cycle of gruelling work and abuse but then a miracle happened.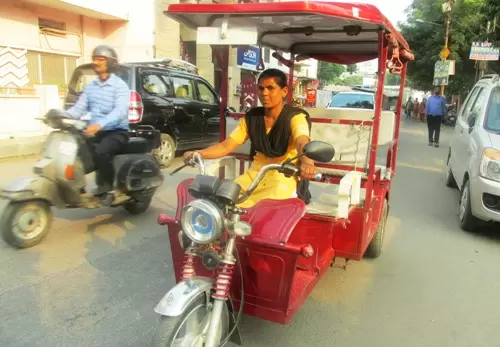 As Pushpa Nagpal expertly navigates her e-rickshaw around the narrow, congested streets, she finally feels in control of her own life and destiny. (Photo: Mehru Jaffer\WFS)

Pushpa, a resident of Lucknow, came across a support centre for women in crisis in her city, entirely by chance. When she walked into Humsafar's premises, never in her wildest dreams could she have imagined that one day she would not just be able to kick her abusive husband out of her home and her life but also learn how to drive, a skill that she is now using to earn a decent living.
Humsafar, founded in November 2003, adopts a holistic approach to deal with gender and human rights violations. "We provide a variety of support services to survivors of violence like Pushpa, who received legal, medical, counselling, shelter and rehabilitation facilities before she could take her life into her own hands," shares Arundhati Dhuru, founder trustee and activist.
After almost 13 years of being battered and bruised and after several intense counselling sessions at Humsafar, Pushpa has finally found courage to file a case against her sexually pervert and alcoholic husband, who, in a fit of rage, had shoved a pole into her vagina two years ago.
"I was so frightened of him at first but eventually I got my husband to leave the house and today I live in peace with my children, who I am educating on my own," says a resilient Pushpa, who during her time with Humsafar received self defense training and basic motor repair skills besides communication skills like learning to read a road map. She has benefited immensely from sitting in their gender rights and empowerment classes as well.
During the seven-month driver's course, conducted in association with Maruti Suzuki, Pushpa received a stipend of Rs 5,000 per month that allowed her to give up her earlier work as household help.
She took to the road on February 15, 2016, after a formal ceremony in Lucknow presided by state Chief Minister Akhilesh Yadav. Along with Pushpa six other women, all survivors of violence, have qualified to ply one of the five e-rickshaws and two auto rickshaws owned by Humsafar.
The women got the chance to learn driving as part of the support centre's strategy to introduce an all women, environment-friendly and safe transport service in a city that needs to create much more space for women in the public sphere. It is no secret that the status of public transport all over Uttar Pradesh, including Lucknow, is precarious, especially for women.
At a time when incidents of sexual violence against women on the move have become alarmingly common it is a prudent move to introduce a service run exclusively by women. Indeed, female activists are unanimous in the view that crimes against women will not decrease by keeping women locked up within homes but once they are visible in the city as equal citizens.
"Apart from providing a safe mode of transport, the sight of female drivers promotes the concept of a clean and green city as they use CNG-run auto rickshaws and battery-run e-rickshaws," points out Shahira Naim, senior journalist and Humsafar's founder trustee, who is happy to have worked together with the UP state transport department that has promised to provide special parking space for the city's first female drivers, each one of whom has a remarkable life story to share.
For Jyoti Mishra, 25, driver and university graduate, this new twist in her life has wiped away all her tears. The child of a survivor of violence, she had been tricked into marrying Manmohan Awasthi who told her family that he was a graduate when he hadn't even completed schooling.
Though she was shattered with the news instead of picking a quarrel with him this mother of a four-year-old daughter helped him to find employment in a hospital even as she continues to support him to study further.
Then there is Meera Sharma, 30, who is unmarried and is forced to listen to her parents' taunting and ridiculing her day in and day out for being a disgrace to the family and enjoying being a driver. Meera says she wanted to drive ever since her father took away her bicycle when she was a teenager.
"My father forbade me to study after Class Five and told me to never ride a bicycle because I am a girl. That is when I resolved to grow up and become a driver. Today, I can drive a truck if I want to," she says proudly showing off her commercial driver's license. She looks forward to earning enough as an auto rickshaw driver so that she can build a home for herself one day.
Having her own home is a cherished dream for Lalita, 26, a mother of two, as well. "I left my husband two years ago. I live with my mother but would like to have a house of my own," says the woman who was married at 18 and traumatised for giving birth to two daughters.
Ever since it has come into existence, Humsafar has intervened in the life of nearly 7,000 women survivors of violence. And to help them move on to better things, it has encouraged them to acquire different skills to work and gain financial independence along with oodles of confidence like these women.
This was necessary because it was observed that many survivors were simply unable to end an abusive relationship because they were ill-equipped and unsure of their ability to live without depending on a man. Even badly abused women often withdraw charges and return 'home' to face more violence mainly due to fear of an uncertain economic situation.
Apart from learning to drive a group of four women has chosen to do furniture polishing. After finishing their rigorous four-month training at a local furniture manufacturer, during which they received a stipend, they have found employment at a local furniture factory.
Of course, the opportunity to get into the driver's seat continues to be the popular vocation among the women. While so far only seven have gotten behind the wheel, countless applications from others are pouring into the Humsafar office and Dhuru would like to see each one of them fearlessly taking to the road.
Just like Rashida, 38, has in spite of all the hurdles she encountered on the way. The middle-aged woman has already endured her fair share of hardships and tragedy. After her sister passed away suddenly she was forced to marry her brother-in-law.
Then when she was five months pregnant she lost her husband, leaving behind two children from the previous marriage. Rashida was thrown out of her in-laws' home but she persevered to care for all the three children who are proud of their mother, as she expertly navigates her e-rickshaw around the narrow, congested streets ferrying surprised and sometimes even awestruck passengers.
"One of my female passengers was so happy to get a ride in my rickshaw that she gave me a flying kiss even as a man on the road mocked me saying that if women drive rickshaws will men have to roll out bread in the kitchen now..." she signs off with a hearty laugh. - Women's Feature Service
Wish to share your story?
Trending Now: