The new trend of spa in a hospital is catching up and you may see more soon
Sanu George
&nbsp | &nbsp Kochi
29-February-2016
Vol 7&nbsp|&nbspIssue 9
There are hospitals aplenty that provide five-star comforts; so how does one take this a notch further? By incorporating a full-service spa in a 670-bed multi-speciality hospital in this commercial capital of Kerala.
Aster Medcity hospital has now become the cynosure of all eyes and the spa's clients include doctors, nurses, patients and their attendants and even walk-ins.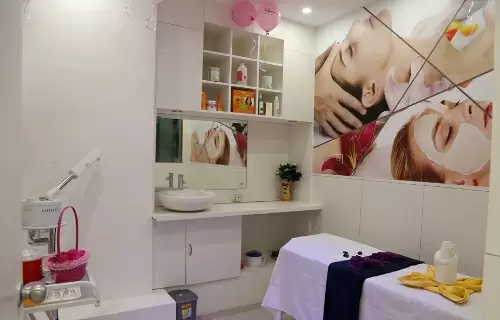 Everything from facials to manicure, pedicure, and hair treatment is available for the clients (Photo: IANS)

Popular beauty expert Elizabeth Chacko, with around four decades of experience in running a string of beauty clinics in Kochi, was amused when asked if she would be interested in setting up her beauty spa at the state-of-the art private hospital.
"Somehow, everything fell into place and the management of the Aster Medcity, where I opened my sixth beauty spa, and myself are now pleased that this new concept has clicked," said Chacko, whose brand is Kalpana Family Salon and Spa.
"The 2,000 square-foot spa opened in December and by now, I am happy that things are going well," added Chacko who was educated outside Kerala and plied her beauty trade in Delhi, where she learned the nuances from a senior air force officer's wife. Since then, there's been no looking back.
Set in a beautiful 40-acre waterfront campus, Aster Medcity hospital has as its chairman Azad Moopen, a medical professional and founder of Aster DM Healthcare - the fastest growing healthcare group in the Middle East and Africa which is now worth more than $1.1 billion.
One advantage that this hospital has is that it caters to high profile patients, a huge majority are Keralites from the Middle East, besides nationals from there too.
At the spa, everything from facials to manicure, pedicure, hair treatment and what have you, is available to the clients.
"Of course, nurses and doctors do come, as do walk-ins and patients who come for rest and recuperation at the hospital. I give them a 15 percent discount," said the 'beauty clinician', adding that 50 percent of her clients are neither hospital staff nor patients.
"See, I do run five other similar spas in Kochi and hence, I have a regular clientele," Chacko said.
Trained in the US in electrolysis and cosmetology, Chacko said that even though she has given thousands of faces a glow-up, she is, however, more pleased that she has empowered many young women by giving them training and hands-on experience for a career of their own.
With her only daughter also now helping her in the business and with the new concept of a beauty spa in a hospital that has apparently clicked beyond expectations, she has now got similar offers not just from India but abroad too. - IANS
Wish to share your story?
Trending Now: