Rongali - Destination, Culture, Harmony was a festival that offered more than a visitor could expect
Natalia Ningthoujam
&nbsp | &nbsp Guwahati
08-February-2016
Vol 7&nbsp|&nbspIssue 6
Butterflies in my stomach and a great thrill - exactly what I felt when I buckled up to take a paramotor ride here. It wasn't that someone who is scared of adventurous activities chose to indulge in an air sport that surprised people.

But the fact that I did it in Guwahati - considered to be the gateway to the relatively less explored northeast India - raised many eyebrows.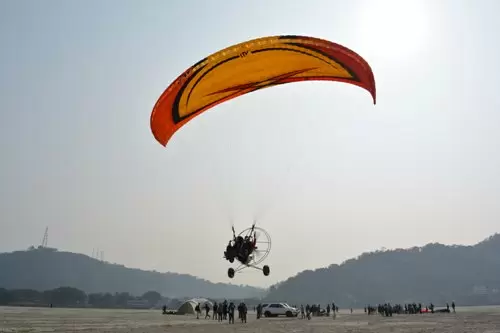 Paramotoring over the mighty river Brahmaputra at Rongali Festival is definitely not for the faint hearts (Photo: IANS)

A city full of top fashion brands with high-rise residential and commercial buildings, Guwahati has changed a lot since the last time I set foot here two decades ago.

So, it comes as no surprise that it is the only city from the northeast region that has found a place in the list of first 20 cities which will be developed into Smart Cities in 2016.
In spite of all the new developments, two things haven't changed - its people's simplicity and the pride in speaking in Assamese. Since I hail from Imphal, which is about 40 minutes away from here by air, they assumed that I was one of them and that I was fluent in their language.
But only I know how lost I was in translation especially while watching plays and listening to radio jockeys. Not that they don't converse in other languages. The moment the localites noticed my inability to understand Assamese, they quickly spoke in Hindi or English.
Assigned to cover the second edition of Rongali - Destination, Culture, Harmony, a festival of Assam, I was eagerly looking forward to my return to Guwahati after 20 years. It's a place where my father bought our first car, I got my first Barbie and I started my first school year after kindergarten. Little did I know that the list of 'firsts' won't end here.
Be it attending concerts of sarod maestro Amjad Ali Khan and the home-grown talent Zubeen Garg, who is idolised by many in Assam, to digging into the Assamese delicacy called chicken khoika to taking a flight over the mighty Brahmaputra river on a paramotor, the three-day fest gave me more 'first' experiences during my second visit.
Though I showed interest in paramotoring, it seemed like they were doubtful about it because of my weight. I was told that for balance purpose, one needs to weigh at least 50 kg, and bingo! I felt so glad to have gained weight for the first time.
With the helmet on and seat belt in place, I was geared up for my first paramotor ride, thankfully with a professional.
Flying 500 ft above ground, it was like chasing the wind and the Brahmaputra staring right back at me. As long as the motor made a roaring sound and we moved straight, it felt fine.
But there were times when the loud sound stopped, making my heart skip a few beats. The twists and turns, controlled by the pilot, further made me scream at the top of my lungs. No wonder why the paramotor pilot said that I was the first person to scare him to death.
After that daring act and conclusion of the festival, I made sure to take a stroll down memory lane.
So I, accompanied by a localite, made the Army School, Narangi - now Army Public School - my first stop. It's not just the name that has changed but also the whole look. The old buildings with metal roofing have given way to new ones in green and white hues. Nevertheless, I got emotional while taking a tour of the school, located away from the hustle and bustle of the city.
While crossing our previous army accommodation here, I got into flashback mode.
To cheer me up, my new friend took me to one of the city's popular sweet shops called Mishti Mukh, where she suggested to me to try patishapta - thin crepes mostly made with rice flour with a coconut filling. The other Bengali sweet she swore by was the soft and round kacha golla, made of uncooked cottage cheese and sugar.
Heading home without a souvenir was not happening. So I added shopping, something that I loathe, to my itinerary. Yes, so products like bags made out of water hyacinth, eri silk jackets and Gamucha were responsible for excess baggage charges at the airport.
Pressed for time and a traffic jam discouraged me from exploring the city more. So my last stop was the Purva Tirupati Sri Balaji Temple. With its strong lights, the white temple complex looked magnificent at night.
Guwahati is one of the cities that I am emotionally connected to, and this trip made the bond even stronger.
(The writer's visit was sponsored by the festival's organisers) - IANS
Wish to share your story?
Trending Now: