A labourer's daughter gets medical help by petitioning to the young and quick-acting CM
Mohit Dubey
&nbsp | &nbsp Lucknow
16-January-2016
Vol 7&nbsp|&nbspIssue 3
His performance as chief minister of the most populous state of the country might be a matter of debate for many in Uttar Pradesh, but Akhilesh Yadav has been winning hearts by his kindness and compassion in some ways.
Over the past few years, while the 43-year-old chief minister has helped many, much like his predecessors, through financial assistance from the chief minister's discretionary fund and other sources, his prompt action in many life-threatening situations for many is leaving behind a fan following, which includes him in their prayers.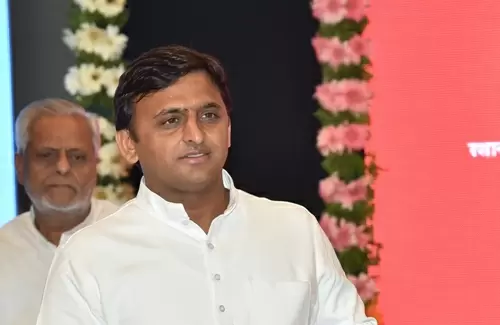 Chief Minister Akhilesh Yadav has a fan following now, thanks to his financial assistance for people in need (Photo: IANS)

The latest is his help and support in getting a surgical procedure conducted on a four-year-old girl. The case came to his knowledge, a close aide told IANS, on a social networking site after which Yadav asked officials at his office to coordinate with health officials and "get the needful done".
The girl, Renu, had a football-sized tumour attached to her head. Starting as a small cyst when she was born the tumour was now threatening her eyesight and even her life, her parents say.
Her father, a labourer who lives in Basti's Jhinkan village, was advised by some students to petition the chief minister on his social networking page. Some other samaritans helped him post the pictures of the girl.
Yadav, after having spotted the petition, immediately asked for her to be admitted to King George's Medical University (KGMU) where she was recently operated upon.
Doctors who operated on her say she was suffering from 'joint occipital encephalocele with lymphoma'. The seventh daughter of her parents, Renu got the disease apparently due to lack of vitamins and poor nutrition.

While her other pathological tests were normal, her surgery scheduled earlier this week was postponed after it was discovered that the veins of the tumour had found their way into the occipital lobe and even a minor error could have blinded her forever.
The team of doctors, led by Dr. S.N. Kureel however, took the risk and went ahead with the procedure. They were successful in parting the massive tumour from her head.
The doctors attribute the success of the operation to God and her family to "Akhilesh Bhaiyya".
The girl is now getting back to normalcy and is pestering her mother to send her to school soon. She has never seen a school as her parents did not allow her to, owing to the large tumour. - IANS
Wish to share your story?
Trending Now: