Weaning a community steeped in sex work away has its own benefits
Abha Sharma
&nbsp | &nbsp Kishangarh
11-January-2016
Vol 7&nbsp|&nbspIssue 2
Yogita and Sita stay in the same neighbourhood in a small hamlet in Rajasthan, they are both young mothers concerned about making ends meet and ensuring a good education for their children, and till just a few years back they shared a past that they are only too relieved to have left behind.
Yogita used to be a sex worker, responsible for the upkeep of her large family, while Sita was entirely dependent on the income that her sisters-in-law, who worked as prostitutes, earned to run their home. The former is the daughter of a Rajnat family; the latter has been married into one.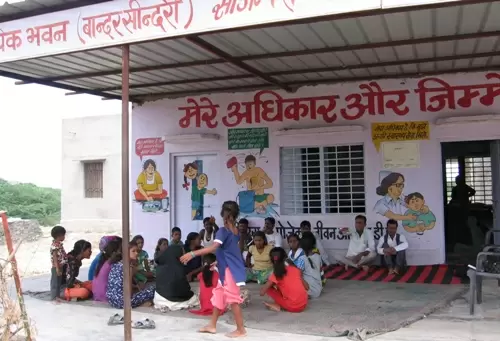 Women from the Rajnat community, who were once commercial sex workers, are acquiring skills like sewing and block printing (Photo: Abha Sharma\WFS)

Commercial sex work used to be the mainstay of their existence at one time but that's not the case anymore. In fact, every Rajnat family in their Bandersindri village, which is around 60 kilometres from state capital, Jaipur, has given up the 'traditional' source of livelihood.
It's a bold decision and there have been adverse consequences, particularly because it's been a struggle to keep the kitchen fires burning, but they have come to realise that exploiting sisters and daughters is not the legacy they want to leave for their coming generations.
For long, the Rajnats have followed a curious trend in the way they treat the women in their community – the married ones are the homemakers and mothers, while the unmarried ones are treated as sex objects.
Their history dates back to the princely era when this community, largely nomadic, served as entertainers. Initially, the girls used to perform rope dance and acrobatics for their royal patrons though gradually they started providing sexual services as well.
In return, they were obliged with generous gifts both in cash and kind. However, post Independence once the Privy Purse was abolished the Rajnat girls lost their "benefactors" and took to doing commercial sex work to survive.
Being landless, uneducated and unskilled the Rajnats were simply not equipped to pursue any other vocation. Most girls either go to Mumbai to work as bar dancers or take to sex work and the men function as pimps.
Nonetheless, the 50 Rajnat families of Bandersindri have decided to work hard to become the exception – with support from World Vision India (WVI). It was nearly a decade ago that the international humanitarian organisation started working with the Rajnat people in the region to raise awareness around HIV/AIDS.
Close engagement with the group revealed that their problems actually stemmed from the crucial lack of education and employment opportunities.
According to Karoline Davis, Head-Gender and Development, WVI, "The idea was not just to save girls from commercial sexual exploitation but to also make sure that they do not go back to the trade owing to economic and social pressures.
"We have put together a comprehensive strategy, by roping in men, women, boys and girls through culturally relevant programmes and providing alternative employment opportunities."
Alok Peter, Gender and Development Coordinator, WVI, elaborates, "Factors such as poverty, the prospect of earning 'easy' money, and tradition compel families to send their girls for sex work.
"The young women are deprived of an education, a safe environment to grow up in and are vulnerable to Sexually Transmitted Infections (STIs) and Sexually Transmitted Diseases (STDs). Unfortunately, those who enter the trade find it difficult to leave because the alternatives are never really feasible. That is where we are trying to make a difference."
Obviously, change is never easy and it's been no different for the Rajnats of Bandersindri. There are a lot of mixed feelings – on the one hand, the women have a huge sense of relief that their daughters will not be forced into the business, on the other, their considerably reduced earnings sometimes does force them to question their decision.
At 35, Yogita has already seen several highs and lows in life. Her work may have left her with many emotional scars but her children have brought her great joy.
Though she is no longer doing sex work and has the backing of her maternal family, the going has been tough for her. She remarks, "Poverty and tradition forces girls like me to get into commercial sex work. Earlier, I was not even aware of any other option."
As she gently soothes her baby, Yogita looks a little concerned about her future. "I am happy that I have left the trade and have chosen a life partner who takes care of my children and me. But we don't have a formal relationship yet.
"However, I have made up my mind to ensure that my children go to school and make something of themselves," she states. For the present, this determined woman is keen on making the most of being part of a women's Self Help Group (SHG) in the village, set up to enable Rajnat women like her to find kinship as well as brainstorm on income generation activities.
In fact, in the last few years, different groups and clubs have been formed to facilitate the community to come up with ideas on alternate livelihoods, focus on education and improve their social status.
There's Hamari Kalpana that brings young girls on a common platform to talk about health, education and sexuality; Navodaya is the local youth club; and Sarvodaya Samiti, the men's collective where they put their heads together to find their own solutions for social change.
Meri Saheli and Nav Jagruti are the two all-women groups where members like Yogita, Sita, Mala, Seema and others undertake vocational activities and talk to each other about their rights and choices.
Mala, who has studied till Class Six and keenly takes up SHGs activities, says, "At present, the men are doing small-time work as daily wagers, shop-keepers or drivers. Some are into rearing goats or property dealing.
"But the money is little. We women are trying to acquire skills like sewing and block printing so that we can establish our own work eventually. Many of us have learnt to sign and we are managing to put aside money for our SGH fund." Her optimism is well deserved.
Apart from the fact that two private textile enterprises have expressed interest in setting up small-scale workshops and outsource work to these women, the Rajasthan Skills and Livelihoods Development Corporation, which offers free training in its district centres, has invited a proposal that will specifically benefit the Rajnats.
Meanwhile, even as the current generation of Rajnat women is carefully weighing its options, it is determined to break down the barriers for their children – girls and boys.
"Education will lead to economic independence and bring about some much-needed change in mindsets. I have two daughters, 10 and 11-year-old, and thankfully, they will not have to follow in their aunts' footsteps. My elder one wants to be a teacher while the younger has set her sights on becoming a police officer. I am going to try and give them all the help they need to fulfill their dreams," shares Sita.
From career counselling to distributing bicycles and school bags to students WVI has also chipped in to further the cause of education. Vikram Raj, head of the Navodaya youth club, who has completed his Masters in Social Welfare, informs with great pride, "Finding suitable employment is a challenge for the elders but hopefully it will not be a problem for us.
"Three students from the village are studying at the Central University in Kishangarh and five others are doing their graduation from the government college there. Others will definitely follow this example."
Step by step, the Rajnats of Bandersindri are disengaging from their previous life. "Countless Rajnat girls have lived vulnerable lives because they have been forced to sell sex in the name of tradition. It's time to build a new identity," signs off Sita. - Women's Feature Service
Wish to share your story?
Trending Now: