A story teller par excellence spins magical webs to teach and also entertain
S Sainath
&nbsp | &nbsp Hyderabad
22-December-2015
Vol 6&nbsp|&nbspIssue 51
In times of iPads and livestreams, storytellers maybe seen as anachronisms, remnants of a long-lost way of life that passed with past generations.
But proving this wrong is a Deepa Kiran from Hyderabad, storyteller par excellence and the one-woman force behind Story Arts India, who spins a magical web of stories to draw in, teach, and entertain young listeners, and old.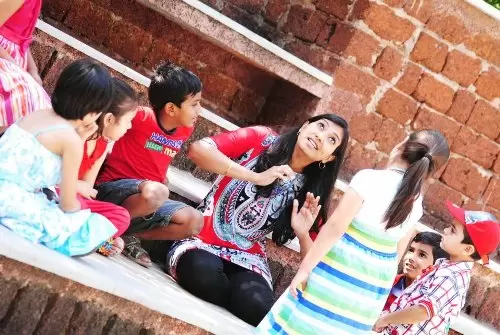 A trained Bharatanatyam and Kuchipudi exponent, Deepa Kiran uses songs and dance in her story telling sessions to tug at the heartstrings of her audience

'Who listens to stories these days?'
'Why tell a story in a Science class?'
'Oh! You tell stories for a living?'
These are only a few curious queries Deepa Kiran, 38, professional teller of tales, is faced with every other day.
Not surprising in a society on the verge of forgetting its ancient tradition of storytelling as a way of archiving its vast heritage of lore, texts and epics. That storytelling is not just Deepa Kiran's passion, but her career too, is baffling to most.
Well, it did not begin as her career choice either, but revealed itself layer by layer, like an unfolding plot.
Where most school teachers dread the 'substitution' class in which they have to engage another teacher's students for 45 minutes, it was in this very situation that as a schoolteacher Deepa Kiran flourished and discovered her calling.
"I would say to the students that if they kept quiet for 20 minutes," she recalls, "I would tell them a story for the rest of the period. This worked and I soon realized the potential of storytelling in engaging children."
Unfortunately, at this point, an ailment set her back and she had to take it slow for eight months. "Those days helped me put my life into perspective and I decided to devote more time to storytelling," Deepa says.
Wherever she worked - whether in the Army School in Devlali in Maharashtra, or the Kendriya Vidyalaya in Ramakrishnapuram, Secunderabad, Telangana, or as far off from home as in Jammu in Jammu and Kashmir, she noticed that students treated her more as a friend than as an instructor, and it confirmed her faith in power of a story told well.
The seed for her avatar as a storyteller was clearly sown in her childhood as her father M. Balasubramaniam, who worked with IBM, bought her books by the dozen.
Schools are opening up to the idea of including story telling as part of their curriculum and seeking the help of Deepa

"Recently I found a scrapbook in which I had written that I wanted to become a storyteller when I grew up," she says. Deepa was in class 8 then.
Having gone to school in Chennai, Bengaluru and Hyderabad, Deepa ended up with a Masters in English Literature from the University of Hyderabad and a Posgraduate Specialisation in the Teaching of English (PGCTE) from the English and Foreign Languages University (EFLU) Hyderabad.
"I did my Masters for the love of literature, but I worked in several schools on a contractual basis," she says. This is where her talent for storytelling took root and bloomed.
"I knew that I could not sustain myself financially only by storytelling but then nor do other storytellers all over the world," Deepa says. Life threw up many challenges and Deepa met them head-on.
She taught part-time from the year 2000 onwards and by 2008, she was doing much more storytelling. But alongside, in order to earn enough to be self-sufficient, she did voiceovers, took up projects with All India Radio and British Council, compèred shows, designed school curriculums, and wrote articles in national dailies.
She even took up a corporate job. "I gave it up in a short while," she says, "and struggled, while my globetrotting friend roamed around in fancy cars. But then it is a choice you make and I made mine to live life on my own terms."
Despite the pressures of being a single parent of two high-school boys, she followed her calling, and by 2011 she technically became a full-time storyteller.

She founded Story Arts India through which she trains teachers, corporate employees and just about anyone willing to tell stories.
Folktales are Deepa's own first love when it comes to telling tales, and her eager audience may range from primary schoolchildren to adolescents.
Some skeptical parents wonder how telling stories can help children, but soon realize the potential. Several concepts in Science and Math concepts can be explained through the medium of stories.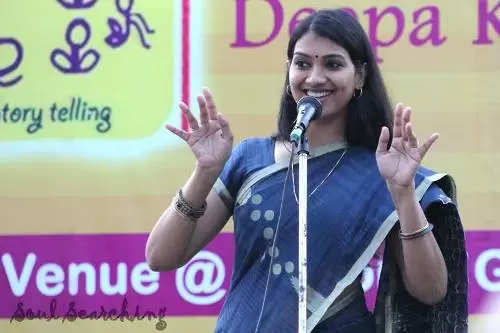 Deepa makes learning of science easier through her stories

Recently on a request from a school, Deepa developed a story on the concept of water vapour – not surprisingly, the children grasped the concept much faster than in the conventional chalk-and-talk method. Often she also gets projects to tell stories to an adult audience.
Deepa's reputation precedes her wherever she goes, and praise for her storytelling skills has spread far and wide not just in her State, but also around the country. She conducts one-, two- and four-day workshops, and many schools invite her for these on a regular basis.
Storytelling training sessions, performances and workshops keep Deepa busy for 15 days a month, and the rest of time, she dabbles in educational consultation, writing and working as a voice-over artist.
Her work has also connected her to master storytellers such as American storytellers Dr Margaret Read MacDonald, Cathy Spagnoli – another American storyteller with a special interest in Indian and Asian tales – and Jeeva Raghunath from Chennai.
"I will never forget the encouraging words from all of them," recalls Deepa. "I met Margaret Read MacDonald in Delhi and she told me to hang on and keep pursuing my passion for storytelling. It gave me a lot of confidence."
Deepa believes that a good storyteller should also be a performer who can sing, dance, gesticulate, modulate his or her voice, speak well and above all be able to tug at the heartstrings of his or her audience, with simple messages delivered with clarity.
Trained in Bharatanatyam and Kuchipudi since she was a child, Deepa can also play the violin which she learnt at Bhakta Ramdas Music College in Marredpally in Secunderabad.
"I use sound effects and dramatise my speech," she says. In the course of storytelling, she engages children and adults with simple folk musical instruments like the todi, the damru, the flute and the tambourine.
Then of course there is that X factor – that special gift that makes a person stand out among others - and Deepa has oodles of it. For instance, she once told a story where she used a chessboard to explain the power of 2, and everyone applauded her inventiveness.
No wonder people's perceptions have changed slowly and surely since she began storytelling. "School managements are more open to the idea of including storytelling in their timetable," Deepa says.

Recently the Vignan Vidyalaya in Rayagada, Odisha, invited her to design a curriculum for classes 1-5 with storytelling as an integral part. Last fortnight, another school in Odisha invited her to train teachers in the art of storytelling, and social platforms such as Lamakaan, Saptaparani and Our Sacred Space in the twin cities of Hyderabad and Secunderabad often feature her storytelling sessions – and they never lack an audience.
"Once children attend storytelling sessions they get fully involved," says Deepa. "The connection with people through the medium of storytelling is amazing, beyond imagination or comprehension. The bond it creates between the teller and the listener is almost spiritual."
Now, that is one story with a happy ending.
Wish to share your story?
Trending Now: