Empowered women make a change in the mountains of Nepal
Vishal Gulati
&nbsp | &nbsp Kathmandu
12-October-2015
Vol 6&nbsp|&nbspIssue 41
Women farmers in Nepal's mountains are adopting environmentally-friendly farm practices to re-green fields and also facing head-on the challenges posed by rising temperatures and scarce rains.
Nanu Ghatane, one of the women community leaders, lives in Dach Pokhari village in Kavrepalanchok district, a one-and-a-half-hour drive into the northeast hills from here.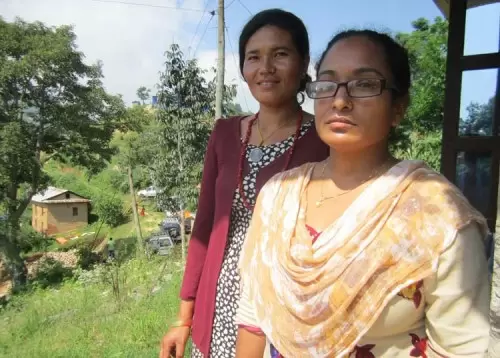 Women community leaders Nanu Ghatane (in foreground) and Nima Lama of Dach Pokhari village in Kavrepalanchok district of Nepal are empowering other villagers to adopt environmentally friendly farm practices to re-green fields (Photo: IANS)

"Earlier, the women in the village were deprived of their rights and equality. Their role was limited to agriculture and tending livestock. There was a lack of communication between the village men and women," said the 40-year-old Ghatane.
But when climate change affected the overall production of crops, leading to a drastic decline, the local womenfolk teamed up and set up a self-help group to look into viable alternatives to retain livelihood, she said.
With the assistance of ICIMOD (International Centre for Integrated Mountain Development), a regional intergovernmental research organisation based in Kathmandu, and other institutions, the group mobilised their community of more than 95 households into taking steps to adapt to climate change.
Another woman leader, Nima Lama, said that with the help of the village elders and youth, they formed an action plan to counter climate challenges.
"We mapped all traditional water resources in the area to counter the decline in the water table," she said.
According to her, there used to be 60 water resources in the village a decade ago. They have been reduced to one-third now.
The women leaders constructed 28 community ponds in the village, which has a population of 975, adopted mulching for moisture conservation, used organic pesticides in their kitchen gardens as well as biogas to reduce pressure on forests.
The ponds fill up during rains and help in irrigating fields when there is rain deficiency.
They have set up a seed bank in the village which provides genetically-improved seeds and a self-managed cooperative bank for savings and taking loans. They also use nets for soil conservation and have guards to watch the nearby forests.
"We mobilised the government and other resources to invest in environmental and climate change-related works. With better cultivation methods, the crop productivity has increased," Ghatane, who was tapping away on a smartphone, added.
She said all the households in the village are also using biogas, which has drastically reduced the dependence on forest sources for fuel.
Both Ghatane and Lama are now community leaders, playing a critical role in encouraging the adoption of smart agricultural practices in other villages too.
Dach Pokhari in ward number three of the Kashi Khanda municipality is now one of the most prosperous villages.
The farmers are growing wheat, maize and cash crops like tomatoes, ginger, garlic and cauliflower by using poly tunnels.
Nepali NGO CEAPRED is encouraging the farmers to adopt satellite technology to know real-time information about weather and crop diseases.
When the 7.9 magnitude earthquake hit the Himalayan nation on April 25, killing more than 8,800 people, the women leaders of Dach Pokhari were among the first to mobilise the government resources through their networks.
ICIMOD Director General David Molden said in the mountains of the Hindu Kush, women have a unique relationship with their environment.
The ICIMOD is working to empower the women of the mountains through the development and sharing of innovation, lessons and best practices in social, political, economic and technological fields.
Nepal's economy largely depends on agriculture, which is mainly rain-fed. Sixty-five percent of the people are engaged in agriculture.
The World Bank says 47 percent of Nepalese farmers have less than half a hectare (or 5,000 square metres) of land.
(Vishal Gulati was in Kathmandu at the invitation of ICIMOD. He can be contacted at [email protected]) - IANS

Trending Now: