Defying age, German cycles uphill out of passion and wants oldies to join him
Sandip Sikdar
&nbsp | &nbsp Shimla
12-October-2015
Vol 6&nbsp|&nbspIssue 41
Cycling in India is generally not considered a sport but a mode of transport. But some not only take it as a sporting discipline but also race in it.
A few of them indulge in mountain biking and a handful also defy age to take to the sport competitively well into their 40s and 50s, ages when several retire into their countryside homes.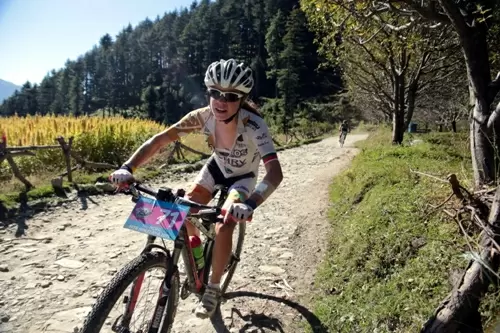 MTB Himalaya is considered one of the toughest off-road trails in the world, but it has not deterred participants over 40 years to give it a shot (Photo: IANS)

Take 56-year-old Reimund Dietzen, for example, who began off-roading on retiring after a nine-year career in on-road racing where he took part in the most famous cycle race of the world -- Tour de France -- and the prestigious Vuelta a Espana, where he was on the podium thrice.
"After retiring in 1990, I took up mountain biking as a hobby as I wanted to remain fit. Mountain biking is an adventure and also keeps my body and muscles in shape," said Dietzen, who raced professionally from 1982 to 1990.
The German is one of the few riders in their 50s who were taking part in the 11th MTB Himalaya -- an off-road, cross country endurance race, also considered one of the toughest in the world, that was recently held across Himachal Pradesh.
"Guys into their 50s and 60s need to indulge in sports. Cycle, gym or do whatever to focus on your fitness," said Dietzen, who clinched the top prize in Masters Solo category (40 and above) and finished an Overall fifth out of 88 entries beating cyclists 30 years his junior.
Paulo Moura is a 55-year-old sportsman who took to cycling only when a club career in rugby was cut short by a series of knee injuries. But that did not stop the Portuguese from giving more pain to his legs at quite a ripe age.
"I have been into sports all my life. I suffered a couple of serious knee injuries because of rugby. Later, I got interested in cycling. I like the spirit of cycling.

"I started going out with my friends for on-road events but later got involved in mountain biking," said Moura, who took part in Team of Two category in MTB Himalaya.
"Cycling is now my hobby as well as passion. I practise a lot. We go out in a heterogeneous group ranging from people in their 20s to 60s!"
The bikers traversed the tough off-roads of the Himalayas for eight days with over a total climb of 15,000 metres in seven stages, including crossing the highest point of the race -- Jalori Pass at 3,250 metres.
Italy's Vanni Balboni, at 47, finished second in Masters Solo behind Dietzen and an overall sixth, completing the race distance of approximately 640 km in 32 hours, 22 minutes and 25 seconds.
"I love cycling and I love competition. It keeps me going. I am a pure off-roader. Climbs here have been quite difficult but where's the fun if there is no climb in mountain biking? For me, age is just a number," Balboni, winner of the 2008 Iron Bike, said in broken English.
Peter and Heidi Buttiens, a Belgian couple who finished third in the Team of Two event, said they continue off-roading for adventure and exploring nature.
"It is more about seeing nature, exploring new places and for tourism. It is also because of cycling that I met Heidi in 2013 and we decided to get married," said 47-year-old Peter.
Another Portuguese Pedro Campos had a serious accident on the second day of a race which started from Shimla with night halts at Gada-Kuffer, Khegsu, Kullu Sarahan, Bahu, Gada Kushaini and Luhri before returning to the state capital for the finish.
The 50-year-old broke a collar bone, three cracked rib bones among several other injuries to his body.

He was in a hospital while his competitors were being tested on broken tarmac, gravel, rocks, mud, sand, silt and water streams. But he made sure he returned for the presentation day at the end of the race.
"That is mountain biking for you!" Campos said with a wry smile. - IANS

Trending Now: