Indian fashion weeks can wait, she would like to get a taste of international platform first
Natalia Ningthoujam
&nbsp | &nbsp New Delhi
05-October-2015
Vol 6&nbsp|&nbspIssue 40
She hails from Arunachal Pradesh, stays in Assam, and is making a headway internationally by showcasing the handloom prowess of culturally-rich northeastern India.
After displaying her tribal creations with a modern twist in London, Yana Ngoba is now eyeing the runways of global fashion capitals Paris and Milan.
Ngoba presented her collection in collaboration with designer Nabam Aka, also from Arunachal Pradesh, as a part of the London Fashion Week's off-schedule show Fashions Finest. And the 28-year-old is thrilled with the response.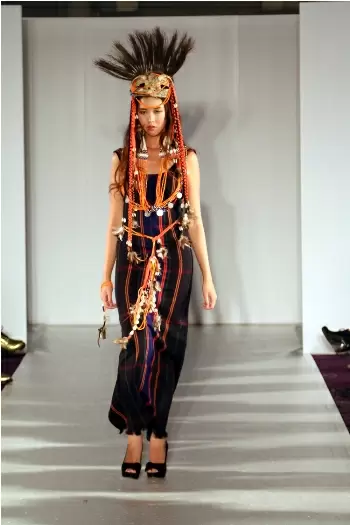 After a successful show in London, Yana Ngoba is now eyeing the runways of global fashion capitals Paris and Milan (Photo: IANS)
"Our collection highlighted the northeast region's handloom, especially the loin loom made in Mizoram, Manipur, Arunachal, Nagaland...even muga of Assam. We used them to create gowns, dresses, skirts and ornaments.
"People (in London) loved it. They couldn't believe people in India could be so different," Ngoba said in a telephonic interview from Guwahati, where she is based now.
She said that the buyers associated Indian fashion with only saris. So they were pleasantly surprised when they saw her bright-coloured range of apparel in the form of gowns with slits or deep neck and skirts with jackets paired with accessories and ornaments made of bronze, silver, old Indian coins and bamboo canes.
"People in London asked me 'Which country are you inspired by?' I said 'India'. So, they were confused. They said that they have always seen people wearing saris (in India). I said 'No. We are from northeast India and have a different culture'.
"We even showed pictures and videos about our culture. Most of the things were sold out. We also got orders in bulk," said the designer, who has been in the industry for over a decade.
Ngoba, who had showcased her creations at another fashion week in Britain last year, now wants to explore other international markets.
"Milan Fashion Week is not yet confirmed. But I'll make sure it is. It is a dream. Fashion comes from all the big cities like London, Milan and Paris; so we thought of hitting those ramps first," she said.
A regular participant in northeast festivals in the country, she says Indian fashion weeks can wait as she would like to get a taste of the international platform first.
"When I see Indian fashion weeks, most of the fashion designers focus on international fashion...like evening wear or dresses. So, I thought that maybe we should do international fashion shows first," she said.
People from northeast are considered to have a distinct sense of style and often, their fashion seems to be influenced by western trends.
"We get things mostly from Bangkok if they are not our traditional attire. If you notice, since our forefathers' time, fashion has been important to us. They were always decked up from head to toe...be it headgear, ornaments or colourful clothes. That's our personal style... something different from the rest of the world," she said.
Any fashion picks from the northeast region?
"Maybe you can start with the jewellery pieces. The ones made with coins will go well with sari or salwars too," said the designer, who wants to work with more weavers across the country.- IANS
Wish to share your story?
Trending Now: