From Sitar to EDM, Niladri Kumar has come a long way enthralling music lovers
Ankit Sinha
&nbsp | &nbsp New Delhi
28-September-2015
Vol 6&nbsp|&nbspIssue 39
He's widely heralded as the inventor of the "zitar" -- a combination of sitar and guitar -- and stands among one of the leading exponents of Indian classical music.
But now Niladri Kumar, who is "very intrigued" with electronic dance music (EDM), is cutting out an EP based on the popular genre.
Niladri, whose new single "Head to the heart", which also features Bollywood singer and guitarist Rashid Ali, was unveiled earlier this month, says he is working on two different albums. And one of these would mark his foray into the uncharted musical territory of EDM.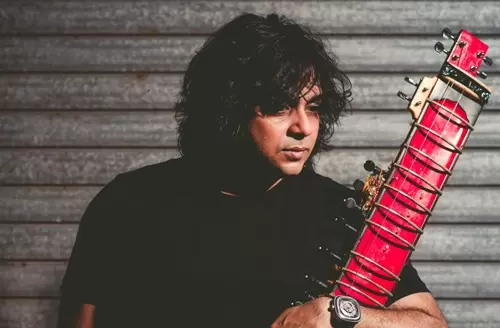 One of Niladri's albums will be rooted in the Indian classical tradition, but it will be on the zitar (Photo: Kunal Kelkar)

"There are a couple of albums under the pipeline. There are two different albums. One album is deeply rooted in the Indian classical tradition, but it will be on the zitar.
"It is basically all about the hardcore compositions which we have in Indian classical music, but it will be rendered in a way never done before," Niladri says over phone from Mumbai.
"The second album I am trying to do will be based on EDM. I am very intrigued with EDM and how young people connect to the EDM grooves and music. So I always wanted to do something on those lines. Maybe I'll release an EP containing around five tracks this year," he added.
Even as Indian classical musicians have often worked with fusion overtones, a sitar player working on an EDM-based album is something quite unheard of.
About this unconventional musical experiment, Niladri said: "The fusion space is a little blurred. A lot of things come into the fusion space and it is not clearly demarcated.
"The EDM space is somehow slightly more demarcated than fusion now. I want to work with that space and add to the melodic element in the EDM genre."
Besides, he feels "you have to try and give the fans a new story, a new thought".
However, Niladri's "ulterior motive" behind doing this album is to "get to people who connect to the EDM space and are totally unaware of the huge melodic content that our Indian classical instruments hold and how well it can enhance the EDM space".
Niladri, who was first exposed to EDM in Britain, says although he is not very well-versed with Indian EDM producers, he thinks "there is good potential with what's happening in here".
"When I heard the young kids going for it here, I thought it maybe a great idea to use that genre and try and portray your melody in there and give them a feel of the sitar, zitar and the whole Indian space, but not too much," he added.
As far as traditional Indian classical music is concerned, Niladri believes that "Indian classical music is something which has stood the test of centuries, amid the invasion of genres and sounds".
"There are more sitar, tabla and sarod players than any other time in history. That proportion had not increased in terms of the audience listening to it. It's about the depth in it. There's a big science involved it," he said.
"People should stop asking about the future of Indian classical music. The question should be asked, what is the future of EDM and fusion music," added the musician, who will launch his new brand 'STAY UP Rooted', and will perform for a cause at a concert in Mumbai on October 30. - IANS
Wish to share your story?
Trending Now: