Expressing anguish through music, graffiti and writing in troubled land
Ruwa Shah
&nbsp | &nbsp Srinagar
18-July-2015
Vol 6&nbsp|&nbspIssue 29
After a quarter century of turmoil in Jammu and Kashmir, a section of the new generation is taking to music, writing and other art forms to tell their stories.
The mass protests over the Amarnath land row in 2008-10 changed the perspective of 20-year-old Fahad Idrees and others of his generation on the Kashmir issue.
Dozens of protesters were killed in police and paramilitary firing in different places across the state after the government tried to transfer 99 acres of land in the Kashmir valley to the Amarnath Shrine Board. The decision was rescinded within five weeks, after uproar and violence.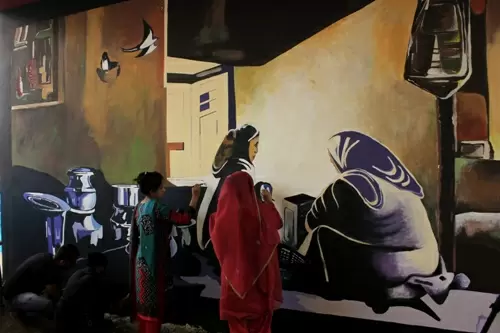 Fine Arts students from Kashmir University paint on a wall to highlight Kashmiri Culture in Srinagar (Photo: IANS)

A teenage boy, known by the name MC Kash, hammered the "words of pain" on a piece of paper and his rap song, "I protest", on YouTube became a sort of anthem for the summer protests during 2008-10. It also inspired many others to share their feelings through rap.
Fahad Idrees is one in the brigade of music rappers and believes rapping is a form of storytelling for him. "I yell loudly and put all my feelings into it."
For Idrees, rap is a medium to vent his anger in the form of words. "Every other medium of expression is controlled. After witnessing such turmoil in the state, I chose to tell my stories of pain and suffering this way," he says.
In this rage, Fahad is not alone. In 2013, when the famous musician Zubin Mehta held 'Ehsaas-e-Kashmir'- (the feel of Kashmir) in Srinagar, Fahad and his friends participated in a counter event - 'Haqeeqat-e-Kashmir'- (reality of Kashmir) organised by civil society groups, performing rap on the stage.
While many chose music as an expression, some youngsters took to the traditional method of writing.
Towfeeq Wani was only 17 when his first novel titled "The Graveyard" got published. Wani says: "It is my way to resist the atrocities in Kashmir."
"I chose to write the book after being haunted by the nightmares after the uprising in 2008. The images of the boys who were killed continued to haunt me even when I left Kashmir," said Wani.
Wani, now 19, completed his high school from Aligarh and is now doing his Bachelor's in English from Jamia Millia Islamia in New Delhi.
In 2013, a compilation of the protest writings of Kashmir was edited and formulated into a book by another young journalist, Fahad Shah.
The book 'Of occupation and resistance - writings from Kashmir', included the memories of young people.
Another bunch of young minds in the Valley has chosen graffiti to express anger and tell their tales. On the banks of the river Jhelum, under the shade of mighty Chinars, the walls are splashed with graffiti drawn by a young boy who does not want to be named.
"Writing on the walls was missing from Kashmir. For me, this is a chance to express anger and protest against the atrocities in a peaceful way," the boy says.
One of his works on the walls of Sopore explains, "Bring back our dear ones". About this graffiti, he says, "I drew this after being a part of an Association of Parents of Disappeared Persons (APDP) association".
"During the turmoil, thousands of people disappeared. Who will raise a voice for their families?" he asks.
The artist believes that everyone has his role to play. "Everyone has his/her own way of expression. Mine is the paintings and I will continue with this."
The reason for his anonymity, he says, is fear of police action. "Some immature boys hijacked our work by writing 'Welcome Taliban' and 'Long live ISIS' on the walls. But we have nothing to do with this," he says. - IANS
Wish to share your story?
Trending Now: