Showcasing traditional fabrics and designs at New York, London and Rome
Prantick Majumder
&nbsp | &nbsp New Delhi
04-July-2015
Vol 6&nbsp|&nbspIssue 27
Daniel Syiem, a young designer from Meghalaya who has showcased ethnic apparel in global fashion hubs like New York, London and Rome, is "striving to preserve the dying art of weaving" by making traditional fabric fashionable. He is also working to empower women weavers from his northeastern state.
"We share a deep connect with the traditional fabrics of Meghalaya. For us, it's not just a piece of cloth, it's actually the preservation of a way of life, of a culture of a people," Daniel said in an email interview.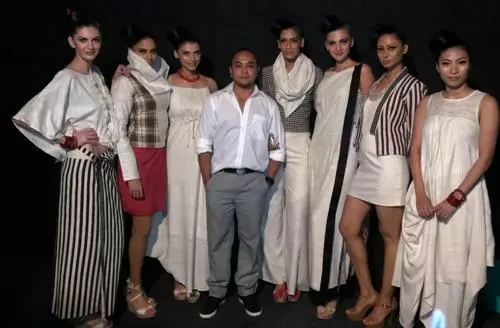 Meghalaya based designer Daniel Syiem with models during North East Fashion Fest in New Delhi. (Photo: IANS)

"Natural fabrics of the region -- Eri silk and Muga -- are hand-woven mostly in traditional loin looms. We want to highlight the traditional fabrics of the northeast," added the designer, known for making northeast's traditional apparel chic.
The Eri silk worms, which produce the famous Assam silk, are known in Meghalaya's Khasi-Jaintia Hills as Niang Ryndia. The silk is cultured to weave the trademark Ryndia shawls, while the worms are also considered a delicacy in many parts of Meghalaya.
Daniel, along with his friend Janessaline M. Pyngrope, launched the Daniel Syiem Ethnic Fashion House (DSEFH) in Shillong in 2011 to promote "Ryndia (eri silk) and the traditional hand-woven fabrics of northeast India".
"The art of making these textiles is slowly dying," rued Daniel who has rich experience in working with indigenous fabrics.
"We are striving to preserve the dying art of weaving by making traditional fabric fashionable."
Daniel has been instrumental in promoting women weavers of Meghalaya's Ri Bhoi district.
"The making of these heritage fabrics has been passed down from generation to generation of weavers. The weavers need to be supported and encouraged by making their craft economically viable," he said from Shillong.
"Currently, we source fabrics from them to generate more income for weavers through fair trade practices. We also guide them to archive and keep track of ancient weaves to safeguard them."
He said the fashion house regularly holds meetings with the women weavers, and they work with them to innovate at yarn stage on dyes and weaves.
"We have also been promoting designs and fabrics of other ethnic groups of the northeast, in particular the Naga Tangkhul tribe. We also used accessories of the Mizo and other Naga tribes at our shows in Rome and Canada," Daniel said.
The Tangkhul tribe has a unique place among the Nagas and their dresses feature ornaments such as kongsang and huishon made of sea shells, cowrie and conch shells.
Daniel has showcased his work - ensembles for women in natural fabrics - in various fashion weeks in places like Rome, New York, London, Toronto, Delhi, Mumbai, Hyderabad and Jaipur. His collections have featured in top fashion magazines like Vogue, Harper's Bazaar and Elle.
Janessaline, who is the business head, co-founder and partner in Daniel's fashion house, said: "We both had the common goal of promoting, protecting and reviving the hand-woven fabrics of the northeast of India. We decided to come together to create something unique and innovative with Ryndia through the medium of fashion."
She had earlier worked for a Meghalaya-based rural development project to uplift traditional weavers and introduce new and safe weaving looms.
Daniel adds: "I shared my dream of wanting to work with our local weavers and promoting our local fabrics. We both found a common goal since Janess was already working with an organisation that promoted weavers of the other states of northeast India."
Daniel is all praise for Lajoplin Nongsiej, a textile designer, who he says "is equally passionate about reviving weaving and the traditional patterns".
"She has been a great boon for the fashion house by way of constantly monitoring and supervising work on our behalf in the field. Her technical knowledge plays a vital role since she is able to describe in detail the ideas I want to bring out in the fabric," he said.
In February, Daniel showcased his new collection 'FreeSpirit' in Toronto. The collection had classy shirts with innovative collars, asymmetrical skirts, bohemian palazzos, halter tops and dresses.
"The unique use of natural, hand-woven and organic textiles like eri silk, in a colour palette of ivory, pastel greens and yellows, earthy browns in this collection, celebrates the triumph of spirit and the freedom to be your true self," he said.
The collection was praised by Canadian experts, and Daniel hopes to work with them one day. - IANS
Wish to share your story?
Trending Now: