How a woman overcame her fears to become a BASE jumper
04-July-2015
Vol 6&nbsp|&nbspIssue 27
Archana Sardana, a 40-year-old adventure enthusiast, is India's first woman civilian Building Aerial Span Earth (BASE) jumper, often jumping from a bridge of over 3,600 metres (12,000 feet).
Raised in a country where women's participation in sports remains uneven even today, Sardana did not grow up as an adventure sports enthusiast. A mother of two boys, she graduated with a diploma in interior design, and says she was never really interested in pursuing outdoor activities.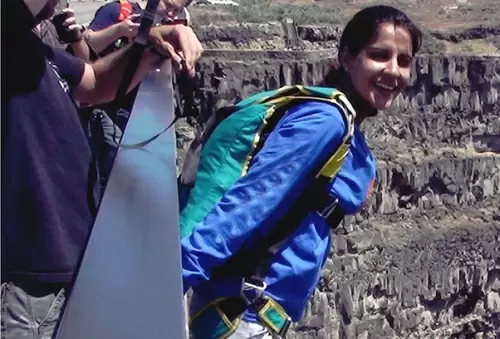 Archana Sardana, a 40-year-old adventure enthusiast, is India's first woman civilian Building Aerial Span Earth (BASE) jumper

But just 20 days after her wedding, on a whim, her husband, a naval officer, and she braved a local marathon known for its steep peaks and competitive nature. That was the turning point.
She decided right then that she had to have more, and thus, a legend was born. She completed Adventure and Advanced Mountaineering courses from the Himalayan Mountaineering Institute, Darjeeling, and Nehru Institute of Mountaineering, Uttarakhand, and hasn't stopped chasing the thrill since.
But the rigours of mountaineering were quite different from BASE jumping, an extreme sport. BASE jumping, which is an offshoot of skydiving, is essentially parachuting or wingsuit flying from a fixed structure.
However, as BASE jumps generally take place from a lower altitude they are significantly more dangerous. In fact, according to some reports, it is the world's most dangerous sport. Of course, before she decided to do her first jump, Sardana had performed around 200 skydives.
Be it plummeting from the sky or plunging into the deep seas, she has done it all now. Having undertaken multiple deep sea scuba dives in every corner of the globe, Sardana is the first woman master scuba diver trainer in India as well.
She unfurled the Indian flag at a depth of 30 metres in the ocean, off Andaman's Neil Island, and set a new record in the process. A smart business woman, she runs her own venture, Archana Sardana Scuba Diving Academy, training young women to conquer their fears and feel the rush of adventure sport.
Over time, Sardana has sought ways to use her adventurous spirit to help others. An expert at jumping out of helicopters, she did her first jump in service of an organisation called 'Blind Free India'. In this one-on-one, Sardana talks about overcoming her fears, surmounting challenges in pursuing BASE jumping and balancing her home and her new-found passion.
Q: What do you think have been the most important factors that have helped in getting you where you are today?
A: Firstly, I owe it all to my support system, my amazing husband and my two beautiful children. Secondly, it has a lot to do with the mindset. The physical part is important [while pursuing sports], but it is just as important to be mentally strong. What drives you in the long run is your mindset and your drive.
Q: What were some of the biggest obstacles that you faced in your journey?
A: For me, the biggest obstacle has been money. I even sold my house so I could follow my dreams. But we have managed just fine till now. When I started, my children were in boarding school, and during that period, I travelled extensively. I had to find a balance. I worked more then. But now my kids are with me, they are pretty self-sufficient and they are extremely supportive of my work.
Q: Tell us a bit about your childhood, your ambitions and who inspired or influenced you?
A: I was brought up in a family that had a small business, and I was always pampered. My parents were always protective of me. Interestingly, I picked up adventure sports only after my marriage. But if I hadn't taken that proactive initiative, nothing would have been possible. Whatever I start, I try to finish. My husband sees these capabilities in me. Somehow, something pushes me to jump.
Q: Being a woman, has that affected your road to where you are today, and how?
A: Nobody wanted me to continue. [But], that did not stop me, and I am not planning to stop either. This is what keeps me going. I will continue to do this until the end of time.
Q: What is your main message for the younger generation? What should they learn from your experience?
A: Whatever fears you have in your mind, do not let them conquer you. To all the parents out there, [I would like to say] do not make your fears your children's fears. Let them experience things for themselves. If parents do not interfere, they will be ready to explore themselves and the world around them. Parents must take that initiative.
Q: What is your message for other women and girls who may be inspired by your journey and achievements?
A: Overcome your fears to really start living.
(This article is part of U.N. Women's Empowering Women — Empowering Humanity: Picture It! campaign in the lead-up to Beijing+20.) - Women's Feature Service

Wish to share your story?
Trending Now: