Introducing children to new healthy culinary delights
Nishant Arora
&nbsp | &nbsp New Delhi
29-June-2015
Vol 6&nbsp|&nbspIssue 26
So what do you do if your child hankers for noodles, now that Maggi and other brands are under a cloud? Experts say one should go for the generic varieties or make alternatives more interesting.
It's difficult to stop children from eating their favourite noodles or fast food, so put in extra effort, suggests Aarchie Bhatnagar, dietician at BLK Super Speciality Hospital here.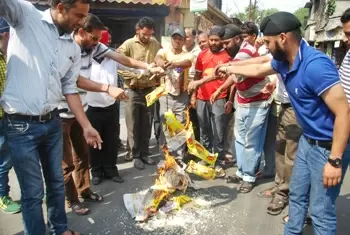 The public burning Maggi packets in Dehradun after Uttarakhand Government banned the instant noodles (Photo: IANS)
"Mothers can buy plain raw noodles and cook, adding vegetables to make the dish healthy. Momos or burgers can be also made at home by replacing maida with rice floor," says Bhatnagar.
But what about pesticides, contaminants and germs in raw food bought locally? From the farm to the table, our food passes through different processes and different hands.
Experts advise that vegetables and fruits should be washed well. Peeling fruits will cut down surface pesticide content. The water-soluble compound potassium permanganate may also come to your aid.
"Mix enough of the permanganate in water to give it a light pink colour. Soak fruits and vegetables and rinse them well. This will effectively remove pesticides, bacteria and other pests," advises Kanika Malhotra, senior clinical nutritionist from HealthCare at Home (India), a global venture offering home health care services.
Too much of the permanganate, though, can be harmful, so ensure that the water colour is light pink and not dark, she adds.
Sonia Bajaj, an acclaimed nutritionist and fitness expert advises that suma tablets (chlorine-based sanitising tablets) may be used to clean or sanitise vegetables and salads. Even vinegar can help, she adds.
Another option for healthy food at home is to look for a good ultrasonic food washer. This washer uses the principle of ultrasonic and reactive oxygen to remove most of agricultural chemicals from fruits and vegetables.
It also removes fungicides, pesticides and contaminants and has been found to be quite effective, says Ritika Samaddar, head (dietetics) at Max Super Speciality Hospital in Delhi. "The cost, however, is an issue and cannot be a solution for the masses," explains Samaddar. The price of a washer starts at around Rs 7,000.
But should vegetables and other food items be bought only from reputed grocery stores? According to Bhatnagar, one should only buy food items from reputed stores as they have certain basic hygienic standards in place. "This will ensure certain purity but adulteration-free food cannot be guaranteed," she maintains.
For Samaddar, "Buying even from a local vender is fine provided the fruits or vegetables are washed properly before consumption".
Organic food is another choice. An organic product is considered truly organic when it is duly certified and contains 95 percent or more organic ingredients.
Organic foods will mostly be without pesticides and more nutritious per serving. But these are more expensive, hence not an option for the public, Samaddar says. She advises that one should look for certification, wherever possible, from Food Safety and Standards Authority of India or ISO.
What are the other ways to ensure that healthy food items reach our table? Read food labels carefully and do not get fooled by gimmicks.
"Check how much fat or sugar is there in the food. Just saying 'contains oats' and actually 'containing four percent per 100 gms' is not justified," Malhotra points out. As a rule, the more processed the food is, the more toxic it is likely to be.
But what about children's craving for junk food? Samaddar says junk food can also be made healthy by incorporating some simple changes at home.
"Use a wheat crust for your pizza and top it up with lots of crunchy veggies. Have a whole wheat bun and add lettuce with your patty to make it more healthy," she says.
Malhotra suggests that parents can ensure that kids eat healthy at home. Start the day with fruit and a handful of nuts. For breakfast, pack upma, poha, stuffed veggies, chapati roll or sandwich. Keep lunch simple with a roti or rice, sabzi and dal.
In the evenings, give them a glass of milk and another fruit.
"Make dinner interesting with a bowl of soup, stuffed rolls with chopped tomatoes and pav bhaji minus butter, with whole wheat bread/barbecued or tandoori chicken/paneer with a bowl of soup and salad," says Malhotra.
Once the kid is full, he or she will not look for junk food. Hopefully. - IANS
Wish to share your story?
Trending Now: