Changing with social reality, Hindi films portray women differently, for its good
Surekha Kadapa-Bose
&nbsp | &nbsp Mumbai
22-June-2015
Vol 6&nbsp|&nbspIssue 25
Is the face of the male-dominated Hindi film industry finally undergoing a much-needed change? If one looks at the hits of the year it certainly appears to be that way.
Unobtrusively and without much hue and cry, young female actors are slowly but surely starting to pull in the crowds to the theatres on their own merit.
Indeed, cinemagoers not just in India but across the world have been queuing up to watch Deepika Padukone in 'Piku' and Kangana Ranaut in 'Tanu weds Manu Returns' (TWMR), films that are entertaining, gripping and sans the conventional Bollywood hero.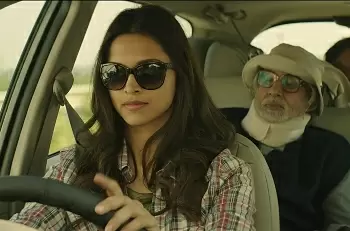 Deepika Padukone was flooded with praises for her portrayal of a short-tempered independent architect taking care of her father in 'Piku' (Photo: WFS)
What has truly consolidated their position at the box office is the fact that 'Piku' and 'TWMR' are the only films to have broken into the elite, and once-exclusively male, Rs 100 crore club, so far dominated by the macho Khans, Kapoors and Kumars.
At the last count 'TWMR' had globally amassed over Rs 162 crores while 'Piku' had gathered over Rs 107 crores, phenomenal and first-of-its-kind collections for female dominated flicks.
Of course, there is no denying the shift today, although it has happened gradually. Earlier, too, female stars such as Rani Mukherjee, Kareena Kapoor, Vidya Balan, Priyanka Chopra, Anushka Sharma, Sonam Kapoor, Alia Bhatt, and a few others, have delivered back-to-back hits.
The success story was initially scripted by Rani Mukherjee ('Black'/2005, 'No One Killed Jessica'/2011, 'Mardaani'/2014) and Vidya Balan ('Paa'/2009, 'Ishqiya'/2010, 'No One killed Jessica'/2011, 'The Dirty Picture'/2011 and 'Kahaani'/2012), who have essayed author-backed roles and given stellar performances.
"Society is changing. Across the globe, there has been a concerted move towards securing women's empowerment, equality and freedom and celebrating their strength. So it was only natural and, high time, that cinema too witnessed this change," remarks Omung Kumar, who directed last year's hit, 'Mary Kom', with Priyanka Chopra in the lead as national boxing champion Mary Kom.
Enthused by the phenomenal response the biopic received – it made Rs 100 crores worldwide – Kumar is now working on a film on the late Sarabjit Singh, a death row prisoner in Pakistan. He has roped in actor Aishwarya Rai Bachchan to play Singh's sister Dalbir Kaur, who had mounted a campaign for his release.
Movie-makers have certainly come a long way from the days when woman-centric films were just about showcasing her plight and suffering through a "hard-hitting, realistic" narrative, otherwise classified as parallel cinema.
With its stereotypical portrayal of women, these movies invariably did poor business and, consequently, mainstream female leads were hesitant to be a part of them.
Nowadays, however, the trend is to try out roles that are a complete departure from the usual, which is mostly playing the quintessential second fiddle to the "tall, handsome and impossibly resourceful" hero, hanging on to his muscular arms and doing a few song-and-dance routines.
In a sense, the journey of the female lead has come full circle. Initially, women in the industry were not straight jacketed as only 'glamorous' or 'art house'.
Remember Fearless Nadia and her 1935 film 'Hunterwali' where she was central to the narrative. Or Suchitra Sen, who overshadowed thespian Dilip Kumar in the 1955 classic 'Devdas' and, later, raked in accolades for 'Aandhi' in 1975.
Then there was Smita Patil who starred in the masala hit 'Namak Halaal' (1982) and also did films like 'Bhumika' (1977), 'Arth' (1982) and 'Mirch Masala' (1987) outdoing her male co-stars of the day like Amitabh Bachchan and Naseeruddin Shah. These women became trail blazers in their craft and even brought in the moolah.
Once again, women are ruling the big screen and the box office. In a recent article, Ritesh Batra, director of the award-winning 'The lunchbox', has remarked, "In the last few weeks a lot of studio heads in Mumbai are calling around and saying, 'Oh well, do you have any women-centric films?'" And why ever not? The kind of revenues chick flicks are generating is remarkable.
Even if many haven't made the Rs100-crore landmark almost all of them have given the producer a reason to smile all the way to the bank. The economics involved in these films is quite simple. Whereas a mainstream, male-dominated film could cost the makers anything upwards of Rs 75 crores making the profit margins narrow even if the gross earnings are to the tune of Rs 100 crores, the women helmed films are comparatively low on investment.
One of the key financial differentiators is the pay packet drawn by the actors. Unfortunately, women actors are paid far less than their male counterparts. For example, according to reports, the super Khans are paid a Rs 30 crore-plus fee besides a share in the profit of the film, while the top female stars haven't yet touched double digits.
But as women bring in the mega bucks, wouldn't it lead to pay parity? For the present, producers and filmmakers are optimistic. Says director-producer Harry Baweja, "It's very good that these films are hugely successful. But the change in the financial dynamics will happen when the heroines continue to deliver big hits.
"The Khans, Kapoors, Kumars, and many other established male actors have been in the business for over two decades and their star power is such that even films that are written off by the critics sets the cash registers ringing."
Director Raj Kumar Gupta, who made 'No One Killed Jessica' starring Vidya Balan and Rani Mukherjee, believes that, "Even though the change in economics will largely depend on the continuity of their success, the change in the content of films has definitely been set in motion. The audience is the king- or queen-maker. Give them a good story with quality performances and they aren't worried about who the actor is, male or female."
Yes, film scripts are more in tune with society today, which is undergoing a transformation. Girls and women are no longer ready to accept their second class status; they are defying patriarchal norms, being assertive at home and in the work space, and are keen on exercising their choice in every sphere of life.
The women onscreen are representing this wave of independent thinking. When 30-something Piku, a successful woman architect in the film, doesn't hesitate to indulge in some "need based sex" there are millions of career girls in the city, who instantly identify with her.
As they did when Rani in 'Queen' wanted to search for her identity sans a man in her life and jetted off on her honeymoon by herself. Padukone and Ranaut, having brought these feisty women to life, have found loads of fans, fame and hopefully a more level playing field in the industry. - Women's Feature Service
Wish to share your story?
Trending Now: