At Hitec City, this eatery stands high in its uniqueness that prevents food wastage, too
Mohammed Shafeeq
&nbsp | &nbsp Hyderabad
22-June-2015
Vol 6&nbsp|&nbspIssue 25
In the midst of gleaming towers of software giants and five-star hotels in Hitec City here is a eatery unique in more ways than one - you can taste the dishes before ordering and then pay by weight at 50 paise per gram!
For instance, you can pick two to three different biryanis in a box, weigh it and pay accordingly. It not only helps one to pick a variety of items but also prevents wastage.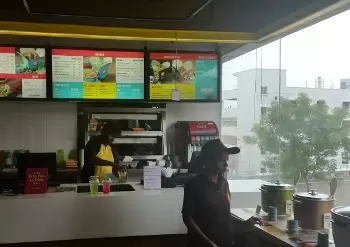 Hello Curry provides home delivery of entire Indian cuisine from starters to desserts (Photo: IANS)
This is the latest offering from Hello Curry, which claims to be the only food chain serving Indian cuisine a fast food format.
"Hitherto, Indian fast food is confined to samosa, vada pav and the like but we are serving a variety of Indian cuisine in a fast food format," said Raju Bhupati, founder and chief executive officer of Hello Curry.
One of the fastest-growing startups, it claims to have succeeded where many others have failed.
"Indian fast food remains a myth given the amount of passion, skills, effort and time involved in making Indian food. We have cracked the phenomenon to an extent by disintegrating the components but keeping the entire cooking intact," Bhupasti said.
He cited the example of chicken curry. "We disintegrated components of gravy, masala, marinated chicken, oil and slat for each portion. We send all these components in packets to our kitchens and the cooking is done within two minutes of receiving the order," he explained.
He pointed out that other food chains do pre-cooking from early morning and sell the same curry for the entire day. "We have avoided pre-cooking so that taste, freshness and texture is retained. There is no compromise on quality."
The food joint promises two-minute delivery of any curry at its dine-in-restaurant.
The wide ranging and lip-smacking menu comprises beverages, appetizers, vegetarian and non-vegetarian curries paired with rice or parathas, biryanis (vegetarian, chicken and mutton) and deserts.
Raju, however, pointed out that Hello Curry is fundamentally a home delivery brand. "We will not do brick and mortar aggressively. This is the only store to let people know how Hello Curry looks like."
"We are the only chain providing home delivery of entire Indian cuisine from starters to desserts," he claimed.
The Hyderabad-based startup recently expanded to Bengaluru, where it opened two kitchens. It has five kitchens in Hyderabad and promises 30-minute home delivery in areas surrounding each point.
"While others also do home delivery, we do only home delivery. This is our USP," said Bhupati, who is also the chief operating officer of Adaequare, a data engineering and analytics solutions provider.
Offering quick, affordable and convenient meal options to compliment hectic lifestyle, Hello Curry's target customers are students, bachelors and working men and women.
It gets 800 to 1,000 orders a day and is growing at 25 to 30 percent month-on-month, said Raju.
Last month, it acquired Paratha Post, a food delivery startup founded by two IIM graduates.
Hello Curry plans to expand soon to Delhi where it is in talks to acquire local chains. It is also looking to expand to tier-II cities.
Raju, who earlier worked with AppLabs and CSC, is planning to come out with innovative ideas to promote Hello Curry.
The brand aims to go global. "I don't see any Indian brand which is serving Indian cuisine in fast food format going global. We have tremendous potential. We are talking to some people in the US and Australia," he said. - IANS

Wish to share your story?
Trending Now: